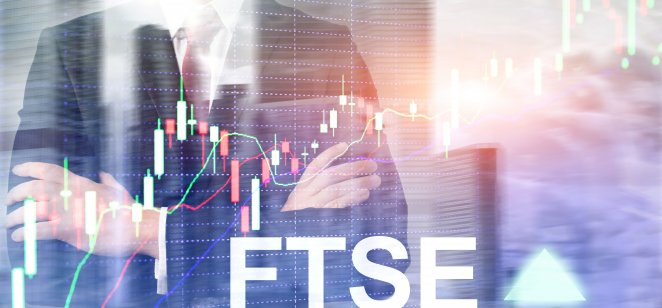 Stocks for companies listed on the London Stock Exchange (LSE) have outperformed the benchmark US S&P 500 Index (US500) so far this year.
The UK-centred Financial Times Stock Exchange 100 Index — FTSE 100, and UK 100 (UK100) — has been relatively stable with less than a 5% loss this year, making it the top performer out of 18 of the world's biggest stock benchmarks. US stocks, however, suffered their sharpest first-half drop in over 50 years — the S&P 500 is down 21% in 2022 as rising interest rates and growth fears continue to worry investors.
The FTSE 100 —informally known as the Footsie — is a share index of the top 100 companies by market capitalisation listed on the LSE.
The FTSE 100 performance was volatile in the first quarter of 2022. It crashed below 7,000 for three sessions in early March and fell as low as 6,964.11 on 8 March as the intensifying war in Ukraine and resulting sanctions on Russia pressured the UK equity market and drove the FTSE 100 trend lower.
The FTSE 100 value rebounded in April and hit a 26-month high at 7,669.56 on 8 April — though this was 1.4% below the all-time high of 7,778.79 reached on 12 May 2018.
A brief rally from the 19 May to 6 June saw the index peaking at 7,608.22. It has since been on the decline — it is trading around the 7,150 mark as of 1 July 2022.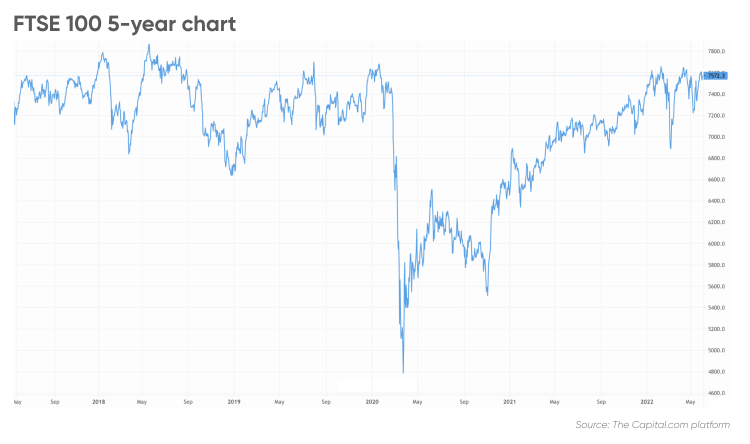 How will the FTSE 100 outlook be affected by recent global developments?
Read on for the latest analysis and forecasts in this FTSE 100 overview.
FTSE 100: everything you need to know
The UK's FTSE 100 Index was launched on 3 January 1984 and is widely used to gauge the performance of UK equities with high market capitalisations.
The market capitalisation for the 100 constituents that make up the index totalled £1.989trn, as of 31 May 2022. The FTSE constituents are reviewed every quarter, at which point some companies exit and others enter depending on their share prices, according to benchmarks, analytics and data solutions provider FTSE Russell.
In the latest FTSE 100 news, the second reshuffle of the index in 2022 was announced after the session closed on 1 June, based on stock closing prices from 31 May. The changes to the index took effect on 20 June, with postal service provider Royal Mail (RMG) and TV broadcaster (ITV) dropping out of the index, while gas firm Centrica (CNA) returned along with Unite Group (UTG).
Of the top 10 companies by market capitalisation at the time of writing on 1 July 2022, four — Shell (RDS), BP (BP), Rio Tinto (RIO) and Glencore (GLEN) — are commodity producers. Oil, gas and metal prices have hit multi-year or record highs this year, which pushed profits higher and in turn boosted share prices.
Driven by rising energy prices over the past year, oil and gas producer Shell's stock has made the biggest gain of 33.94% over the past six months.
Growing healthcare demand has led to pharmaceutical companies' stock prices performing well, with AstraZeneca (AZN), Unilever (ULVR) and GlaxoSmithKline (GSK) making it into the top 10 of the FTSE 100 list.
In the past month, manufacturing firm Melrose Industries (MRO) has made a gain of 10.56%, followed by defense contractor BAE Systems (BA.) with a one-month gain of 9.81%.
The outlook for global equities markets remains uncertain, as rising inflation followed by interest rate hikes, amid geopolitical risks, is putting pressure on companies' earnings and profit margins.
On 19 April, the International Monetary Fund (IMF) revised its global growth forecast for 2022 and 2023 because of the impact of the conflict in Ukraine. It expected global growth at 3.6% in 2022 and 2023, down 0.8 and 0.2 percentage points from its previous forecast in January, noting:
"The war in Ukraine has triggered a costly humanitarian crisis that demands a peaceful resolution. At the same time, economic damage from the conflict will contribute to a significant slowdown in global growth in 2022 and add to inflation."
The IMF expects to further cut its global economic growth forecast next month, which would mark the third downgrade this year.
On 7 June, in its latest Global Economic Prospects report, the World Bank said that annual global economic growth is forecast to be 2.9% in 2022:
"Global growth is expected to slump from 5.7 percent in 2021 to 2.9 percent in 2022— significantly lower than 4.1 percent that was anticipated in January. It is expected to hover around that pace over 2023-24, as the war in Ukraine disrupts activity, investment, and trade in the near term, pent-up demand fades, and fiscal and monetary policy accommodation is withdrawn. As a result of the damage from the pandemic and the war, the level of per capita income in developing economies this year will be nearly 5 percent below its pre-pandemic trend."
"The war in Ukraine, lockdowns in China, supply-chain disruptions, and the risk of stagflation are hammering growth. For many countries, recession will be hard to avoid," said World Bank President David Malpass.
What is your sentiment on UK100?
Vote to see Traders sentiment!
On the following day, the OECD cut its forecast by 1.5 percentage points to 3% — although it said the global economy should avoid a bout of 1970s-style stagflation.
Analysts at Schroeders wrote in their second-quarter update that they expect inflation in the UK will peak during the current quarter and remain above target into 2023. They revised down their forecast for UK economic growth to 0.9% from the 2.2% they expected previously.
Analysts at Dutch Bank ABN Amro noted in their June update that the UK economy "is expected to contract in Q2, as the unwind of pandemic-related health service activity (eg. NHS track & trace) offsets the broader recovery in the services sector. The economy should rebound subsequently, as the holiday season and the end of pandemic restrictions drives a strong recovery in travel over the summer months."
Beyond that, ABN Amro downgraded its growth forecast for the upcoming year.
"We expect the economy to slow to a crawl next year, with growth of just 0.3% projected, down from our previous expectation of 1.6%, and from a downwardly-revised 3.6% expectation (previously 3.8%) for 2022. The economy will likely be on the cusp of a technical recession next year, with unemployment expected to rise to nearly 5% by the end of 2023 from the current historically low 3.8%."
That has the potential to weigh on the stock market's performance later this year.
FTSE 100 forecast: What to expect next?
According to investment fund manager AJ Bell, the FTSE 100's total dividend payout is expected to rise to £81.2bn in 2022, up 3.4% from £78.5bn in 2021. The dividend in 2022 is close to the peak of £85.2bn in 2018.
The number of companies declaring dividend payments in 2022 has increased as "corporate confidence continues to return after the pandemic", the company said.
Of the FTSE 100, 97 companies are expected to pay a dividend to shareholders in 2022, compared with 91 in 2021 and 85 in 2020.
The FTSE 100 projection is supported by rising profits in 2022.
"Analysts currently believe that 2022's stated net profits of £169.7bn will exceed not only the pre-pandemic peaks of 2017 but the high of 2013 as well, when Vodafone's sale of its stake in an American joint venture with Verizon added considerably to the total," said AJ Bell.
Despite the forecast rise in dividend pay-outs and profits in 2022, Trading Economics' short-term FTSE 100 forecast was bearish. The data provider expected the index could fall to 6827.46 points by the end of this quarter and trade at 6466.30 in 12 months' time, based on its FTSE 100 analysis, macro models and analyst expectations.
Capital Economics said in its UK market forecast on 26 May: "If we are right in expecting inflationary pressure to stay strong even as the economy gets dangerously close to a recession, then the prices of gilts and UK equities will probably fall further over the next year."
"Our forecast that the Bank of England will raise interest rates from 1.00% now to 3.00% next year would take rates above the peak of 2.50% priced into the markets and would therefore suggest that 10-year gilt yields will rise further than widely expected (perhaps from 1.90% to 3.00%) and that the FTSE 100 will fall further (perhaps from 7,500 to 6,800)," analysts noted.
"The risk is that an even weaker economy prompts equity prices to fall further. And with inflation high, the markets can't rely on the Bank of England to provide any relief."
"The further rise in CPI inflation from 9.0% in April to a new 40-year high of 9.1% in May won't prevent the Bank of England from raising interest rates further, but it may encourage it to opt again for a 25 basis point (bps) rate hike at its next meeting in August rather than upping the ante with a 50bps hike," wrote Capital Economics' Chief UK Economist Paul Dales in his latest consumer prices update on 22 June.
When looking at FTSE 100 predictions for 2022 and beyond, it's important to bear in mind that analysts' forecasts and price targets can be wrong and shouldn't be used as a substitute for your own research. Always conduct your own due diligence before investing. Keep in mind that past performance is no guarantee of future returns. And never invest or trade money you cannot afford to lose.
FAQs
Is the FTSE 100 a good investment?

Whether the FTSE 100 is a good investment for you depends on your portfolio composition, investment goals and risk profile. Different trading strategies will suit different investment goals with short or long-term focus. You should do your own research. And never invest what you cannot afford to lose.
Will the FTSE 100 go up or down?

Due to a combination of factors, such as rising inflation, rising interest rates, and the Russia-Ukraine war, the global equity market is expected to be volatile in the coming months. Hence, at the time of writing (1 July), analysts such as Trading Economics expected the FTSE 100 to fall this year — but the outlook remains highly uncertain.

However, analysts' future predictions can be wrong and have been inaccurate in the past. Always do your own research before investing and remember to never invest more money than you can afford to lose.
Why has the FTSE 100 been going down/up?

The FTSE 100 has lost less than 5% in the past 6 months as its constituents' share prices rise amid higher profits. However, the index is also being pressured by factors such as rising interest rates, inflation, and slowing economic growth related to the war in Ukraine.
How high can the FTSE 100 go?

The FTSE 100 reached an all-time high of 7,778.79 on 12 May 2018.
Further reading: