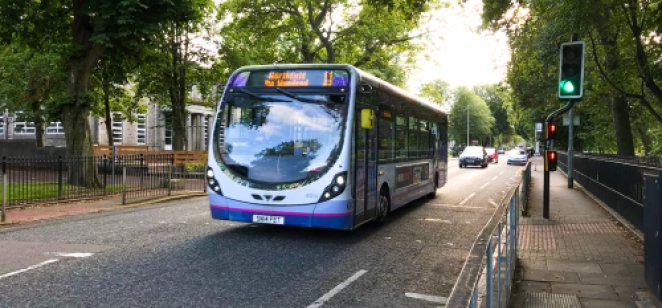 FirstGroup plc (FGP), a British multi-national transport group based in Scotland, has become the latest UK transport takeover target as US buyout business I Squared Capital Advisors made a £1.2bn unsolicited bid.
FirstGroup has said it is currently 'evaluating the latest approach' which it received earlier this week. It provides a cash component of 118p per share and the right to earn further 4.56p per share from the sale of the company's US transit business and the sale of Greyhound Lines to Neptune Holdings.
It's not the first time the group has courted an offer, but the company's board has so far unanimously rejected them.
However, the market appears to favour this latest takeover attempt and FirstGroup's share price was trading up 8.4% yesterday afternoon. Today, FirstGroup's share price soared 5.47% and is currently trading at 136.9p per share.
With FirstGroup's cautious approach, is there more value to be had for traders and investors in the months to come?
A classic gem?
Analyst Owen Shirley from broker Berenberg has initiated a 'buy' recommendation and target price of 150p on the stock.
The company has made several positive changes that have garnered the approval of analysts. A year ago, for instance, it cleared most of its debts by selling its city buses and school bus operations in America for £3.3bn ($2.62bn).
Shirley said: "We think FirstGroup is a classic value gem, where investors may have overlooked a number of crucial changes.
"Firstly, it sold more than half of its business last year – all of its US assets. It now has no debt and no pension deficit. Secondly, the remaining businesses – UK Bus and UK Rail – have undergone genuine, permanent structural changes which vastly improve their outlook."
Shirley added that FirstGroup 'could plausibly return its entire market cap to shareholders in the next few years'.
Cautious approach
But some analysts are still advising investors to take a cautious approach given the private equity interest.
While some buyout firms can help companies grow and improve their business model, others have followed agenda's that suit them. It's not uncommon for private equity firms to cut jobs, break up the business or saddle them with debt.
What is your sentiment on FGP?
Vote to see Traders sentiment!
Walid Koudmani chief analyst of XTB said: "The stock may be considered an attractive option that begins to interest a bigger portion of investors, but it is important to remain cautious about the nature of private equity and their goals when investing which may have a limited time horizon."
Room to grow
But Koudmani believes there are advantages to this potential deal. "Recent news of a potential acquisition by a private equity firm could provide a boost to [FirstGroup's] share price in the short to medium term.
"Despite some scepticism regarding the offer which was made by Squared Capital, which would probably imply a sale of the company in five to 10 years, it could provide a much-needed cash inflow and share price boost in the meantime as the company benefits from the renewed influx of capita," he said.
FirstGroup's shares could still see some volatility given the private equity interest, however, Koudmani believes there's still value for investors.
"While the price of First Group shares may not be as low as it was a few months ago, it still remains significantly below its all-time high reached in 2007. The price is finally managing to return to its pre-pandemic level after receiving a further boost following the recent acquisition announcement.
"While we may see some price fluctuations following this announcement, the company's share price still has a lot of room to grow, especially if the overall economic situation starts to improve and markets overcome the difficulties brought by the changing of policies by central banks," he said.
Read more