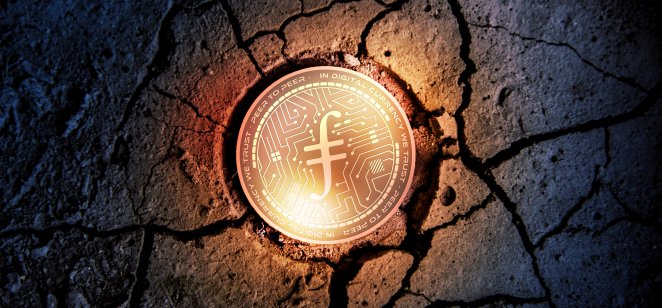 Content
Decentralised storage network Filecoin saw its coin FIL take a turn for the worse at the weekend when it plunged 18% during a big sell off and has, as yet, failed to recover.
Today (3 May) the price is $14.91 meaning it has lost 43% of its value since its April high. Other decentralised storage network tokens have suffered big losses over the last seven days but none as dramatic as FIL.
It had a strong rally from the turbulence in the market caused by Russia's invasion of Ukraine rising in March to top $27. Although looking at the longer term picture the coin has been on a bearish trend since last September when it was worth more than $113. Today, with a market capitalisation of $2.95bn it is ranked as the 37th largest cryptocurrency.
In this article, we look at recent developments for this storage-based crypto coin. We ask what is a realistic target price this year and review the latest analysis from the professional forecasters and their FIL price predictions for 2022 and the future beyond.
What is Filecoin?
Launched out of test mode in October 2020, Filecoin is a peer-to-peer network developed by Protocol Labs. Users pay competitive prices to storage miners to ensure their files are stored correctly and safely over time. The Filecoin blockchain records transactions to provide verification of file storage and transfer the native FIL cryptocurrency coin.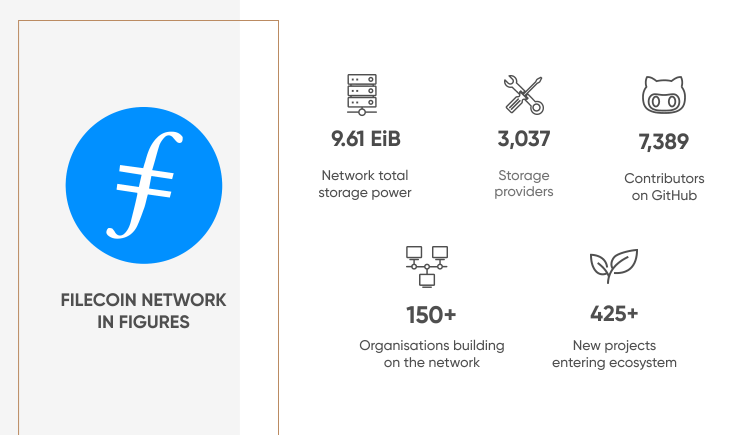 Unlike other cryptocurrency miners, who receive coins in exchange for running complex calculations to verify transactions, Filecoin miners receive FIL coin in exchange for providing computer storage. Storage miners are defined as any individual or organisation with spare disk space on an internet-connected computer.
Filecoin effectively facilitates the creation of an open market for file storage. Users can choose among miners to find one that offers the best balance of cost, speed, security and reliability to meet their needs. The Filecoin protocol removes the need for each provider to create a different application programming interface (API) or advertise their offering, reducing barriers to entry and creating a decentralised environment of independent providers.
The Filecoin protocol is enabled by Web3, the next-generation internet, where it is decentralised platforms that give users control over their data rather than centralised applications run by large corporations. This allows them to share files with peers over a network like Filecoin, reducing the risk of denial-of-service attacks and censorship.
The Filecoin concept taps into the trend of rising data centre capacity, as the rollout of high-speed 5G telecom networks enables the transfer of larger data files and as content creation and streaming services continue to grow.
In theory, as Filecoin becomes more popular the miners will become more competitive driving down the price of storage down. As of 3 May Filecoin said it has 3,999 Filecoin storage providers offering 16.4 EiB of total network storage power.
Filecoin has seen its share of controversy since it launched in October 2020. Some miners were reported to have suspended operations in response to Filecoin's economic model, as they were required to stake a large number of tokens as collateral to get started. A lack of liquidity and a sharp rise in the FIL price pushed miners to borrow the coin at high-interest rates to participate, having bought costly computing equipment to meet the mining requirements.
What is your sentiment on FIL/USD?
Vote to see Traders sentiment!
Filecoin rolls out collaborations
Filecoin is working with other developers in the cryptocurrency space to expand its ecosystem and has announced several collaborations in recent weeks.
On 17 August, Mask Network and Filecoin said they were collaborating to bridge the gap between Web2 and Web3 by providing decentralised storage to Mask users. The Mask browser extension will enable users to upload files to the Filecoin network and share them to their networks – with or without encryption.
On 20 August, Filecoin reported it was working with Polygon to accelerate Web3 interoperability between the two networks. Filecoin and Polygon recently created a bridge between the two blockchains, offering free storage costs for any projects that use the bridge.
Filecoin and Polygon are also holding two joint hackathons to encourage developers to build new applications using the bridge.
On 24 August, JigstackDAO, a governance platform for decentralised finance (DeFi) products, said it would use Filecoin and its IPFS storage system to store non-fungible tokens (NFTs).
On 26 August, Filecoin launched a collaboration with Dapper Labs to develop an NFT ecosystem on its Flow blockchain and establish best practices for storing NFT data. Dapper Labs, known for launching the CryptoKitties blockchain video game and the NBA Top Shot NFT marketplace, designed the Flow blockchain for extensive scaling and low-cost transactions aimed at facilitating decentralised applications (dApps). Flow projects that integrate Filecoin solutions will be eligible to receive grants of $5,000 and the opportunity to join future acceleration programs.
This collaboration was widened on 13 October when Filecoin became the official storage collaborator of Flow blockchain which it said would be "empowering platforms, developers and users alike as the Flow metaverse becomes more open, robust, and decentralised".
On 22 October leading digital assets mining and cloud service platform, Bitdeer, announced its support for Filecoin on its platform. Bitdeer said the move will significantly lower the barrier for global participants who are interested in acquiring FIL, "with its all-in-one platform that boasts greater accessibility, higher transparency and simpler operation".
On 14 November Filfox, the Filecoin blockchain explorer and data service platform, launched Fox Wallet, its "multi-platform protocol-agnostic cryptocurrency wallet" aimed at the Filecoin community and aimed at easing their path into the Web3.0 world.
On 2 December it announced the Filecoin Energy Dashboard which "provides granular and verifiable estimates of Filecoin electricity use". The statement added the move is a "crucial step in the ongoing efforts of our community to speed worldwide decarbonisation."
On 21 January 2022 the Filecoin Foundation teamed up with Protocol Labs to launch the Orbit Community Program to 'facilitate, fast-track, and inspire the growth of diversified crypto hubs with borderless reach, giving people of all backgrounds equal opportunity to learn about disruptive Web3 technologies and its various applications."
On 28 February the group behind the Filecoin blockchain, Protocol Labs launched the Decentralized Grants Marketplace, a platform for awarding large-scale grants to help develop decentralised ecosystems. Its first grants will be for the Filecoin ecosystem.
Filecoin price rebounds from lows
The FIL coin launched at a price of around $30 on 14 October 2020, spiking to $63 the following day, then slipping to $22.49 by 22 October. The price returned to $36 on 25 October, then fell back to trade between $28-$30 until late December when it dropped to the $21 level.
The cryptocurrency remained relatively stable into 2021 until 9 February, when it climbed to $48.21 from $27.57. It dipped to $34.60 on 26 February, then began to run up, reaching $96.17 on 17 March in response to an announcement that cryptocurrency investing giant Grayscale launched a filecoin investment trust.
On March 17, there was a 'double deposit' of filecoin, crediting the account of a miner twice. The proof-of-work algorithm that secures cryptocurrencies was designed to prevent spending the same funds twice, indicating a possible bug in the Filecoin code.
The cryptocurrency continued its rally further to peak at an all-time high of $237.24 on 1 April. The price subsequently fell back and was pulled lower as the broader cryptocurrency markets collapsed from record highs. The price bottomed out at $40.12 on 21 July, before rising to $82.13 on 23 August. It has since weakened to the $73 level. The price spiked on 6 September at $119.97 before dropping in a sustained downward wedge to its price today (3 May) of $14.9.
What are cryptocurrency observers predictions for the filecoin forecast in 2022?
Filecoin price prediction: will the coin trend higher?
According to CoinCodex, short-term technical analysis indicators for filecoin remained bearish, with five giving off a bullish signal while 20 were bearish. All of the 5+ simple moving averages (SMAs) were giving sell signals at the time of writing (3 May). The moving average convergence divergence (MACD) and the momentum indicator were neutral while the relative strength index (RSI) at 27.43 was bullish
Its short term Filecoin price prediction was for the coin price to rise 21% to $18.1 by 8 May.
Cryptocurrency data site DigitalCoin offered a bullish FIL coin price prediction for the coming years. It estimated the price may average $19.4 in 2022, rising to $22 in 2023 and $48 by 2028. For the longer term, it projected the price could average $69 in 2030.
Online forecasting service Wallet Investor was less bullish in its filecoin crypto price prediction, rating it as a 'bad' one-year investment. It said the price may fall to $3 by May 2023. It projected the price could fall to $0.18 in five years.
In its filecoin coin price prediction, Coin Price Forecast reckoned the FIL price will climb from $24 at the end of 2022 to $39 at the end of 2025 and $54 by the end of 2030.
When reviewing these filecoin predictions it's important to keep in mind that cryptocurrency markets are extremely volatile, making it difficult to accurately predict what a coin's price will be in a few hours, and even harder to give long-term estimates. As such, analysts and online forecasting sites can get their predictions wrong.
We recommend that you always do your own research, and consider the latest market trends, news, technical and fundamental analysis, and expert opinion before making any investment decisions. And never invest more than you can afford to lose.
FAQs
Is filecoin a good investment?

Cryptocurrencies are highly volatile assets, making them riskier than other forms of investment. Whether FIL is a good investment for your portfolio purely depends on your risk tolerance and asset allocation. You should evaluate the level of risk you are prepared to accept before investing and never invest money that you cannot afford to lose.
Will the filecoin price go up?

Forecasting sites' FIL predictions suggest the price will continue to rise over the long term. In the short term, volatility in the price will be driven by sentiment on the cryptocurrency markets as well as the adoption of its blockchain-based storage services.

Keep in mind when reading predictions by analysts and other forecasters that they can be wrong. Which forecasters you choose to believe is down to your own research and perception of market conditions.
What will the FIL coin be worth in 2030?

Coin Price Forecast predicts that the FIL price could potentially reach $54 in 2030. It's important to keep in mind that given the volatility on cryptocurrency markets, long-term forecasts can frequently change – just a few months ago it was predicting the price would be $400 in 2030.