Filecoin price prediction: What is Filecoin?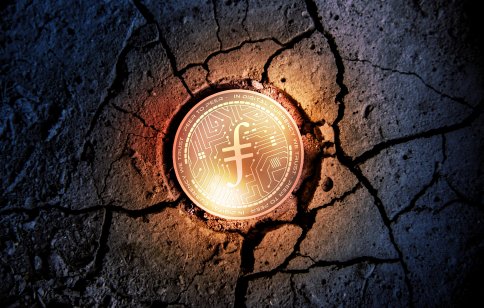 It promises to link cloud storage and the blockchain, but what is filecoin (FIL)? Let's take a look and see what we can learn, and also examine some of the filecoin price predictions that were being made as of 21 February 2023, too.
Filecoin explained
One of the most important concepts in the world of computing is that of cloud storage. This allows people to store data away from their hard drive, meaning that, at least in theory, their computers do not get clogged up with files and data that could slow things down. There is a theoretical link to blockchain technology and cryptocurrency, too, as the blockchain offers people the chance to make transactions and store information in a shared space.
However, while cloud technology has proven to be a help for a fair few people, that does not mean that it does not have its potential problems. For instance, the fact that, in many cases, cloud storage is heavily centralised could prove to be an issue for some, especially those who are firm believers in the concept of decentralisation.
Filecoin is a platform which is designed to help solve these problems. Filecoin is a peer-to-peer network developed by Protocol Labs. Users pay storage miners to ensure their files are stored correctly and safely over time. The Filecoin blockchain records transactions to provide verification of file storage.
People who use the Filecoin network to store their data can choose between various different storage miners based on their cost, speed, security and reliability.
Every blockchain needs to have its own native cryptocurrency, and Filecoin has the conveniently-named filecoin, also known by its ticker handle FIL. This coin is used to reward miners for making their storage available.
As the whitepaper says: "Filecoin is a protocol token whose blockchain runs on a novel proof, called Proof-of-Spacetime, where blocks are created by miners that are storing data. Filecoin protocol provides a data storage and retrieval service via a network of independent storage providers that does not rely on a single coordinator, where: One – clients pay to store and retrieve data; two – storage miners earn tokens by offering storage; and three – retrieval miners earn tokens by serving data."
The Filecoin blockchain was originally set up in 2014 as a sidechain of InterPlanetary File System, a peer-to-peer storage network before spiralling off to do its own thing, with an initial coin offering (ICO) raising $205m in 2017. It was not until 2020, however, that the Filecoin mainnet came into being. Filecoin was founded by California-based crypto entrepreneur Juan Benet, who also founded InterPlanetary File system and its parent company, Protocol Labs.
Filecoin price history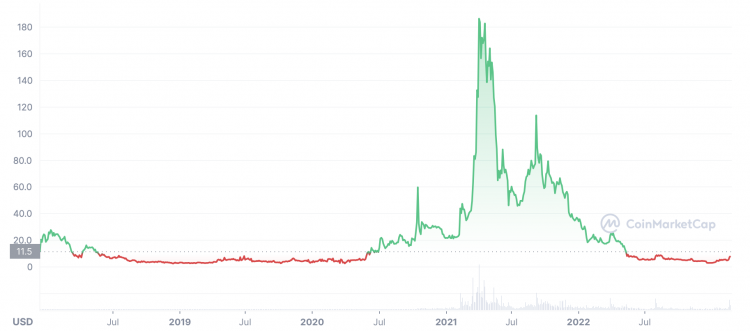 FIL price history from launch to present - Credit: CoinMarketCap
Let's now take a look at the FIL price history. While past performance should never be taken as an indicator of future results, knowing what the crypto has done previously can help give us some very useful context when it comes to either making a filecoin price prediction or else making one of our own.
Filecoin first came onto the open market in late 2017, it was worth about $11. Shortly after, the crypto market went through a bubble, with FIL topping $25 in January 2018. The bubble burst, though, and by the summer of that year, it was below $5. For the next two years or so its price hovered around the $5 mark as the market experienced a so-called crypto winter.
Things got better in October 2020 as the Filecoin mainnet was launched, effectively turning FIL from a token to a coin, and it closed the year at $24.35. Early 2021 was a bullish time for crypto, and FIL was a beneficiary as the news that Chinese company Xinyuan Technology had invested in FIL saw its price rise by more than 400% during March that year. The interest in the coin had not quite peaked, though, and it reached an all-time high of $237.24 on 1 April. After that, the price fell, first slowly and then quickly, with a sluggish market seeing it fall to below $50 in July. Although there was a recovery after this, with it topping $100 in September, the coin soon dropped down, with not even the news of a collaboration between the platform and New York City's open data office stopping it from closing the year at $34.27, up by around 45% year-on-year but down significantly from the heights of April.
While 2021 was, ultimately, a positive year for both crypto and filecoin, 2022 was a year which saw disaster strike both FIL and the sector as a whole. Although filecoin reached a high of $38.31 on 5 January, it was all downhill from there, with the crypto bottoming out at $16.56 on 15 March. A rally saw it peak at $27.31 on 31 March, but a slump in April became a crash in May, when the depegging of the UST stablecoin and the collapse of the associated LUNA cryptocurrency caused a market crash which saw FIL drop to below $10. Things got even worse the following month, when the news that the Celsius Network (CEL) crypto lending platform had cancelled withdrawals confirmed the bear market and FIL fell to a low of $4.82 on 18 June. There was some recovery after this, with it briefly breaking past $10 in late July and early August, but then it settled back to between $5 and $6 for the next few months. In November, though, the collapse of the FTX (FTT) exchange caused yet another crypto crash and, in the turmoil, FIL dropped to a low of $2.68 on 16 December before making a small recovery to close the year at $3.01, down more than 90% over the course of the year.
So far, 2023 has looked a bit better for both filecoin and the wider cryptocurrency market. The coin rallied to close January at $5.23, while reports of Filecoin creating its own virtual machine, a system which would allow the creation of smart contracts, computer programs which automatically execute once certain conditions are met on the system, boosted its price in February. On 19 February it was worth $9.40, its highest price in more than six months, and on 21 February 2023 it was trading at around $8. At that time, there were 389,513,726 FIL in circulation, representing the total supply. This gave the coin a market cap of $3.1bn, making it the 23rd largest crypto by that metric.
Filecoin price prediction round-up
With that out of the way, let's now take a look at some of the filecoin price predictions that were being made as of 21 February 2023. It is important to remember that price forecasts, especially for something as potentially volatile as cryptocurrency, very often turn out to be wrong. Furthermore, many long-term crypto price predictions are made using an algorithm, which means that they can change at a moment's notice.
First, CoinCodex had a rather mixed short-term filecoin price prediction for 2023. The site suggested that FIL could rise to $8.60 by 26 February, before then potentially dropping to $7.74 by 24 March. The site's technical analysis was, perhaps fittingly, neutral, with 18 indicators making bullish signals against 11 sending bearish ones.
Next, DigitalCoinPrice made a FIL price prediction that said the coin could trade at $16.36 this year before possibly reaching $27.20 in 2025 and potentially closing the decade at $57.33. The site then went on to make a filecoin price prediction for 2030 that saw it hit a potential $83.32 before suggesting it could break the $100 barrier the following year to trade at around $113.01.
Meanwhile, CryptoPredictions.com had a filecoin coin price prediction that said the crypto could close the year at $9.94. It then went on to make a filecoin price prediction for 2025 that said the token could open the year at $15.82, reach $17.47 by June and potentially close the year at $19.17.
Finally, WalletInvestor had a filecoin crypto price prediction that suggested the coin was in for a tough 12 months. It said that investors could be in for a scare, with the FIL price potentially dropping to a mere $0.678 by February 2024.
When considering a FIL coin price prediction, it's important to keep in mind that cryptocurrency markets remain extremely volatile, making it difficult to accurately predict what a coin or token's price will be in a few hours, and even harder to give long-term estimates. As such, analysts and algorithm-based forecasters can and do get their predictions wrong.
If you are considering investing in cryptocurrency coins and tokens, we recommend that you always do your own research. Look at the latest market trends, news, technical and fundamental analysis, and expert opinion before making any investment decision. Keep in mind that past performance is no guarantee of future returns. And never trade with money that you cannot afford to lose.
FAQs
Is filecoin a good investment?

It is hard to say. A lot will depend on whether the Filecoin Virtual Machine delivers, along with how the market performs as a whole.

Remember, you should always carry out your own thorough research before making an investment. Even high market cap cryptocurrencies can be affected by bear markets. So investors should be prepared to make losses and never purchase more than they can afford to lose.
Will the filecoin price go up or down?

No one can really tell right now. While sites such as DigitalCoinPrice are upbeat about the crypto's future, the likes of WalletInvestor were far more downbeat. You need to remember that price predictions very often end up being wrong, and that prices can, and do, go down as well as up.

In volatile cryptocurrency markets, it is important to do your own research on a coin or token to determine if it is a good fit for your investment portfolio. Whether FIL is a suitable investment for you depends on your risk tolerance and how much you intend to invest, among other factors. Keep in mind that past performance is no guarantee of future returns. And never invest money that you cannot afford to lose.
Should I invest in filecoin?

Before you decide whether or not to invest in filecoin, you will need to do your own research, not just on FIL but on other crypto coins and tokens.

Ultimately, though, this is a question that you will have to answer for yourself. Before you do so, however, you will need to conduct your own research and never invest more money than you can afford to lose because prices can go down as well as up.