Fancy Bears, passport destruction, and Klitschko: inside NFTs funding Ukraine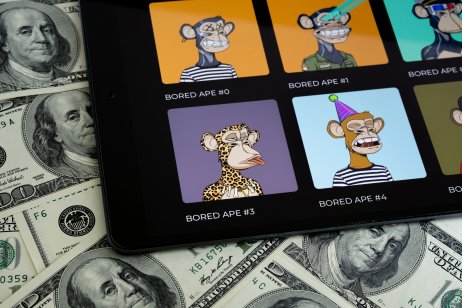 The biggest non-fungible token (NFT) profile picture (PFP) collection project in Europe is currently fundraising within its 8,888-strong community for nongovernment organisations (NGOs) to help Ukrainian "victims of war that crossed the Polish border, to provide them with food, water and shelter."
"I'm from Poland, we have over a million refugees right now. We have people from Ukraine in our teams, we have friends in Ukraine, families… so we are really connected to this crisis and we really wanted to help," says Bartek Sibig, founder of Fancy Bears Metaverse.
Fancy Bears' US counterpart, Bored Ape Yacht Club, recently raised $1m (£761m) and sent the funds directly to Ukraine's official Ethereum wallet.
Over the last two weeks since Russia launched its offensive in Ukraine, NFTs proved a popular way for people worldwide to fundraise for the invaded country.
One of the appeals of donating through NFTs is transparency, Sibiga points out.
"First of all, you get this proof of donation, but what's more – all the money that we raised, we are going to build all the information in the blockchain where exactly it went so we can see where each dollar will be spent.
"It is much more clear for people who donate. They can see everything. It is much better than if you just donate to some organisation and you have to trust them.
"Here transparency is super important in the blockchain, and that's why I believe that NFTs are the best way for corporate social responsibility and helping others," Sibig adds.
Art against war? Passport burning
Prolific NFT artist Olive Allen made a video to raise money for Ukraine. The clip showed her burning her Russian passport in front of the Russian consulate in New York, where she lives.
She said she did not agree with the actions of her mother country and wanted express solidarity with the people of Ukraine.
She auctioned the NFT and donated the proceeds to Save the Children. "I really don't support Putin. I'm Russian," she said in the video.
"What's going on is just a horrible injustice, nobody deserves that. I'm really, really sorry and I'm truly, truly ashamed of my country's actions. I love my country, but I don't support government's actions and I stand with people of Ukraine," she said.
She could face 15 years in prison in Russia for the act. "I wouldn't have done anything differently," she says.
Her NFT, dubbed 'PASSPORT BURNING', was purchased by UnicornDAO. The decentralised autonomous organisation was launched this week and invests in women-identified and LGBTQ+ creators. UnicorDAO was co-founded by Nadya Tolokonnikova, a long-time critic of Russian President Vladimir Putin and a founding member of Pussy Riot, a Russian feminist protest punk band.
Tolokonnikova was also behind a fundraising project which sold pictures of Ukrainian flags as NFTs, and raised over $7m. The move encouraged Ukraine Deputy Prime Minister and head of digital transformation, Mykhailo Fedorov, to announce the government would mimic the step.
Meanwhile, the mayor of Kyiv, former boxer Wladimir Klitschko, joined forces with NFT artist WhisBe, who created a series called "Vandalz for Ukraine: WhIsBe x Wladimir Klitschko" – a collection of four gummy bears in the colour of the Ukrainian flag.
What is your sentiment on ETH/USD?
Vote to see Traders sentiment!
Cleaning up NFTs' reputation?
NFTs boomed in 2021, but the digital representations have been tainted by celebrities hyping their projects and then calling it quits to hacking incidents and security concerns.
Fancy Bear's Sibiga also listed another reason behind FancyBears' fundraising: "We also wanted to show that something good can be done with NFTs."
With donations worth millions of dollars raised through various NFTs projects, Sibiga's project and other NFT fundraisers and artists may have just proved the point.