Europe energy crisis: Which LNG stocks have cashed in?
Subscribe to Weekly Highlights
The major market events for the week ahead right in your inbox.
Subscribe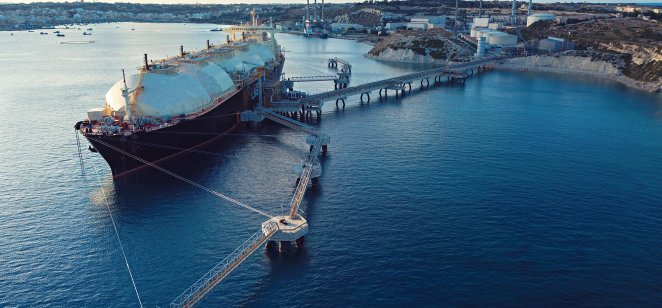 Content
The Europe energy crisis is hurting consumers but some firms, including Cheniere Energy (LNG) and TotalEnergies (TTEF), are benefiting from the EU's shortfall of natural gas as it looks for alternatives to Russian supply. One key to supply is liquified natural gas (LNG), which can be transported by ship.
Capital.com has taken a closer look at LNG stocks to see how they are performing and asked some analysts for their thoughts on the shares to watch – and whether some may have peaked.
Cheniere Energy (LNG) stock price
What is your sentiment on LNG?
Vote to see Traders sentiment!
US Natural Gas Spot CFD
LNG stocks cash in on Europe energy crisis
The US became the top LNG exporter in the world in the first half of 2022 as Europe moved away from Russian natural gas, supplied by pipelines, following Russia's invasion of Ukraine.
"US LNG exports have averaged roughly 324 million cubic metres per day, this year-to-date – a roughly 58 million cubic metre per day (18%) increase over last year. Contracting for US capacity has also increased, with nearly 50 million tons of agreements made this year so far, up nearly 24 million tons from the full year of 2021," Ross Wyeno, lead analyst, Americas LNG, S&P Global Commodity Insights, told Capital.com.
With the large jump in shipments, the companies behind the exports are reaping the benefits, including Cheniere Energy Inc (LNG) and TotalEnergies (TTEF).
"Given the situation between Europe and Russia it is likely that US LNG will continue to be in demand. Russia has warned the gas prices may rise another 60% as Gazprom's own production and exports continue to fall. Such developments will force Europe to further shift to LNG. US exports to the EU have already risen as the country exported three quarters of its LNG to Europe, a big jump from one third last year. US companies will continue to benefit from this geopolitical risk premium," Osama Rizvi, energy analyst at Primary Vision, told Capital.com.
TotalEnergies (TTEF) stock price
Is Cheniere Energy a good buy?
Cheniere Energy stock has been having a good run! So much so that it raises the question of whether the price topped out?
The giant US LNG firm supplies to more than 30 countries. It buys natural gas, liquefies and then sells it. Its assets include two LNG plants on the Gulf of Mexico.
It operates mainly under long-term (curve) contracts, so it is less exposed to fluctuations in gas prices, according to Dmitrii Ishutin, a quantitative analytics manager at Brady.
"In the near future, Cheniere Energy is focused on rising gas prices in Europe, but it sees a more global perspective in supplying clean energy to the Asia-Pacific region: China, India, South Korea and Pakistan," he said.
On 4 August, the company posted its second quarter 2022 earnings.
It announced total revenues of $8.007bn in the second quarter of 2022, representing a 165.40% increase over the $3.017bn that it brought in during the same quarter in 2021.
Moreover, it reported an operating income of $1.477bn for its most recent quarter, representing a 911.64% increase over the $146m the company posted in the same quarter a year earlier.
Cheniere Energy stock: 'a strong bull trend'
"Investors have been very bullish on Cheniere Energy's (LNG) stock price, which has gained an astonishing 93% on the year," said Piero Cingari, commodities analyst at Capital.com.
| | |
| --- | --- |
| Long position overnight fee | -0.0024% |
| Short position overnight fee | -0.0116% |
| Overnight fee time | 22:00 (UTC) |
| Spread | 0.03 |
| | |
| --- | --- |
| Long position overnight fee | 0.0007% |
| Short position overnight fee | -0.0149% |
| Overnight fee time | 22:00 (UTC) |
| Spread | 0.04 |
| | |
| --- | --- |
| Long position overnight fee | -0.0182% |
| Short position overnight fee | 0.0065% |
| Overnight fee time | 22:00 (UTC) |
| Spread | 0.040 |
| | |
| --- | --- |
| Long position overnight fee | -0.0188% |
| Short position overnight fee | 0.0073% |
| Overnight fee time | 22:00 (UTC) |
| Spread | 0.33 |
"Rising US LNG exports to Europe at higher prices as a result of Russian disruption drove record profits for Cheniere Energy in the second quarter of the year. Earnings-per-share (EPS) were 44% higher than analysts had predicted. Strong earnings will likely enable Cheniere Energy to make substantial dividend payments over the next few years," he added.
However, despite the recent strong gains, the 12–month forward P/E ratio of about 11x does not indicate expensive valuations for Cheniere Energy, Cingari added.
"Technically, the stock is on a strong bull trend, with price momentum overshooting the 50–day moving average by nearly 20% now. Daily RSI entering overbought territory this week may warrant some caution as profit-taking may occur in the near term. A retracement to the $142-$150 support zone may result in some buyers reappearing on dips. However, going forward, as long as the Russian war keeps gas disruptions at a high level, Cheniere Energy will continue to enjoy windfall profits as European countries are forced to continue importing LNG from the United States," Cingari said.
Is TotalEnergies stock a good buy?
TotalEnergies (TTEF) is a French company and another big LNG player. In April, the energy giant announced that it was stepping up its liquefied natural gas activities in the US by expanding production in Louisiana.
"We are present across the entire value chain, from production and liquefaction of natural gas, to LNG trading and shipping, to regasification using terminals or floating storage regasification units (FSRUs)," the group previously said.
Moreover, in June, Qatar, another one of the world's biggest exporters of liquefied natural gas, announced that it had chosen TotalEnergies among partners to develop its massive offshore North Field East project. Italy's Eni SPA (ENI), US oil major ConocoPhillips and British multinational Shell (RDSB) are also partners in the project.
Eni SPA (ENI) stock price
TotalEnergies (TTEF) stock outlook
Piero Cingari highlighted how TotalEnergies has been underperforming its peers.
"The stock traded on the NYSE is only up 6% year-to-date and 25% from a year ago, far less than the oil and gas sector's (XOP) gains of 45% and 82%, respectively. TTEF has been harmed by the risks associated with its exposure to Russia ever since the Russian–Ukrainian conflict began. At the end of March, TTEF clarified that it does not operate any oil and gas fields or liquefied natural gas (LNG) plants in Russia, but it is a minority shareholder in a number of privately held Russian companies, including Novatek (19.4%), Yamal LNG (20%), Arctic LNG 2 (10%), and TerNefteGaz (49%).
"Multiple stock valuation metrics, such as the P/E ratio of 6.6x and the forward P/E ratio of 3.8x, indicate that TotalEnergies is actually undervalued. Recently, there has been a 14% rebound from the year-to-date lows of July 14th. The daily RSI settled above 50, indicating that buyers may have assumed the upper hand in the near term. The area between $50 and $5 provides an interesting support, while $54.18 (high of 11 August) dictate the resistance to be overcome," Cingari said.
What other stocks could gain from LNG demand?
Mark Rossano, founder and CEO of C6 Capital Holdings, shared his thoughts with Capital.com on other stocks that could gain from rising LNG trade.
"Cheniere and New Fortress Energy (NFE) have been huge winners regarding the big spike in demand for global LNG. As Europe pulls in more product, it has kept prices elevated around the world and has forced some countries to increase their use of high sulfur fuel oil.
New Fortress Energy (NFE) stock price
"I think we need to look further up the supply chain at the natural gas stocks that will benefit from the strengthening in spot pricing and across the futures curve. Range Resources (RRC), Antero (AR), Southwestern (SWN), and EQT are in prime position to benefit from the surge in local pricing as use storage remains in a bullish backdrop as more LNG is set to leave our shores as Freeport reenters service in October.
"Cheniere is a safe bet because spot volumes will continue to trade at elevated prices, but I prefer Cheniere Energy Partners [a limited partnership which owns the Sabine Pass LNG terminal in Louisiana] because it has some additional upside while paying out a healthy dividend that can easily be supported by current pricing.
"I think there is still more upside across the whole supply chain, but the natural gas producers are just getting started," Rossano said.
Range Resources (RRC) stock price
Related reading