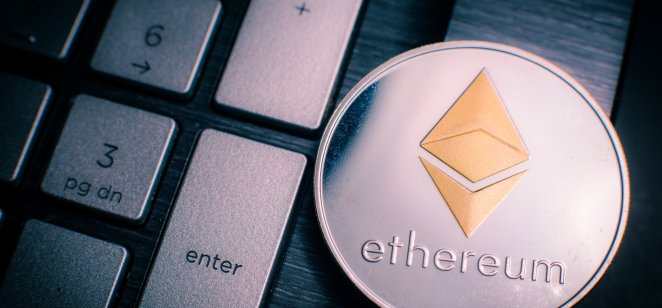 Content
The upcoming Ethereum hard fork, known as the merge, may prove popular with European legislators, miners are less keen at the switch away from a proof of work system (POW).
ETH's current POW means that miners are rewarded for every valid block and all the subsequent transaction fees (gas fees) that are generated from it.
These rewards can be significant. One Indonesian retail ETH miner told Capital.com that he was earning $4000 a month during 2021 with just a five computer mining operation.
ETH to US dollar
"Mining crypto is much better than investing in it", he told Capital.com.
"It doesn't matter if the price goes up or down, miners still get paid", he added.
But not for much longer.
The much delayed introduction of the Merge will soon put a dent in those earning as it will see the digital token move to a proof of stake (POS) process.
What is your sentiment on ADA/USD?
Vote to see Traders sentiment!
ETH miners fight back
According to one Twitter user, going by the handle of ChandlerGuo, the next step will be the creation of ETH POW.
Within hours a group calling itself the Foundation for Useful Internet set up a twitter account and said that it was in fact working on such a project.
BTC to US dollar
It is launching a fundraising project on Github for a digital token it dubbed,'fuichain/go-ethereum'.
Given that FuIchain's Twitter account has four followers it is not clear at this point how successful its proposed ETH POW token will be.
What is a hard fork?
In the crypto sector, a hard fork is a blockchain network upgrade. This involves all nodes or users to upgrade to the latest version of the protocol software.
There are a number of reasons to do this.
Cardano's Vasil hard fork, for example, was aimed at making the network perform faster and enable it to to scale up and ultimately increase ADA's price.
Both bitcoin and ethereum have been through major hard fork, resulting for example in the creation of ethereum classic.
What is the Merge?
The Ethereum blockchain will conduct the Merge which will see the current Ethereum Mainnet integrate with the Beacon Chain proof-of-stake system.
Ethereum Classic, will stay on the proof-of-stake (POS) system.
One major aim of the merge is to reduce the energy consumption associated with mining the token.
ADA to US dollar
How will the Merge change ETH?
Post-Merge ETH will consume significantly less energy therefore resolving a major objection to the crypto sector.
The switch to a POS has been hotly debated as have its potential impacts.
Recently digital asset experts told Capital.com that post-Merge ETH could have a safe haven or fixed income characteristics.
Financial illiteracy common in crypto
Ultimately that is a far-fetched idea which reflects the absence of financial knowledge that is endemic within the crypto sector.
Fixed income assets are called this because the payments are fixed, whereas ETH price has fallen 70% since its all-time-high in November 2022.
Other crypto users argue that the Merge will trigger something known at the 'flippening'
This refers to the suggestion from some crypto users that ethereum will overtake BTC as the number one cryptocurrency by market capitalization.
Read more