Ethereum price analysis: ETH hits a new record in the first week of February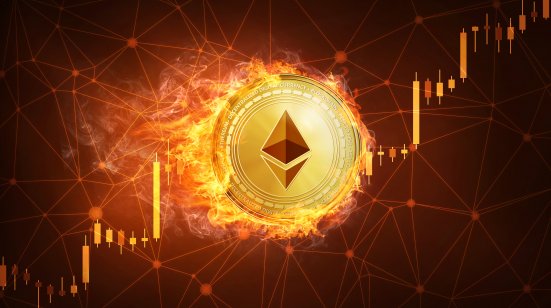 What has happened to the ETH price so far in 2021?
Back in 2020, the ETH price got seemingly left behind Bitcoin (BTC). While the world's largest cryptocurrency surged back to its 2017's all-time high (ATH) and then pushed past it to brand new records, the Ethereum price rise only took the coin half-way towards its own ATH.
The situation changed as 2021 came around, and on the very second day of the year, the ETH price started surging. But, while it came extremely close to breaking its former record and hitting a new record, it did not happen.
Instead, the price was rejected back down to $992, although it managed to quickly bounce back up, and launch another attempt to reach its former ATH at $1,440 and potentially surpass it.
Once again, it came close – all the way to $1,428. However, it once again failed to reach its former record, suffering another rejection instead. This was around January 19. After that, the price spent as much as two weeks trading sideways, experiencing only small fluctuations.
The breakthrough finally arrived, of course, but not before February 2. On this day, the Ethereum price record was finally reached, and the days that followed saw the second-largest coin by market cap skyrocket even further up.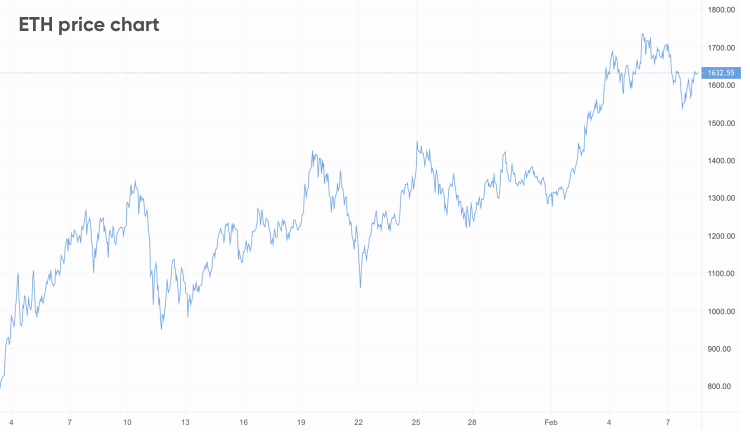 Ethereum then hit a price of $1,756 on February 5 only to drop slightly lower over the weekend. The dip stopped at $1,555, and the altcoin was ready for another upside momentum once the second week of February kicked off. On February 9, the ETH price set a historical record of $1,815. At the time of writing, February 9, 3:30pm GMT, Ethereum slid to trade at $1,746, but it could easily reach a brand new ATH soon – maybe even before this day comes to an end.
What is your sentiment on MATIC/USD?
Vote to see Traders sentiment!
What is going on with Ethereum?
Naturally, whenever some asset surges, investors and traders' first question is: Why?
So, why is ETH trading so high?
The answer is – it's how the crypto market works. The crypto industry follows certain cycles, when not influenced by outside forces such as news, price manipulation, and the like. Bitcoin, for example, surges, drops, slowly recovers to where it used to be, and then surges again to a brand new height.
Like most other coins, Ethereum tends to follow this pattern – just as it follows Bitcoin itself – although with some divergences.
For example, while the BTC price surge took place between December 16, 2020, and January 8, 2021 – Ethereum analysis shows that the coin was a bit late to the party. This was to be expected, as the ETH surge typically always comes after Bitcoin. BTC is the biggest crypto, and while it surges, all altcoins are secondary in the investors' minds.
When the BTC price starts slowing down, and the coin starts seeing a correction, that's when other assets start attracting the attention. Ethereum, being the second-largest crypto by market cap and the industry's largest development network, a birthplace of dApps, smart contracts, and the entire DeFi sector, becomes the next coin to see massive new gains.
Some Ethereum news potentially helped the coin see a price increase. For example, DeFi reached a new TVL (Total Value Locked) high only days ago, hitting $35.23bn. This is huge for Ethereum, as DeFi TVL sat at only $1.03bn in early February of 2020.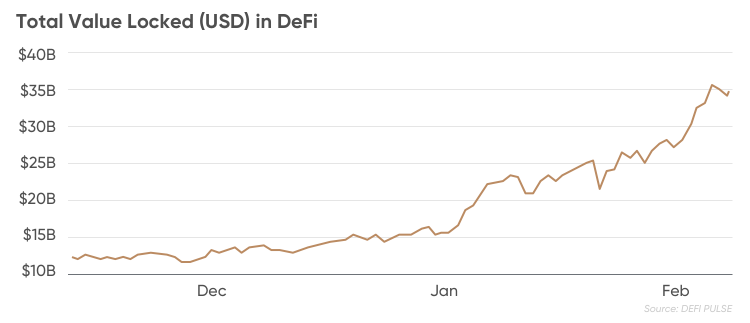 Then, there were plenty of speculative articles, discussing Ethereum technical analysis, and whether or not it is a good time to buy the coin. These may have had a positive influence on the coin's price movement.
Ethereum is also reportedly being connected with Cosmos (ATOM) via a so-called Gravity Bridge. Interoperability and the ability to send money and data from one blockchain to another is still a very popular and sought after idea, so the development of the gravity bridge was taken as good news.
And, not to mention the fact that Ethereum 2.0 is on the way, with the potential to be fully launched at some point in 2021. The upgrade will take time, but it was launched on December 1, after numerous delays. With something finally happening with the project after such a long wait, it is hardly surprising that people are keeping an eye on the price, and jumping on the opportunity to be a part of its growth.
Ethereum price analysis: what to expect from Ethereum in 2021?
So far, Ethereum was a bit late, but it did not disappoint. It managed to climb from barely above $700 to a new ATH in a matter of a single month. More than that, its ecosystem is constantly expanding, despite younger and better-performing competitors.
With that in mind, investors and traders are very interested in every ETH analysis, short-term Ethereum forecast, or even long-term price predictions that could give them hints about whether to invest in it or not.
We looked up some of these predictions and came with a variety of expectations.
TradingBeasts, for example, expects Ethereum price to reach a maximum of $1,628 by the end of Q1 2021, or in case the price drops – they expect it to sink to $1,107. Of course, if that means that Ethereum's new bottom lies above $1,000, that is a very good sign for the future of the coin.
On average, it is expected that the coin's price will drop from where it is right now, and that it will continue to climb up as the year progresses, ending it with the average price of $1,468, or the maximum price of $1,835, while the minimum one would be $1,247.
The surge is then expected to continue throughout the next few years and lead Ethereum to $2541 by the end of 2024.
CryptoGround, on the other hand, disagrees with this. In fact, it expects a very bearish period for Ethereum, where its price would drop back to $200 in days to come, and barely move from that spot for the entire next year.
CryptoGround's pessimistic analysis claims that ETH might be back to $1,445 in about five years. While this sounds highly unlikely, we did have an opportunity to see similar behaviour in 2018, after the great crypto winter started to tear the prices down.
Wallet Investor has a much more optimistic view, claiming that Ethereum will go beyond $2,000 sometime during the next 12 months, and that it will be above $4,000 in a five-year period.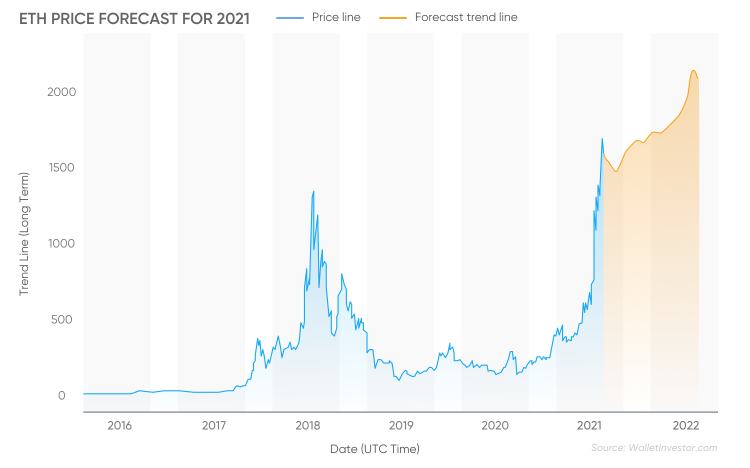 There are predictions that are even more optimistic than this, claiming that ETH could hit $2,000 by early summer, and potentially $4,000 by the end of the year. This could happen if the coin ends up acting out Bitcoin's own pattern, although it is unlikely for it to mirror BTC so closely. Still, anything can happen in crypto, as we have seen time and time again, so no possibilities should be excluded – especially with Ethereum 2.0 on the way.
Read more: Dogecoin price prediction for 2021: should you jump on the crypto bandwagon?