Dvision Network price prediction: Can it recover?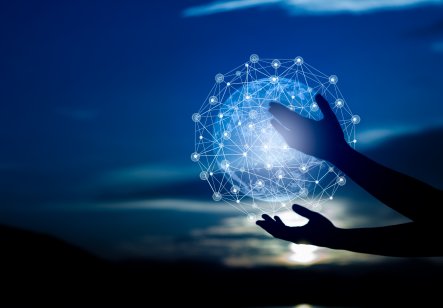 Amid the noise around NFTs and the metaverse, many new projects have launched.
Dvision Network (DVI), a metaverse token, reached its all-time high of $3.16 on 21 November 2021, according to data from CoinMarketCap. The price retraced to $1.12, as of 20 December. Can it compete with other metaverse projects, including Decentraland (MANA), Axie infinity (AXS) and Sandbox (SAND), and return strong gains for investors?
This article covers fundamental and technical analysis, along with DVI token price predictions.

What is DVI coin?
Dvision is a metaverse project that leverages blockchain and virtual reality technologies to fuel several virtual reality activities.
Dvision network is built on the Ethereum network and Binance Smart Chain. It's accessible through three key platform pillars: Meta-City, Meta-Space and an NFT marketplace.
Meta-City is a public space where users can participate in various metaverse activities, including gaming, shopping and education, and even visit a virtual museum or attend an exhibition.

Meta-Space is a feature that allows users to design their own unique virtual spaces and earn rewards.

NFT Market is a platform that enables users to produce and sell different NFTs directly via the platform's marketplace.
Dvision World serves as the entry point to the Dvision metaverse and connects all Meta-Cities. It also incorporates a play-2-earn model.
DVI/USD price analysis
Dvision has been one of the fastest growing cryptocurrencies, with several price spikes between late 2020 and 2021.
According to CoinMarketCap's earliest available data, DVI initially gained traction when its price soared from $0.04 on 4 November 2020 to $0.13 on 14 December 2020, a rise of 225% in under two months. It ended the year at $0.10.
Dvision traded in a sideways market throughout the first two months of 2021, and the price did not get any traction until March.
In March 2021, an aggressive bull run accelerated the price from $0.13 on 10 March to $1.01 on 1 April, an increase of more than 675% in three weeks. However, the surge was short-lived, as the price plummeted to $0.17 on 21 June.
A bull run began at the end of June, sending prices to $0.59 by 9 September. Prices tested the $0.59-$0.60 levels several times during September, but bears eventually brought the price down to $0.45 by 29 September 2021.
After trading in a sideways market for a month, DVI surged from $0.58 on 25 October to the all-time-high of $3.16 on 21 November, representing a rise of nearly 444% in a month. At the time of writing, 20 December, the coin's value had fallen to $1.12 as seen on the chart below.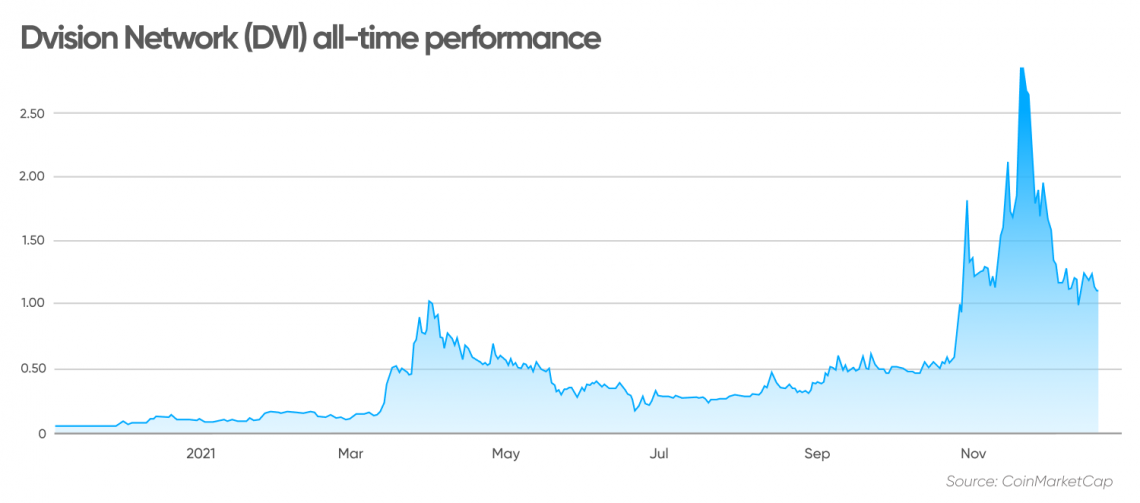 Dvision network coin news and price drivers
Dvision's developing team has shared news that could affect the DVI coin value:
Partnership with Coinbase
In January 2021, Dvision Network collaborated with Coinbase Custody to provide cold storage for its native token DVI. This implies that DVI holders can store their DVI tokens and other cryptocurrencies in Coinbase Custody's secure cold storage facility.
Coinbase Custody is one of the few custodial services that solely supports those projects that adhere to technical specifications and applicable standards.
Release of limited edition NFTs
In March 2021, Dvision network launched five limited-edition NFTs. The NFT characters were created using the avatars of prominent cryptocurrency industry leaders. They were auctioned on OpenSea, the NFT Marketplace.
Dvision states that these NFTs characters can be used inside the Dvision metaverse and secondary NFT marketplaces. Additionally, Dvision network rewarded people who purchased the limited edition NFTs with DVI tokens.
Cross-chain bridge with Binance Smart Chain
In May 2021, Dvision built a multi-chain bridge to facilitate the flow of DVI tokens between Ethereum and the Binance Smart Chain (BSC).
The bridge, according to Dvision, was designed in collaboration with Curvegrid. Dvision Network said they'd conducted multiple tests and incorporated an easy user interface. The BSC bridge expanded the DVI token's use cases and deployment inside the BSC ecosystem.
Security audit from CertiK
Given the risk of hacker attacks on the Binance Smart Chain, guaranteeing the security of tokens and assets stored in a smart contract is a priority for any crypto project.
In July 2021, Certik, a security company that conducts security assessments of blockchain protocols, concluded that the Dvision Network's BSC-based smart contracts lacked any significant or severe flaws ensuring its overall safety protocols.
Partnership with Enjin Network
In July 2021, Dvision partnered with Enjin to link the Dvision World to five distinct blockchains: Ethereum, Binance Smart Chain, Efinity, Polkadot and Enjin's carbon-neutral JumpNet network.
This collaboration enabled Dvision users to utilise Enjin's platform and API to generate non-fungible tokens and integrate them into Dvision World characters. Dvision users can utilise Enjin's network bridge to migrate their NFT assets across several blockchains.
Dvision claims that by using the Enjin blockchain, users will be able to create carbon-neutral NFTs.
Partnership with TribeOne
In October 2021, Dvision announced a partnership with TribeOne, the world's first decentralised NFT lending platform, enabling its customers to borrow funds from TribeOne to access its NFT marketplace.
Dvision users can apply for unique NFT Loan Products as a result of this strategic relationship, giving them complete access to the NFT world and enabling them to capitalise on their metaverse experience.
In November 2021, Dvision network announced the launch of the Dvision World metaverse. Dvision World is the metaverse's central lobby, connecting all the meta-cities that will be included in its virtual world.
Dvision Network price prediction: DVI targets for 2022, 2025 and 2030
CoinCodex's short-term Dvision technical analysis was bearish, with 9 indicators showing bullish signals and 17 showing bearish signals, as of 20 December 2021.
Daily 3- to 50-day simple moving averages (SMA) and exponential moving averages (EMA), as well as the stochastic RSI and momentum oscillator, gave sell signals. Weekly SMAs, EMAs, and the Hull Moving Average sent buy signals. The average directional index and relative strength index (RSI) remained neutral.
According to a short-term DVI crypto prediction from CoinCodex, Dvision's price could increase by 37.38% to $1.51 by 25 December 2021.
Meanwhile, as of 20 December, various algorithm-based forecasters shared long-term dvision network coin forecast:
According to Wallet Investor Dvision Network price prediction, the average token value could reach $2.314 target price by the end of 2022 and $ 5.657 by 2025. The five-year estimate for DVI/USD indicated that it could reach $6.733 in December 2026.

According to DigitalCoin's Dvision Network analysis, the average price of DVI in 2022 could be $1.82, move up to $1.92 in 2023, $2.23 in 2025 and $4.66 in 2028.

According to PricePrediction, the average price of DVI could reach $1.60 in 2022, $4.67 in 2025 and $31.13 in 2030.
When looking for DVI coin price predictions, bear in mind that analysts and algorithm-based forecasters can be wrong. Their DVI projections are based on fundamental and technical studies of a cryptocurrency's past performance. Past performance is no guarantee of future results.
Note that DVI price predictions shouldn't be used as a subsitute to your own research. It's essential to conduct your own due dilligence and always remember that your decision to trade should depend on your attitude to risk, your expertise in the market, the spread of your investment portfolio and how comfortable you feel about losing money. You should never invest money that you cannot afford to lose.
FAQ
Is DVIi a good investment?

Whether DVI is a good investment for you depends on your personal circumstances and risk appetite. Cryptocurrencies are high-risk, highly volatile assets and DVI predictions shouldn't be used as a substitue for your own research. Evaluate the level of risk you are prepared to accept before investing, and never invest money you cannot afford to lose.
Will Dvision Network's coin price go up or down?

Accurately predicting the price of a cryptocurrency is very difficult. Prices fluctuate every second. Nonetheless, numerous algorithm-based forecasting websites gave an optimistic Devision Network perdictions, expecting coin to retain a bullish trend over the next few years.
Will DVI reach $30?

According to the DVI/USD forecast of PricePrediction (as of 20 December 2021), DVI could hit $31.13 by 2030.
Read more: Ravencoin (RVN) price prediction: stalling while others are rallying