Denmark inflation rate: Will inflation keep its downtrend in 2023?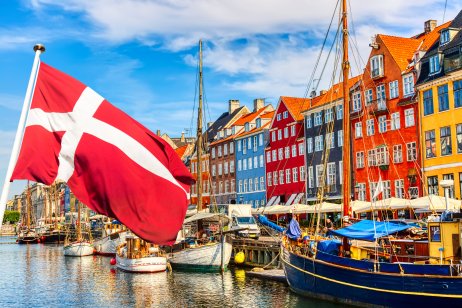 Content
The inflation rate in Denmark decelerated for the second consecutive month from a 40-year high as energy costs fell, providing relief to Danes.
Denmark's inflation rate rose by 8.7% in December 2022 compared to the same month a year earlier, Statistics Denmark announced on 10 January. But it slowed from 8.9% in November and from 10.1% in October, which was the highest annual increase in the Consumer Price Index (CPI) since November 1982.
Although Denmark is less reliant on natural gas than other countries, the country has not been spared from the escalating energy costs caused by the Russia-Ukraine conflict.
Is the most recent reading an indication that inflation has peaked and is set to fall further?
We'll examine historical data and contributing factors that will shape Denmark's inflation rate forecast for 2023 and beyond.
How does Denmark measure inflation?
The prices of goods and services are constantly changing. Changes in supply and demand may cause prices for some goods and services to fall while others rise. Inflation occurs when increases in the prices of goods and services purchased by households are widespread and not limited to a few items or services.
The value of the money spent to purchase products and services decreases as their prices rise. The inflation rate is the rate at which money's value diminishes relative to goods and services.
Statistics Denmark is responsible for calculating the country's CPI. The country has calculated its CPI since 1914, although the estimated figures of consumer prices dated back as early as 1872.
Every month, Statistics Denmark collects 25,000 prices from 1,800 shops, companies, and institutions across the country. The prices are divided into 10 main groups as follows:
What is your sentiment on EUR/DKK?
Vote to see Traders sentiment!
Food and non-alcoholic beverages

Alcoholic beverages, tobacco, and narcotics

Clothing and footwear

Housing, water, electricity, gas and other fuels

Furnishing, household equipment, and routine housing maintenance

Health

Transport

Communication

Recreation and Culture

Education

Restaurants and hotels

Miscellaneous goods and services
Denmark inflation: Historical context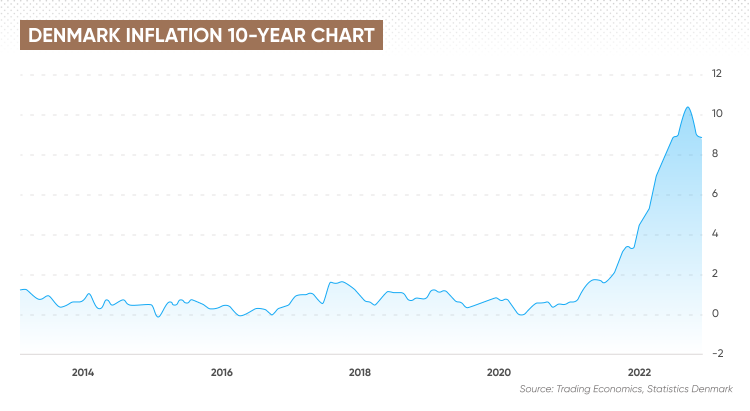 The inflation rate in Denmark had been historically low even before the Covid-19 pandemic, which slowed activities virtually to a halt and hit consumption.
Between 2013 to 2019, Denmark's inflation rates were consistently below 2% and even briefly recorded deflation of -0.1% in January 2015, according to Denmark's inflation rate history data.
Unlike other European countries that switched to Euro, Denmark opted to keep its Danish krone (DKK) and maintain a fixed exchange rate policy against the Euro, and earlier against the D-mark of Germany, a decision that led to the nation's low inflation. By maintaining a stable exchange rate between the Danish krone and the Euro, the nation creates the basis for low inflation that complies with the 2% inflation target set in the Euro's area, according to the country's central bank, Danmarks Nationalbank.
When the pandemic broke out in 2020, the rate of price growth fell to under 1%. Because of the restrictions to prevent Covid-19, prices decreased noticeably in clothes, transport (chartered and air travel), as well as holiday services like home rentals for summer vacation.
The pace of price rise started to pick up in August 2021, rising at an annual rate of 1.8% due to price increases in fuel, electricity and gas. Inflation continued to rise to cross 3% by the end of 2021, with prices increased in transport and food fuelling a higher inflation rate.
By January 2022, Denmark's inflation rate accelerated by 4.3% and continued to climb until it peaked at 10.1% in October.
Rising energy and food costs drive inflation in Denmark
Rebounding demand for goods and services as Covid-19 restrictions lifted and lagging supply had pushed up energy and food costs globally, not just in Denmark. The start of the Russia-Ukraine war at the end of February exacerbated the rising costs of energy and food.
Analysts at Copenhagen-based Danske Bank wrote on 5 January:
"Consumer prices rose dramatically in 2022. Rising costs, particularly for energy, combined with production levels that could not keep up with demand, neither globally nor in Denmark, fuelled broad underlying price pressures in the economy. However, these pressures appear to have peaked on the back of declining demand and maybe also the normalisation of energy prices in the autumn."
Surging gas and electricity prices fuel red-hot inflation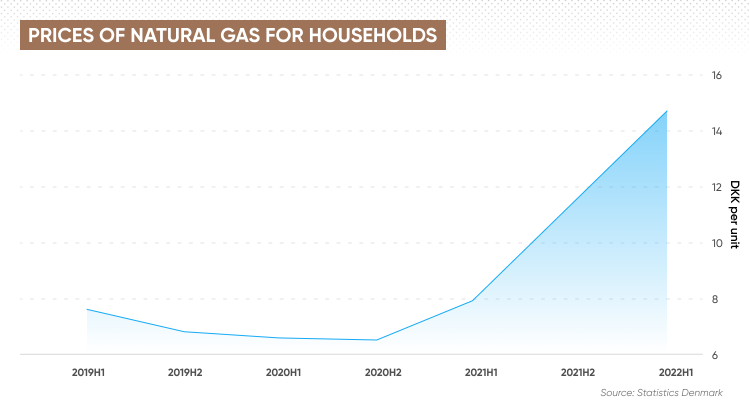 Denmark has also been hit by skyrocketing natural gas prices despite producing its gas and renewable energy accounts for half of its energy sources. Natural gas in Europe repeatedly surged to record highs last year as Russia curbed its gas supply to the region in retaliation against sanctions over its invasion of Ukraine.
As gas and electricity prices in Denmark are closely linked, the rise in natural gas prices drives up electricity costs. Prices of natural gas in the country rose 114% to an average of DKK14.46 ($2.09) per cubic metre in the first half of 2022, from the low of DKK 6.757 in the second half of 2020, according to data from Statistics Danmark.
According to Danish Supply Authority Forsyningstilsynet, the price of electricity for households and small businesses rose 83% between the third quarter of 2021 when the sharp price increases began to Q3 2022.
Even before the surge in gas prices, electricity prices in Denmark were relatively higher than in other countries due to other costs, including subscription payment, payment to network companies, electricity tax and VAT.
"Energy prices are massively helping to define the direction, and it is by no means unlikely that they could rise again. Energy prices have shown violent fluctuations, and it is too early to see oneself free from new fluctuations," Jeppe Juul Bore, Arbejdernes Landsbank's Chief Economist wrote in a note on
10 January
.
Stronger krone help to cushion price increase
Euro to Danish krone live chart
As mentioned, Denmark uses a fixed exchange rate of krone to Euro to keep prices stable. The country has applied the policy since the 1970s.
Denmark uses the European Exchange Rate Mechanism (ERM2) as the formal framework for the country's fixed exchange rate at a central rate of 746.038 kroner per €100. Under the agreement with the European Central Bank (ECB), the krone can fluctuate by +/- 2.25% from the central rate. It means the Danish krone's fluctuation is limited between 762.824 per 100 euro and 729.252 per 100 euro, according to the country's central bank.
The Danmarks Nationalbank uses its monetary policy by raising its policy rate to keep the krone stable against the Euro. The country's central bank has been increasing its policy rate, just slightly below ECB's rate to counter the impacts of strengthening the Euro against the krone.
In December, Danmarks Nationalbank increased the lending rate that is used to stabilise the krone by 0.50 percentage points to 1.90%. It was 0.60 percentage points below the ECB's main refinancing operation of 2.5% in December.
Danske Bank in its Nordic economic outlook on 5 January expected the strengthening pressure on DKK to remain in place and the interest rates to widen when ECB next raises its interest rates.
"The euro is under pressure to weaken, in part due to higher energy prices in Europe, which Denmark is less exposed to because of domestic production and less dependency on gas," analysts at the Danish multinational bank wrote.
Denmark inflation forecast 2023 and beyond
With global oil and gas prices having fallen from their peak and food prices beginning moderating, what can be expected from Denmark inflation this year?
Danske Bank's Denmark inflation rate forecast predicted the inflation rate to slow to 4.9% in 2023 and dip to 2% in 2024 on a gradual decline in energy prices.
"In Denmark, energy market prices quickly feed through to energy bills, so our expectation of a gradual decline in energy prices should pull inflation lower, especially in 2024," Danske Bank's analysts wrote.
The European Commission in its Denmark inflation predictions released in November 2022 saw the country's inflation decelerate to 3.7% in 2023, slowing further to 2% in 2024 as the inflation from the energy prices was expected to turn negative by mid-2023.
According to the Trading Economics' Denmark inflation forecast, the inflation rate was projected to be 6.90% in the first quarter of 2023. The data aggregator expected Denmark's inflation rate to trend lower at 4% in 2024 and 1.7% in 2025.
In September, Danmark Nationalbank saw Denmark's inflation rate for 2023 to cool 4.3% from an estimated 8.3% in 2022. The inflation rate in Denmark is to slow further to 1.7% in 2024, according to the central bank.
Final thoughts on inflation in Denmark
All analysts mentioned in this article expected the inflation rate in Denmark to decelerate in 2023 and beyond as energy prices were predicted to gradually fall.
It should be noted that Denmark's inflation predictions from analysts were not always accurate. When you are looking for a Denmark inflation forecast, bear in mind that many factors influence inflation, including interest rate policies, geopolitical risks, and commodities prices. You should do your research by reading the latest news on Denmark's economy. And never trade or invest with money you cannot afford to lose.
FAQs
What is the current inflation rate in Denmark?

The inflation rate in Denmark stands at an annual rate of 8.7% in December 2022.
Has inflation been going up or down in Denmark?

Inflation in Denmark has risen at a slower rate for the past two consecutive months.
Why is inflation so high right now?

Inflation in Denmark is high because of surging energy costs, particularly gas prices which spill over to rising electricity bills. Rising food prices due to rallying agriculture products also fueled inflation in Denmark.