Cryptocurrency news: ETH eyes new all-time high as BTC lags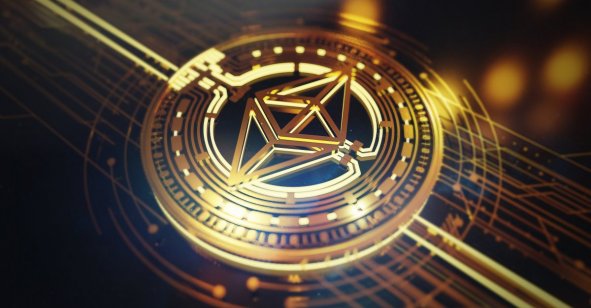 Ether (ETH) has recovered from the losses that flooded cryptomarkets in the second half of October. On Thursday, the cryptocurrency's 24-hour maximum reached $4,761.07 – just 2.20% shy of its record of $4,891.70 on 10 November. Meanwhile, Bitcoin (BTC)'s 24-hour high is 16.50% below its all-time record.
The two biggest cryptocurrencies set new records for themselves on 10 November. The cryptomarkets had already been rallying when the US announced its 30-year-high inflation data. Bitcoin, which is often cited as an inflation hedge, shot to unforeseen levels and ether followed its lead.
Cryptocurrencies then retreated over the following days.
On Friday, they suffered a further hit as news of a new coronavirus variant spread and spooked the markets. The two biggest altcoins, ETH and binance coin (BNB), fell more than bitcoin, which was a sign "that investors view these assets as further out on the risk curve than bitcoin", according to analysts from Arcane Research. Both altcoins quickly rebounded, however.
On Thursday morning London time, ether was up 4.24% week on week, while bitcoin was down 2.78% over the same period.
What is your sentiment on ETH/USD?
Vote to see Traders sentiment!
Chart of the day: ETH vs BTC recovery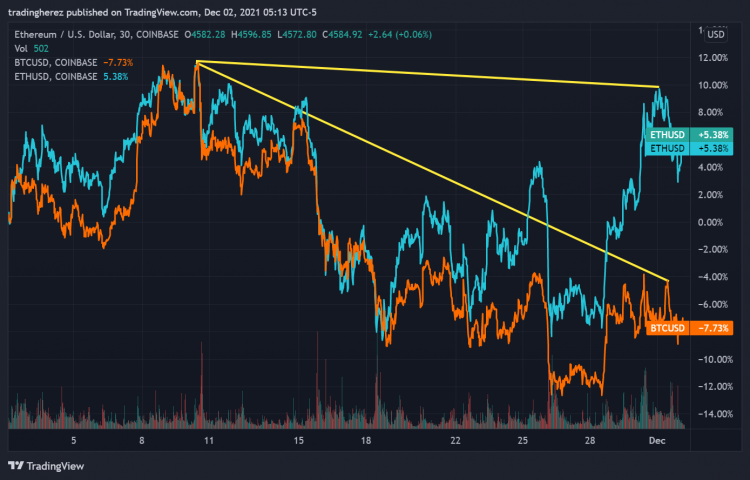 Bitcoin (BTC) is trading some 16.50% below its record high, while ether (ETH) hovers just 2.20% below its own record – Credit: TradingView
Other crypto news
Federal Reserve chair Jerome Powell hinted that a report on central bank digital currencies (CBDCs) will come out in the coming weeks. Over 50 central banks are experimenting with CBDCs. The UK's Bank of England is consulting on its own CBDC, nicknamed "britcoin".
At least 64 crypto companies have reached unicorn status (a start-up with a valuation over $1bn), Arcane Research announced, showing strength in the nascent market. Moreover, 2021 saw over 150 merger and acquisition deals related to crypto companies, according to Arcane.
Quote of the day
A post by a Reddit user shows the other side of the coin, as they lament the difficulty of trying to time the markets.
"Am I really that good at buying the top?"
Winners and losers
Terra (LUNA) is up 6.14% over the last 24 hours and 54.41% week on week. LUNA, the native token of the Terra blockchain project, added a new record of $65.41 in the last 24 hours, and is now the twelfth biggest cryptocurrency by market capitalisation.
Avalanche (AVAX) is down 6.46% and 8.04% over the last day and seven days of trading respectively.
Read more: Ethereum (ETH) hits an all-time high, again