Crypto's 'stress test' will weed out the weak, says KuCoin CEO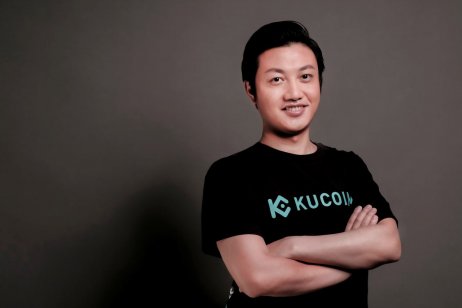 The ongoing cryptocurrency market crash will "weed" out weak companies and investors, says Johnny Lyu, chief executive of KuCoin, one of the biggest cryptocurrency exchanges.
The digital asset sector has seen its market capitalization sink to $800m, from more than $3trn during November 2021, but despite this Lyu was bullish on the future outlook.
The collapse in the price of BTC and other tokens doesn't exactly spell good news for a business that gets its revenues from trading fees, but KuCoin already had anti-crisis management plans in place which accounts for all market conditions, Lyu says in an interview with Capital.com.
Lyu says the cryptocurrency firms that will come out of top from the market downturn are the ones innovating new technology. And investors certainly seem to believe in the digital bourse - KuCoin recently raised $150m in the latest funding round from its venture capital investors, taking the company to a $10bn valuation.
KuCoin's funding plans do not stop there with the the CEO telling Capital.com the exchange plans to go public in future.
Capital.com spoke to Lyu about navigating the current market, KuCoin's plans, the effect of Terra's collapse on people's trust in the cryptocurrency sector, and when we can see another crypto bull run.
What is your sentiment on DOGE/USD?
Vote to see Traders sentiment!
KuCoin vs US dollar (KCS/USD) price chart
'Rapid' fall in crypto prices
The recent market turmoil has not significantly changed KuCoin's 2022 plans, says Lyu, as cryptocurrency firms had been expecting a market correction, particularly as central banks tighten monetary policy.
"The fall was quite predictable, although most forecasts did not take into account such a dramatic and rapid scenario of the 'bearish trend'," says Lyu, commenting on the BTC crash to an 18-month low in June.
"The tightening of the US Federal Reserve's monetary policy became known at the end of last year, when Jerome Powell stopped considering inflation a temporary problem," adds Lyu.
Lyu pinpoints the fall of the crypto market to 41-year high inflation in the United States, which was reported last Friday. Since then the whole market has moved backwards with meme coins like DOGE trading a whopping 91% from its all time high.
The CEO also says the collapse of Terra (UST) and the subsequent statements by regulators was an issue that accelerated price falls that are a natural function of a bear market.
Weeding out the weak
Hit by lower trading volumes, some cryptocurrency exchanges are having to cut jobs, bitcoin miners have already moved to selling their bitcoin reserves. Lyu predicts the turmoil will lead to mergers and acquisitions.
"For both investors and companies, the drop in the capitalization of the crypto market is a stress test that will weed out weak companies and projects focused on momentary profit," he says.
KuCoin said its 2022 plans weren't significantely changed by the market downturn: "Every year KuCoin works on its business strategy that already implies some anti-crisis management measures so we are always ready to react to such market changes," he says.
A key issue for the CEO is "focusing on maintaining and improving favorable working conditions for our employees," he adds.
Venture capital, public capital?
Last month, KuCoin held a funding round led by Crypto Jump and with participation from the likes of Circle Ventures, IDG Capital, and Matrix Partners.
Cryptocurrency and blockchain firms attracted $33bn of venture capital last year, according to data firm Digital Galaxy. This included crypto exchange platforms which benefited greatly from the mass adoption during the golden era of the cryptocurrency boom of 2020-2021.
KuCoin is in the top 20 platforms for trading cryptocurrencies in the world, and since its launch in 2017 it now trades over 600 tokens such as DeFI favorite AAVE and its rival DAI.
"We have both short-term investors and long-term investors, the long-term investors are our most valuable assets, most of them will be with us for the next five to ten years. And because the crypto industry is just starting out, we're looking for mostly long-term investors," says Lyu.
"There are several ways that we can give returns and we can actually reward our investors, for example, we can work to become a publicly listed company and we can also offer your profits for our long term investors.
"So generally speaking, we have a lot of different incentives and exit mechanisms to satisfy the different needs of our investors," he adds.
Heading towards going public
Lyu doesn't know exactly when KuCoin will float but he says the firm is in negotiations with government agencies towards an IPO. "And we're still working with the local governments to see if we can comply with the local policies and make KuCoin a public company."
After a year of mass adoption of cryptocurrency among institutional investors, 2022 is a year of regulation, with some regions coming forward to say they want to embrace the nascent cryptocurrency landscape and create a favourable environment for the industry.
The United States, for example, is embedding the ecosystem into its existing system and hopes to become the global crypto hegemon.
But elsewhere, governments are taking less than friendly approaches to the emerging system. How does a global crypto firm navigate these challenges of such uneven regulation?
"Personal relationships are an analogy for this, for example, if we want, if we like, somebody, we can simply go after them regardless of whether they like us or not, or we can just be ourselves and attract others using our natural charisma.
"We are trying to convince the local governments that what we're doing on our behalf is actually valuable for the future and for their people.
"Because core interest of those countries, for the governments is always whether something can bring value to their people, or to their nation."
KuCoin has expansion plans in Southeast Asia and Africa, as well as parts of Europe.
Terra might be a good thing for us
Lyu's thoughts on the the market collapse which brought Terra blockchain, previously host to two top 10 coins, TerraUSD (UST) and Terra (LUNA), down to a fraction of a cent, may surprise you.
"Better sooner than later," he simply says.
The collapse of the algorithmic stablecoin has triggered a spiral effect among crypto lending platforms, with tokens like CEL which are linked to these entities seeing their prices gyrate.
Celius Network vs US dollar (CEL/USD) price chart
The crypto CEO acknowledges the size of the challenge this poses: "There will be a huge impact on the industry but we believe that this is also a very valuable lesson for us because the earlier this type of accident happens, the less damage we'll have in the future.
"We also recognize that people suffered a lot and some of us suffered even a very heavy blow.
"But also we have trust in the industry and we believe that we are working together towards a better future for all of the players in the cryptocurrency industry."
Invisible challenges
Among the biggest challenges of crypto exhanges is actually convincing people with traditional values to believe in the future of cryptocurrencies and associated new technologies, according to Lyu.
"The way we see it, the future world will be made of a very diverse set of players and we won't be following the traditional economic models or infrastructures, because they won't be applicable in the future," he says.
"And what we are doing now is working to combine the traditional values with the futuristic technologies that we are offering.
"We also want to stress that cryptocurrencies and related technologies are not side products, they will be the main component of our future."
When could we see the next bull run?
As the market is in deep bear territory, it's difficult to forecast when cryptocurrencies might see another bull run, but the crypto industry is full of energy according to Lyu, and despite the current conditions the future outlook is still positive.
"We are confident that the market is facing temporary turbulence and will start gradually recovering. There is more and more capital and players coming in." Lyu says.
The key to the success of future projects is simple: new technology, says the KuCoin CEO.
"It is essential to focus on and grow new technological areas. I am sure that 2022 will be a year of the study and application of new technologies that will give us the opportunity to become part of a new technological era."