Crypto markets fall on China debacle, stablecoin fears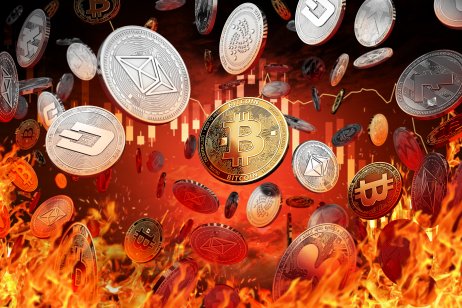 The cryptocurrency market was a sea of red early on Monday as China's largest homebuilder comes closer to defaulting and fears over US cryptocurrency regulations permeated the minds of investors.
In China, shares of Evergrande dropped more than 10% at its lowest point during Monday's early trading session. Shares have fallen by 78.3% so far this year. At the same time, the company may default on more than $83m (£60.78) in bond payments that become due on Thursday, according to a report by Bloomberg.
Meanwhile, the US Federal Reserve is expected to convene later this week to discuss increasing regulations for "stablecoins" – digital currency underwritten by a more stable currency such as fiat currency or precious metals.
Bitcoin dipped below $44,000 for the first time since May. Other popular assets such as XRP and Litecoin saw more significant sell-offs, dropping 12.22% and 9.01%, respectively.
Homebuilder realignment
China's relationship with the nation's homebuilders is undergoing a swift realignment as President Xi Jinping works to instill his "common prosperity" doctrine.
Some have described Monday's sell-off as a "Lehman Brothers" moment for the world's second-largest economy – referencing the failure of the investment firm during the 2007 global financial crisis.
However, other analysts see the market's concerns as overblown.
Mira Christanto, an analyst at Messari Crypto Research, tweeted that "Crypto has seen a bull market despite a China property selldown."
Stablecoin issue
Investors are also anxiously awaiting the results of the US Federal Reserve's two-day meeting which ends Wednesday. Regulators are expected to announce further regulatory action against cryptocurrencies.
One key issue regulators are expected to discuss is stablecoins. Last month, Christopher Waller, who sits on the central banks' Board of Governors, described stablecoins as the single greatest threat to the banking industry.
"There are many legal, regulatory, and policy issues that need to be resolved before stablecoins can safely proliferate," he told the American Enterprise Institute in August.
Read more: Early markets: Investors eye Chinese property sector