Crypto group will try for softer tax and rules bill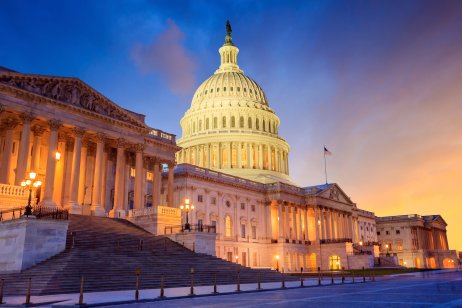 A cryptocurrency trade group will seek a separate bill to reduce the tax and regulatory burden on the growing economic sector after an amendment favouring cryptocurrency failed to clear the US House of Representatives Monday.
The American Blockchain & Cryptocurrency Association (ABCA) told Capital.com exclusively it "can confirm there is an appetite for a stand-alone bill. . . ." The Washington, DC-based group commented after an amendment in the massive infrastructure package to address taxation and regulation plus additional industry concerns failed to gain traction in the House.
Currently, cryptocurrency is considered "property" for US income tax purposes and are subject to the same capital gains treatment as stocks. Gains from trading coins held as capital assets are treated as investment income, the Internal Revenues Service (IRS) said in guidance explaining the taxation of virtual currency.
Issues
The ABCA has numerous issues it would like to address with Congress members and senior staffers.
In addition to the proposed language in the infrastructure bill, the trade group and lawmakers are discussing the Biden administration's reporting requirements and the clarification and explanation of how protocol works, said the organisation's President Howard Greenberg.
The ABCA is also focusing on legislation requiring financial institutions to report to the IRS personal transactions of $600 or more. "A concern many feel warranted since the reporting for a standard banking transfer is much higher," he said. The current threshold is $10,000.
Greenberg told Capital.com these "ongoing discussions" about cryptocurrency are happening with Congress to "help craft a meaningful and positive director for the industry."
Educating lawmakers
The inability to pass pro-cryptocurrency amendments demonstrates the importance of educating lawmakers about the multi-billion-dollar industry, the group said. It argues that adding common sense rules and regulations will help the industry continue to grow.
"We are seeing the fallout of overregulation in Hong Kong as large businesses, like FTX, are leaving due to regulatory concerns. We would hate to see the same fate in the U.S. It is our hope that Members of Congress embrace innovation and continue America's global leadership with this digital transformation," said Greenberg.
A Capitol Hill source told Capital.com Monday, he has observed lawmakers and senior staffers recently taking more interest in digital currency.
"To some members this is a foreign concept, asking where the money is banked, is there a physical bank, how does one withdraw funds? While, other members are throwing their full support behind the cryptocurrency," the Senate staff member said.
The House was slated to vote on the massive spending bill on 27 September, but over the weekend, Democrats said it's possible a vote could be pushed back until later in the week. As of early afternoon 27 September, debate on the bill hadn't started.
Failed hopes
Pennsylvania Senator Pat Toomey's digital asset amendment passed a Senate procedural vote but failed to make into the bill because of timing. The procedural vote was less than 12 hours before final passage and didn't give Senators enough time for debate.
Under Toomey's legislation, cryptocurrency brokers are required to pay taxes on earnings. The proposal defines a broker as someone who conducts transactions on exchanges where customers buy, sell or trade digital assets. Those not taxed under the agreement are software developers, transaction validators and note operators.
The ABCA praised Toomey's bill as embracing American entrepreneurship and innovation by listening and offering legislative solutions.
It is "unfortunate" elected leaders could not pass the Toomey amendment, said Greenberg, who described it as a pathway for better clarity for cryptocurrency miners and businesses.
The currently language in the $1.2trn infrastructure spending bill would be detrimental because it could lead widespread imposition of taxation and record-keeping rules, potentially snaring software developers and even retail investors, the industry argues.
Read more: US infrastructure bill advances amid cryptocurrency debate