Crypto firm Ripple posts another court victory over SEC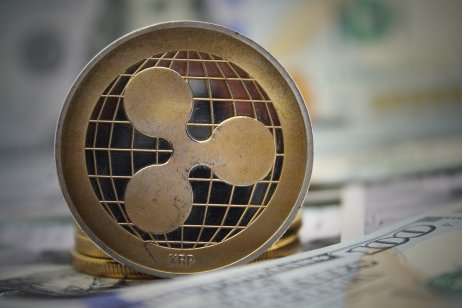 Cryptocurrency firm Ripple has posted another important court victory over the US Securities and Exchange Commission.
US Magistrate Court Judge Sarah Netburn has allowed the company to subpoena SEC officials and authenticate videos of public comments that they made about cryptocurrencies. Ripple's XRP coin is at the centre of a lawsuit in which the SEC alleges that the company sold securities illegally.
What is your sentiment on BTC/USD?
Vote to see Traders sentiment!
XRP

to USD
Lawsuit filed in 2020
In 2020, the SEC sued Ripple Labs, and its two leading executives – CEO Brad Garlinghouse and founder Christian Larsen – on allegations that the company raised more than $1.3bn (£1.08bn) "through an unregistered, ongoing digital asset securities offering" to create XRP.
The SEC had sought to block Ripple's attempt to subpoena its officials and validate the videos, contending that the moves would also be acceptable if the discovery portion of the lawsuit were reopened. But Netburn rejected the SEC's demand. (Under the discovery process, parties in a case share information and facts with each other prior to a trial.)
ETH to USD
Dispute being closely watched
Ripple has maintained that XRP coins do not comprise securities. The legal dispute is being closely watched because it could determine how cryptocurrencies are regulated in the US, one of the world's largest digital-asset markets.
Ripple's latest victory came after Netburn denied the SEC's July motion to prevent one of its former officials' views on ether (ETH), the cryptocurrency backed by the Ethereum blockchain, from being used as evidence.
UNI

to USD
Former SEC official on hotseat
The former official, William Hinman, had contended in 2018 that fundraising efforts related to the creation of ether did not constitute securities transactions.
The SEC had argued that Hinman's comments, made at a Yahoo Finance event in San Francisco, were subject to attorney-client privilege.
Investors take action
Ripple investors have launched a class-action lawsuit against the SEC. Last week, lawyer John Deaton said on Twitter that more than 70,000 people had joined the civil action.
People of diverse backgrounds from all 50 American states, every US territory and 141 countries have joined forces in the legal dispute against the regulator, according to Deaton.
Gensler's view clear
SEC chief Gary Gensler has made it clear that he believes cryptocurrencies should be regulated as securities. But there is no guarantee that the SEC will govern them.
President Joe Biden's administration is currently evaluating which federal agencies should be responsible for digital coins.
The SEC's lawsuit against Ripple and the class-action legal dispute against the regulator are among number of crypto-related court cases in the US.