Credit Suisse shareholders: Who owns the most CS stock?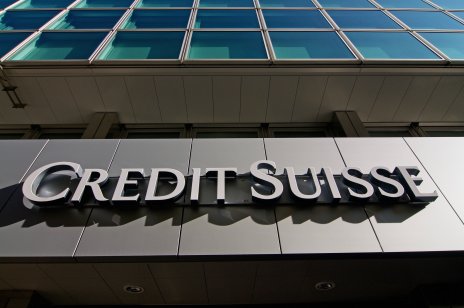 Investors in Credit Suisse (CS) have seen the value of their holdings more than halve in 2022 as the troubled bank has battled various crises.
The Swiss financial services company has faced probing questions about its financial strength and wrestled with the ongoing fall-out of past scandals. These problems have resulted in CS stock price tumbling 56%, from $9.92 at the start of this year to $4.55 at market close on 17 October.
But what does this mean for Credit Suisse shareholders? Here we take a look at who owns the most shares of Credit Suisse, and what the impact of the group's various challenges could be on investors.
What is Credit Suisse?
Credit Suisse is a global wealth manager. Founded more than 160 years ago, it employs around 50,000 people across the globe, as of October 2022. The Swiss-based group serves clients via four divisions:
Wealth Management

Investment Bank

Swiss Bank

Asset Management
Its shares are listed on the Swiss Exchange (SIX) under the ticker 'CSGN', and in the form of American Depositary Shares (ADS) on the New York Stock Exchange (NYSE), under 'CS'. In the last five years, CS stock has suffered a downtrend, amid a wider microeconomic environment and series of internal problems.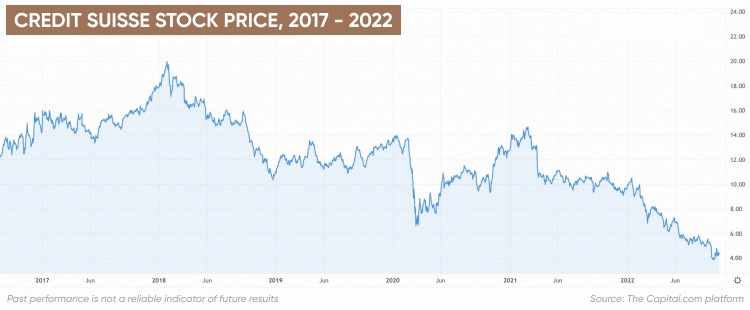 What is your sentiment on CS?
Vote to see Traders sentiment!
Credit Suisse shareholders: Institutional vs retail
Companies are usually owned by different groups of people – and it's important to know who they are as their presence can affect how it's run. For example, if one particular group – or individual – has a particularly large holding, this can provide them with a greater degree of influence over how the business operates.
Credit Suisse was overwhelmingly owned by retail investors. In fact, they amounted to 98% of total share ownership, according to the company's breakdown, as of the end of 2021. At the last count, there were 100,799 private Credit Suisse shareholders. Of those, 87% (89,777) were from Switzerland, with the remaining 11,022 from overseas.
Institutional investors made up a comparatively low 2% of total CS shareholders. This equated to 2,561 organisations. Of this number, 2,225 were Swiss-based and 336 were from overseas.
A broad mix of institutions owned Credit Suisse stock. These included 352 other trusts, 292 investment trusts, 285 pension funds, 75 insurance companies, 28 government institutions and 13 banks.
Insider positions on CS stock
No insider trades have been made on the CS stock over the past 12 months, according to WallStreetZen data, as of 17 October.
However, management figures have sold Credit Suisse shares on four occasions during 2022, according to the disclosure of transactions on the SIX Exchange Regulation website. This included 50,000 shares on 12 May, 50,000 and 80,000 on 13 May, and 100,025 shares on 17 August. The names of the sellers have not been disclosed.
The most recent Credit Suisse data on the holdings of the executive board, as at the end of 2021, showed that Helman Sitohang, who was chief executive of the Asia Pacific region, had 471,033 shares. Earlier this year he announced his intention to step down from the role.
Romeo Cerutti, who retired this year as general counsel, after more than a decade in the role, had 419,333 shares. Thomas P. Gottstein, who stepped down from his role as Credit Suisse's chief executive earlier this year, had 343,933 shares.
Institutional shareholders of Credit Suisse
In contrast to private shareholders, institutions can influence the stock price movement to a greater extent, as they can move in and out of positions in large amounts. If institutions are selling off the stock en masse, the share price will fall.
On the other hand, large institutional holdings can also signal that professional investors have a positive view of the company.
Who are the shareholders of Credit Suisse? Although they only make 2% of total investors in the stock, there are some prominent names.
Hotchkis Wiley Capital Management LLC
The US-based value investor was the largest institutional Credit Suisse Group Ag shareholder, owning 26.96 million shares. This represents 1.05% of the company, according to the WallStreetZen data, as of 17 October.
The business, which is based in Los Angeles, was founded in 1980 by John Hotchkis and George Wiley, who had a shared vision of how an investment manager should operate. At the core of their vision was the belief that disciplined, independent analysis was the key to finding undervalued securities.
The firm offers a range of strategies and mutual funds that cover US equities, international equities, and fixed income. Within value equity, for example, it invests in companies that are overlooked or misunderstood and trading at a significant discount to their intrinsic value.
Dimensional Fund Advisors
The second Credit Suisse major shareholder was Dimension Fund Advisors. This is a private investment firm headquartered in Austin, Texas.
As of 17 October, the firm had 5.46 million CS shares, which represented 0.21% of the company. It meant the value of its holding was around $24m.
Dimensional was founded 41 years ago and had $575bn in assets under management, as of October 2022, along with 1,400 employees in 14 global offices.
The company's approach is to work with financial economists to better understand where returns are coming from. It stated:
"Trusting markets to do what they do best — drive information into prices—frees us to spend time where we believe we have an advantage, namely in how we interpret the research, how we design and manage portfolios, and how we service our clients."
Morgan Stanley
The third largest CS shareholder was Morgan Stanley (MS), the US-based multinational investment management and financial services company. Similar to Dimensional, Morgan Stanley had 5.34 million shares, which equates to a 0.21% holding valued at $23.47m, as of 17 October.
Morgan Stanley opened for business on Wall Street in September 1935 and has become established as a major name in the financial world. It offers a wide range of investment solutions for all major asset classes, including real assets, global fixed income and active fundamental equity.
Within wealth management, Morgan Stanley has declared: "We help people, businesses and institutions build, preserve and manage wealth so they can pursue their financial goals."
Goldman Sachs Group
Another long-established US financial institution, Goldman Sachs (GS) owned 3.84 million shares in Credit Suisse, as of 17 October, WallStreetZen data showed. This 0.15% holding was valued at $16.89m at the time of writing.
Goldmans was founded in 1869. Although its headquarters are in New York, it maintains offices in all major financial centres around the world. The company offers a broad range of financial services across investment banking, securities, investment management and consumer banking.
For example, within asset management it offers solutions in traditional asset classes and alternatives, as well as sustainability and impact investing. This division was overseeing more than $2tn in assets under supervision worldwide, as of 31 December 2021.
Brandes Investment Partners
The US-based value investing specialists had 2.58 million shares in Credit Suisse, which equated to a 0.10% holding worth $11.35m, as of 17 October data.
The investment advisory firm, which was founded back in 1974, manages global equity and fixed income assets for clients around the world. According to Brandes, its managers apply a fundamental process, along with a global, long-term perspective. It insisted this resulted in independent thinking. The firm said:
"We aim to take advantage of market irrationality and short-term security mispricing by buying stocks and bonds we believe are undervalued based on our detailed analysis of their true worth."
Brandes has a wide array of investment strategies on offer, including international equities, corporate focus fixed income and global value opportunities.
Final thoughts
Our examination revealed that Hotchkis Wiley Capital Management institution topped the list of Credit Suisse biggest shareholders with 26.96 million shares, representing 1.05% of the company, as of 17 October.
However, Credit Suisse was mostly owned by private investors, with more than 100,000 of them accounting for 98% of the group's shares at the time of writing (17 October).
Knowing who owns the most of Credit Suisse stock can help in evaluating the company's prospects, as big investors typically have substantial influence over the governance.
However, it should not be the key reason for your decision to buy a stock. Whether Credit Suisse is a good investment should depend on your investment goals, risk tolerance, and the size of your portfolio. It is important to do your own research before making any investment or trading decision. And never invest or trade money that you cannot afford to lose.
FAQs
Who owns Credit Suisse?

The stock was primarily owned by private investors, along with some prominent institutional names, according to the company's breakdown of its shareholder structure as of end 2021. There were 100,799 private investors, accounting for 98% of the stock. Institutions, which owned the remaining 2%, included a mix of banks, investment funds, pension funds and other trusts.
How many shareholders does Credit Suisse have?

According to the company's data, there were 100,799 private investors and 2,561 institutional investors at the end of 2021.
Will Credit Suisse stock go up or down?

No-one knows for sure. You'll need to carry out your own analysis on the stock in order to form a conclusion. Look at the latest technical and fundamental analysis, a wide range of news and analyst commentary. Remember, past performance does not guarantee future returns. And never trade money you cannot afford to lose.