Copper-gold ratio begins to play the stagflation game: chart to watch
The copper-to-gold ratio, a crucial market barometer to monitor the stages of the business cycle, is starting to unmistakably display the first symptoms of an economic stagflation.
And we might be at the beginning of a new major trend.
Stagflation denotes a slowdown in economic growth as a result of persistent inflationary pressures, such as those observed in the 1970s and now threatening the global economy, as we discussed here.
What is the copper-to-gold ratio now telling us?
Copper is a cyclical metal with several industrial applications, which tends to appreciate during economic boom. In contrast, gold is seen as a classic safe-haven asset during periods of sluggish economic growth and rising inflation.
The ratio of copper to gold is closely linked with business confidence in the US, as assessed by the ISM Manufacturing index, a thermometer of economic activity in the manufacturing sector and a leading indicator for the health of the broader US economy.
The relative strength of the brown metal versus the yellow metal, which implies a long copper/short gold strategy, has fallen by 15% since the beginning of June and is trading at the lowest level since February 2021.
The latest data from the ISM manufacturing index for May still showed an expansion in the manufacturing activity (56.1), but today's data from the S&P Global Flash US Manufacturing PMI for June already indicated a material drop to 52 from 57.
In the case that the manufacturing activity in the United States continues to decelerate, there may be opportunity for the copper-gold ratio to drop much further from here.
What is your sentiment on Copper?
Vote to see Traders sentiment!
Copper-gold ratio and US ISM Manufacturing index are closely correlated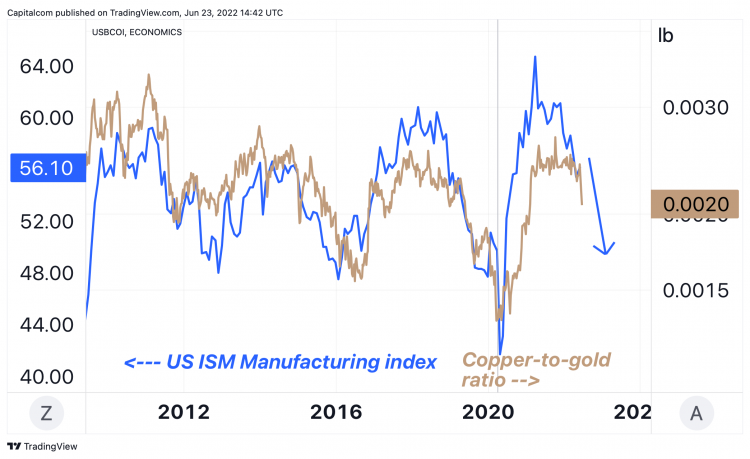 Copper/gold ratio and ISM manufacturing index go hand in hand – Photo: Capital.com / Source: Tradingview
Copper technical analysis: Goodbye to $4 support, now $3.5 is crucial
This week, copper plummeted to fresh 52-week lows, breaking below the $4 per pound support level held since April 2021. Prices have now reached oversold territory as the 14-day RSI went below 30 this week, reflecting the brown metal's steep sell-off.

Moving averages have also created a so-called death-cross pattern, with the 50-day crossing the 200-day, possibly indicating a shift from a bull to a bear market.

Copper prices are presently testing the $3.7 resistance level established in January '21 and are down 27% from their March '22 highs. Below this level, the $3.5 pound support in December 2020 and January 2021 could be tested.

This is an important barrier for Fibonacci retracement analysis since a fall below the 50% level would boost bearish' beliefs and confirm the presence of a bear market.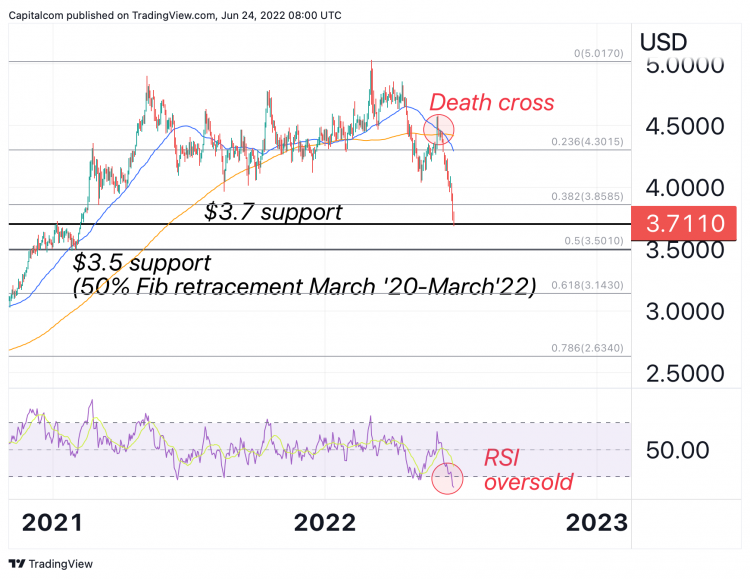 Copper technical analysis as of June 23, 2022 – Credit: Capital.com / Source: Tradingview