Cosmos vs Polkadot: which is a better investment?
Subscribe to Weekly Highlights
The major market events for the week ahead right in your inbox.
Subscribe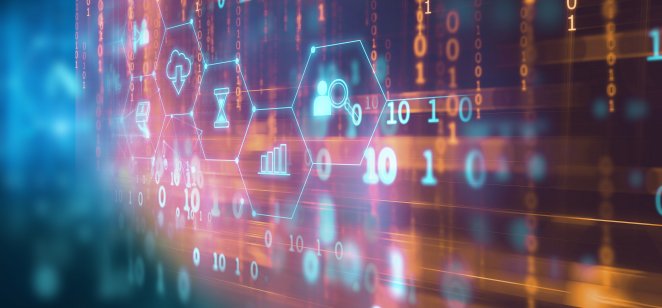 Content
Blockchains such as Bitcoin and Ethereum were developed to work as independent systems. But as developers look towards the emergence of the third-generation Internet (Web3), they are increasingly looking for scalability and interoperability between chains.
The Cosmos and Polkadot protocols aim to address this need by providing ways to connect blockchains. Both networks enable developers to connect multiple other blockchains to provide the infrastructure for decentralised applications (dApps), but they take different approaches to do this.
To gain exposure to these projects, one could choose to invest in the Cosmos cryptocurrency coin (ATOM) or the Polkadot token (DOT).
What are Cosmos and Polkadot? How do they work and which coin offers the best potential returns for investors? In this article, we compare Cosmos and Polkadot and the performance of the two coins.
Polkadot offers parachains for interoperability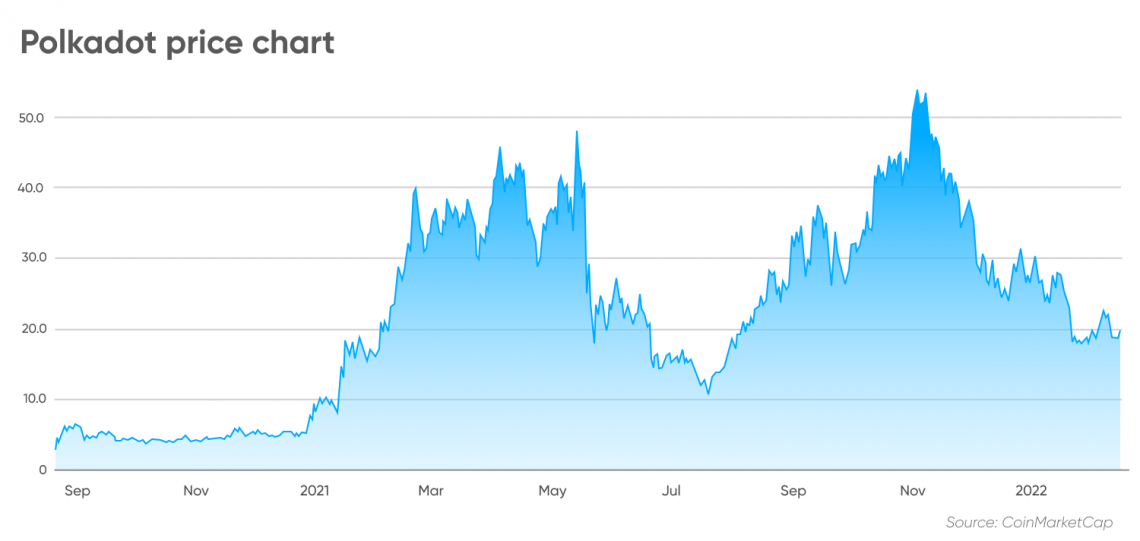 Polkadot (DOT) is the main project of the Switzerland-based Web3 Foundation. Founded to help facilitate the decentralised web, Polkadot was created by Ethereum co-founder Gavin Wood and launched in May 2020.
Polkadot is built to connect private and public blockchain networks and oracles. Independent blockchains can transfer information and transactions between them via the Polkadot relay chain. The Polkadot network runs a sharding model based on parallel chains known as parachains, native blockchains that use the network's consensus mechanism and benefit from pooled security. The network also enables bridges to connect external blockchains such as Bitcoin and Ethereum.
Polkadot operates a hybrid consensus mechanism – Ghost-based Recursive Ancestor Deriving Prefix Agreement (GRANDPA) and Blind Assignment for Blockchain Extension (BABE). This allows for blocks to be generated faster while the mechanism to finalise blocks runs in a separate process to reduce the risk of slowing or stalling transaction processing.
"While other blockchain protocols only allow developers to build dApps using smart contracts, Polkadot gives them full control over the underlying blockchain itself. This flexibility gives parachain developers the maximum freedom to optimise for any use case – which means better and more secure dApps and services for all," according to the Polkadot website.
Polkadot launched auctions for parachain slots in December 2021:
"Parachains connect to Polkadot by leasing an open slot on the Relay Chain via auction, which involves locking up a bond of DOT for the duration of the lease. DOT holders can help their favourite parachains win an auction, potentially earning a reward in return, by contributing to a crowdloan and temporarily locking their own DOT for the parachain's bond."
Cosmos takes hub approach to interoperability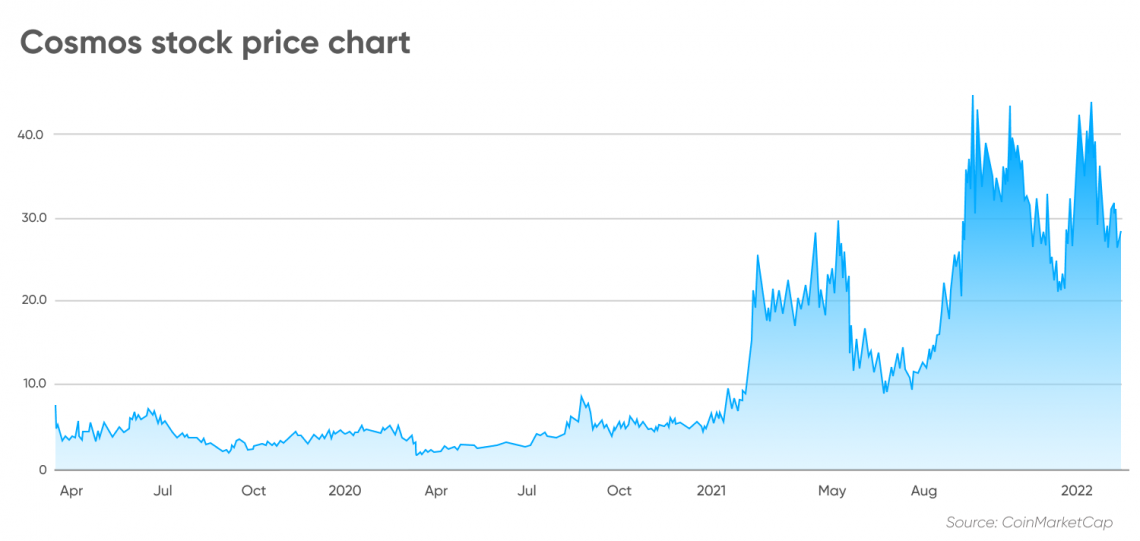 Cosmos (ATOM) bills itself as the "Internet of blockchains", creating an expanding ecosystem of interconnected decentralised apps and services. An initial token sale raised $17m in April 2017 to develop the Cosmos mainnet, which launched in March 2019.
The Cosmos network is a decentralised system of independent, interoperable parallel blockchains connected by Inter-Blockchain Communication (IBC) protocol and bridges to external blockchains like Ethereum and Bitcoin.
The Cosmos Hub, the first blockchain that launched on the Cosmos network, was created to provide services such as security and decentralised exchange to the blockchains that connect to the network.
Cosmos Hub operates with three separate layers: application, consensus and networking. These layers are designed to enable seamless communication between the blockchains in the ecosystem.
Cosmos uses the Tendermint Byzantine Fault Tolerance (BFT) consensus algorithm. This enables the Tendermint IBC protocol to connect Layer 1 blockchains built on the network. This provides the infrastructure for multiple blockchains to run Proof of Stake (PoS) consensus in sync and offers common functionality. The Cosmos Software Development Kit (SDK) offers developers a set of pre-built blockchain features, such as token minting, so that they can create modular blockchains.
| | |
| --- | --- |
| Long position overnight fee | -0.0500% |
| Short position overnight fee | 0.0140% |
| Overnight fee time | 22:00 (UTC) |
| Spread | 5.50 |
| | |
| --- | --- |
| Long position overnight fee | -0.0500% |
| Short position overnight fee | 0.0140% |
| Overnight fee time | 22:00 (UTC) |
| Spread | 0.2801 |
| | |
| --- | --- |
| Long position overnight fee | -0.0500% |
| Short position overnight fee | 0.0140% |
| Overnight fee time | 22:00 (UTC) |
| Spread | 0.00332 |
| | |
| --- | --- |
| Long position overnight fee | -0.0500% |
| Short position overnight fee | 0.0140% |
| Overnight fee time | 22:00 (UTC) |
| Spread | 0.0015830 |
With this modular approach, Cosmos aims to provide scaling for Layer 2 protocols, whereby an app that works on one blockchain on the Cosmos network can also interact with all the other chains connected to the network.
The ATOM token is used for processing network transactions. Stakers receive rewards for securing Cosmos Hub services.
Cosmos vs Polkadot: how does Polkadot differ from Cosmos?
As we've seen, the Cosmos and Polkadot protocols both aim to create interoperable networks of blockchains to enable scaling on the decentralised Web3. The Polkadot Relay Chain transfers messages between parachains in a similar way to how the Cosmos Hub transfers messages between zones.
By providing interoperability, Polkadot and Cosmos are both considered to be Layer 0 networks. Layer 0 networks enable Layer 1 blockchains such as Ethereum and Bitcoin to run on the same network, while Layer 2 protocols offer enhancements such as faster processing speeds and scalability.
So, how do they differ? When comparing Cosmos vs Polkadot, which is better?
One of the main differences between Cosmos and Polkadot is that Polkadot offers unified security across the network. Every Polkadot parachain is supported by the same pooled security as the Polkadot Relay Chain, whereas blockchains connected to the Cosmos Hub do not have uniform security.
Polkadot uses a sharding model for its parachains, so changes in the state of one parachain affects all the others. Cosmos uses a hub model, in which multiple hubs are connected to chains in zones. In addition, the Polkadot network enables the transfer of tokens and data between blockchains, while Cosmos is focused on transferring assets among blockchains.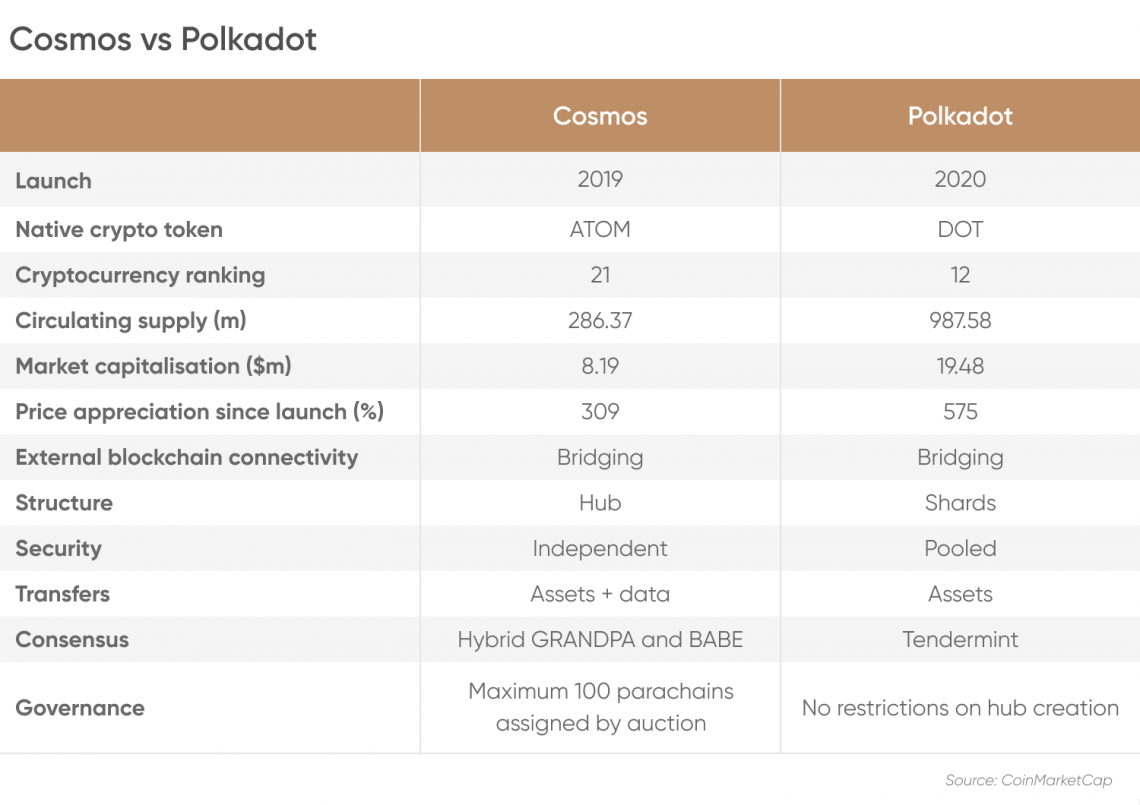 By comparing Cosmos versus Polkadot, it's clear that while both blockchain protocols aim to facilitate interoperability between chains and enable easy scalability, they take different approaches and operate in different ways. So, how have their native cryptocurrencies performed as investments?
Polkadot token sheds more value year to date
In terms of coin price performance for ATOM vs Polkadot, DOT has skyrocketed by 575% since August 2020, while ATOM has soared by 309% since March 2019.
Both ATOM and DOT followed the broader cryptocurrency markets higher in early 2021, rallying rapidly in February and spiking to fresh highs in April and May before selling off as the markets crashed. Both coins bottomed out in July and then rallied over the summer. ATOM/USD hit its peak of $44.70 on 20 September 2021, while DOT/USD went on to make further gains and reached its all-time high price of $55 on 4 November 2021.
The DOT price gained more than 187% in 2021, ending the year at $26.72, while the ATOM price made most of its gains last year, soaring by 400% to $32.47. So far in 2022, ATOM has shed more than 18% of its value, hitting $26.35 on 13 February, while DOT has fallen by 29.5% to $18.83.
When looking at cryptocurrency prices, you should keep in mind that past performance does not indicate how a coin will perform in the future. Prices depend on developments in the rollout of a blockchain network and its adoption, as well as the broader trends on the cryptocurrency markets. Prices have fallen year to date as the markets struggle to rebound from heavy losses in recent months.
You should always do your own research to decide whether a cryptocurrency token is a suitable fit for your investment portfolio.
FAQs
Is Polkadot or Cosmos better?

You should do your own research to take an informed view of blockchain networks like Polkadot and Cosmos as well as their native cryptocurrencies. Your research may lead you to decide whether one is a better project, depending on your personal preferences and risk tolerance.
What's the difference between Polkadot and Cosmos?

Polkadot and Cosmos both aim to enable interoperability between blockchains so that developers can build dApps that run seamlessly between networks. But they differ in their approaches, in terms of their structure and the way that they operate.
Related reading