ChargePoint (CHPT) stock forecast: will prices be lifted?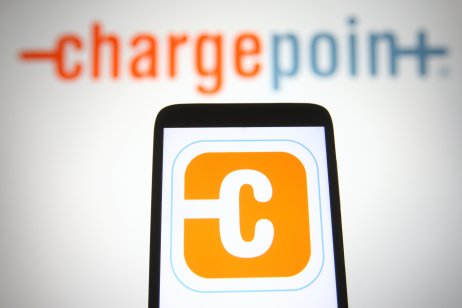 US-based electric vehicle (EV) charging network infrastructure provider ChargePoint Holdings' stock prices rose at the beginning of the fourth quarter, as the global electrification movement gathers pace.
The New York Stock Exchange (NYSE)-listed company's stock price jumped to a four-month high to close at $27.69 a share on 17 November, up 43.4% from the $19.31 on 1 October. Although prices have since dropped and last closed at $23.52 on 1 December, ChargePoint stock value was still 21.8% above where it traded at the beginning of October.
In March 2021, ChargePoint (CHPT) became the world's first charging network provider to publicly trade. The company listed on the NYSE on 1 March and raised approximately $480m in net proceeds from its initial price offering.
Since the listing, ChargePoint share prices hit a record-high at $36.86 on 29 June and fell in the third quarter before rebounding in October.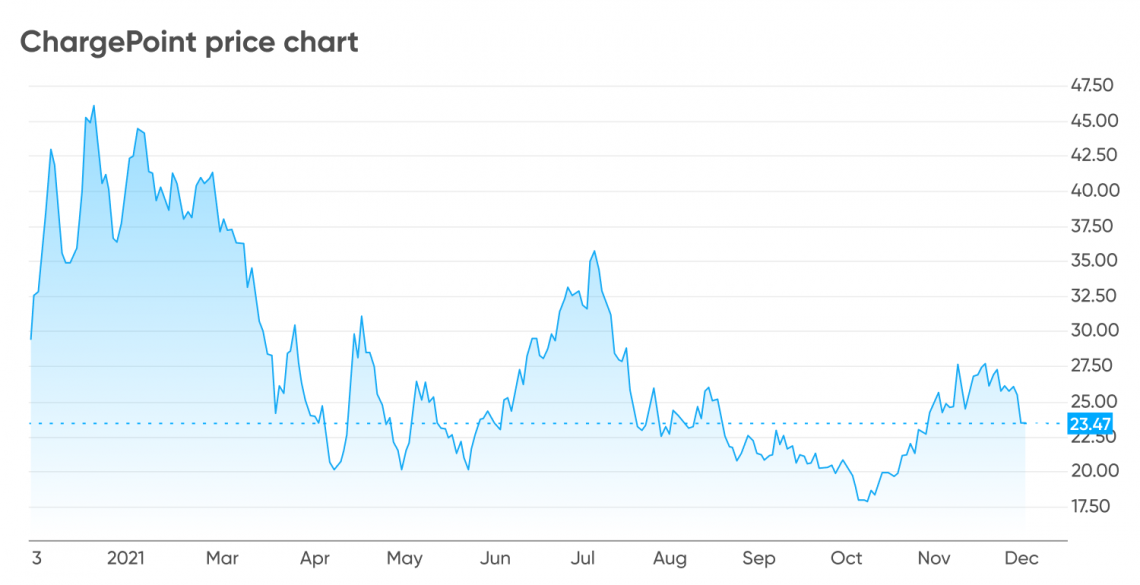 With more countries rolling out electrification programs to meet their net-zero emission targets, several analysts are bullish on ChargePoint's future stock price.
Want to learn more about ChargePoint stock market? Read this ChargePoint stock analysis to find out the latest CHPT stock news and CHPT stock price prediction.
Growing global charging network
While ChargePoint is not the only charging network provider in the US, it is an "undisputed front-runner in a market that is poised for explosive growth with the US government's backing," said analyst David Moadel.
ChargePoint started operation in 2007 and is focussed solely on providing EV charging. The group has been growing globally through acquisitions over the past few years, and operates more than 150,000 charging ports in North America and Europe.
In October, ChargePoint announced that it had completed the acquisition of electric mobility platform has-to-be, a Austria-based charging network provider that operates over 40,000 charging points across Europe. Meanwhile in August, ChargePoint finalised the acquisition of eBus and commercial vehicle management provider ViriCiti.
Following the acquisitions of has-to-be and ViriCiti, "ChargePoint is home to one of the largest collections of EV charging talent in Europe," the group said.
"Today, ChargePoint is commercially active in 16 European countries. Demonstrating the company's commitment to a superior charging experience and the expansion of electric mobility across the continent, ChargePoint also now provides around-the-clock support to drivers and station owners in multiple languages."
In addition to the acquisition of charging network providers, ChargePoint also runs research and development facilities in the Netherlands, Austria and England. It is also developing software to overcome the challenge of charging across different network providers.
In June, ChargePoint collaborated with carmaker Mercedes-Benz USA to provide charging software in the vehicles, which will enable "a cross-charging network experience without the need for multiple charging network accounts, subscriptions or charging cards".
ChargePoint's revenue rises but remain in net loss
Despite the group's expansion in Europe and higher revenue, ChargePoint's financial result remained in the red. ChargePoint's fiscal year runs from 1 February to 31 January.
The group's revenue jumped to $56.1m in the second quarter ending on 31 July 2021, up 26.2% from the previous quarter. On a year-on-year basis, the second quarter revenue was up 61% from the same period in 2020.
Net loss increased sequentially by 0.5% to $84.9m in the second quarter, but lower than the $93.9m recorded in Q2 2020.
ChargePoint will be announcing its third quarter financial result on 7 December, where the revenue is expected at between $60m to $65m. The group has raised its full year revenue outlook for the fiscal year ending 31 January 2022 to $225m to $235m, up by 15% from the previous forecast of $195m to $205m.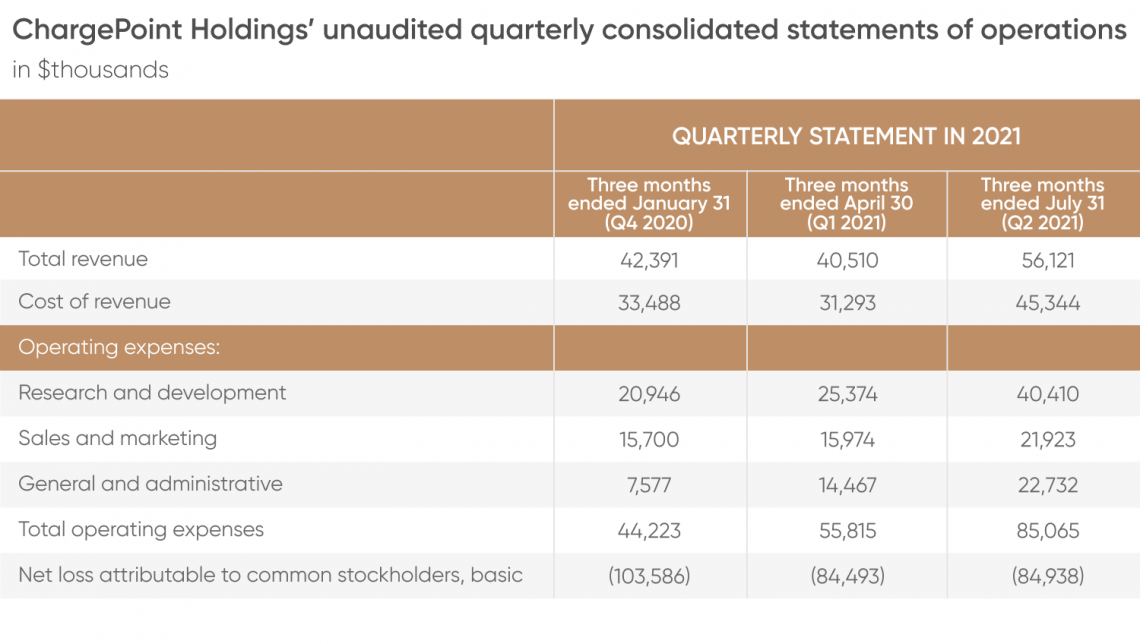 US Infrastructure Deal boosts EV outlook
The US Congress passed the Bipartisan Infrastructure deal (Infrastructure Investment and Jobs Act) on 6 November. The deal is a once-in-a-generation investment in the country's infrastructure.
Under the act, the US legislation will invest $7.5bn to build a national network of 500,000 EV chargers in the country and support the President's goal "to accelerate the adoption of EVs, reduce emissions, improve air quality and create good-paying jobs across the country."
As President Biden signed the infrastructure bill into law, the legislation boosted optimism for the EV market and related charging network providers, which helped push ChargePoint share prices higher.
"This is big news for EV stocks in general. It's particularly impactful for anyone holding CHPT stock, though, as the bill signals America's commitment - in spirit and financially - to ambitiously build out the nation's EV charging network," wrote analyst David Moadel on Nasdaq.com on 1 December.
Moadel cited stock forecast data provider TipRanks, where ChargePoint has a moderate buy consensus rating with the average ChargePoint stock price target at $31.67. According to Moadel, this implied a 24.6% upside potential.
According to CNN Business forecast, ChargePoint's stock price could hit a high of $46 in the next 12 months, but it could also fall to a low of $24. The median share price for the company is expected to be $30 over the next year.
In contrast, Stone Fox Capital is sceptical whether ChargePoint can benefit from the US infrastructure bill. "ChargePoint rallied on the news, but the company is
focused on fleet subscription services (and) not necessarily set to benefit from highway corridor stations.
"The key investor takeaway is that the $7.5bn infrastructure spending on EV charging stations over a five-year period isn't a clear boost to ChargePoint Holdings. The market was already moving forward with growing charging networks based on EV manufacturers like Tesla and GM aggressively funding station expansion."
In general, the overall market view on EV charging stock is positive, with other analysts also bullish on their ChargePoint stock forecast in 2025 to 2030, although there is no exact prediction beyond 2026.
According to Pandaforecast.com, the average ChargePoint stock long-term forecast for the next five years is expected to rise.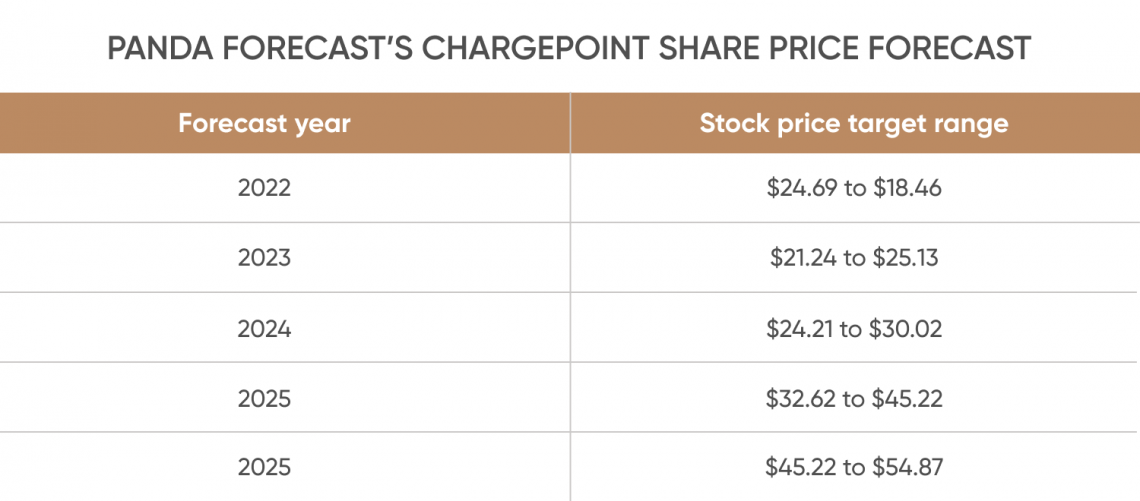 FAQs
Is ChargePoint stock a good buy?

EV charging network providers are widely expected to benefit from the roll-out of electrification programs across the world, which could boost their revenue and profit. While ChargePoint is one of the world's largest EV charging network providers, the group is also likely to face increased competition from others, leading to reduced profit margin.

Whether ChargePoint is a good buy for you or not depends on your investing goals and portfolio composition. You should do your own research and never invest what you cannot afford to lose.
Why is ChargePoint stock going up?

ChargePoint stock prices were rising over the past few months because of increased demand for EV charging points as more countries rolled out electrification programs to cut down emissions.
How high will ChargePoint stock go?

Some analysts predict ChargePoint stock prices can reach a high of $46 in the next 12 months, and rise as high as $54 in the next five years. However, analysts' forecasts can be wrong and have been inaccurate in the past.

You should do your own research and never invest what you cannot afford to lose.
Is ChargePoint a public company?

Yes, ChargePoint listed on the New York Stock Exchange on 1 March 2021.
Read more: Intel (INTC) stock forecast: Will the downtrend reverse?