Cardano vs Ethereum: which coin should you invest in right now?
Subscribe to Weekly Highlights
The major market events for the week ahead right in your inbox.
Subscribe
Content
As both Ethereum and Cardano are preparing to launch major updates, the question on most crypto investors' minds is, "Which of the two will yield a higher gain?" Should you bet on the world's second-largest crypto – or on the relative underdog Cardano? Read our detailed Cardano vs Ethereum analysis.
Both ETH and ADA have been outperforming Bitcoin in 2020. Ethereum's price has so far increased from $132 to $241 (as of mid-July), or by 82.5 per cent, while Cardano has grown by an amazing 290 per cent from $0.0330 to $0.1285. By contrast, BTC is up by a modest 28 per cent.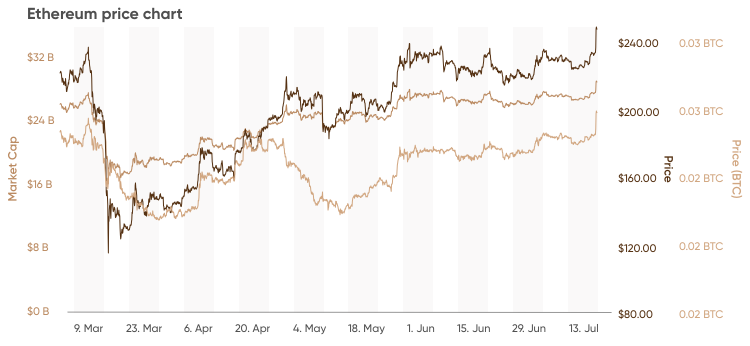 The most interesting fact is that most of Cardano's growth happened over a short period in May and June. At the same time, ETH/USD has been growing steadily since the epic crypto market collapse on March 12 and 13.
In part, both coins owe their remarkable performance to the overall recovery in the crypto industry. But there's another factor: major technical updates. Ethereum's long-awaited 2.0 upgrade has been delayed again, possibly until January. Meanwhile, Cardano is on track with its July 29 Shelley fork. It's the scheduling and contents of these upgrades that best explain the different price dynamics of ETH and ADA.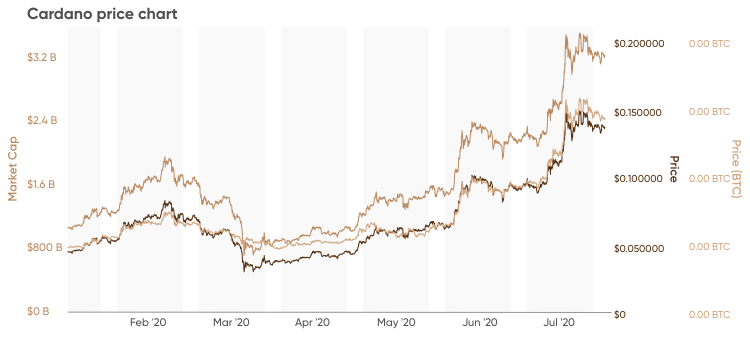 But before we look at the price outlook for the two coins, let's quickly go over their differences.
The case in favor of Cardano vs Ethereum
Cardano (ADA) was created after Bitcoin and Ethereum and thus could learn from their mistakes and build on their strengths. Its founder and CEO Charles Hoskinson calls it a third-generation cryptocurrency, meaning that it already has some of the features that earlier cryptos are struggling to implement.
Cardano uses a modification of the Proof-of-Stake consensus algorithm called Oroboros, which makes the network extremely scalable. At the same time, Ethereum is only planning to transit from the clunky Proof-of-Work to the faster, more energy-efficient Proof-of-Stake. In this sense, ADA is already far ahead.
Yet another factor that is in play in the Ethereum vs Cardano race is team cohesion. ADA is a commercial project, and all the coders and researchers on the team are paid a salary. The Ethereum development community is a mishmash of teams, mostly unpaid, who argue with each other and propose competing ideas.
ADA network fees are generally lower than those on the Ethereum blockchain and the transaction confirmation time is roughly the same. Basically, the only real advantage that ETH has over ADA is the "first mover" factor: it's more popular because it appeared earlier and people are used to it. Some enthusiasts even call Cardano "Ethereum killer", though this is probably overdrawn.
What is your sentiment on XRP/USD?
Vote to see Traders sentiment!
Why is Cardano rallying?
Several factors are at play in ADA's ongoing surge.
1) Shelley upgrade (July 29, 2020). This hard fork will make ADA far more decentralised and autonomous than Ethereum, as well as more scalable and energy-efficient. In particular, users will be able to delegate their staked ADA and form staking pools (there are already 200 pools on the testnet).
Moreover, there's a clear roadmap for the next two upgrades. The first, Gougen,will add smart contracts, making it possible to build decentralised applications on Cardano; the second, Basho, will introduce side chains for even more scalability. These news enhance the already bullish mood.
2) Strong price resistance. According to IntoTheBlock, the majority of addresses holding ADA are now "in the money", meaning they bought it below the current price. This is shown in the diagram: red circles (currently out of the money) are much smaller than green ones.

Those in the money won't sell, waiting for the price to grow even further: this creates formidable price resistance.
3) Development partnerships. One new collaboration is with the blockchain protocol Ergo: it will allow Cardano to explore stablecoins and even offer decentralised financial services. Another milestone is joining the Hyperledger consortium, which includes more than 250 blockchain and financial companies.
Ethereum 2.0 update: no reason to celebrate just yet
As we've said, the key goal of the Ethereum community is to transfer to PoS, allowing users to earn rewards for staking their coins and validating transactions (as opposed to mining). More than 50 per cent of ETH holders say that they want to stake, so the long-term popularity of the Ethereum PoS seems assured.
The upgrade that will introduce PoS (Phase 0) was initially scheduled for July 2020, but as usually happens with Ethereum, it's been delayed. According to Vitalik Buterin, it should still happen in 2020.
However, Ethereum Foundation researcher Justin Drake claims that some date around January 3, 2021 is more likely.
Even if the update is released in 2020, it won't be a miracle cure to Ethereum's problems. It's just the first step on the way to the full Ethereum 2.0 – a way to try out the new staking system, for now without any critical applications depending on it.
Nobody knows how long we'll have to wait to see a full transfer to PoS on Ethereum's mainnet. If things go on as they have until now, with endless debates and delays, we are looking at another two years at least.
The verdict: which coin will be more profitable?
Technical analysts are very bullish on Cardano right now. For example, Nik "Altcoin Trader" Patel believes that the price can go all the way to $0.20 (+55 per cent). Research firm Weiss Crypto Ratings is of the same opinion:
ADA is one of the most bullish looking price charts of any major crypto assets right now. New 2020 highs, and it looks like it could keep going.
Judging from the frequent updates published by the team, Cardano will stick to its roadmap and release upgrades on schedule, so there should be no unpleasant surprises on the fundamental side of things. This will be a major factor in the Cardano vs Ethereum battle in 2020.
As for the price of Ethereum, the dominant mood is that of cautious optimism. At the time of writing, the price stood at $241, and further growth to $280 is completely possible. This would mean a 16 per cent increase. However, Ethereum is still mostly following the price movement of Bitcoin, which isn't very exciting right now. The latest postponing of the Phase 0 upgrade is adding to the uncertainty.
Should you buy Cardano or Ethereum? Overall, ADA seems a more promising buy at the moment, at least for short- and mid-term investors. Cardano's price could surge by as much as 505, while for ETH an increase of 15-20 per cent is a more realistic target. However, the real battle will have to wait until December or January when Ethereum might finally release its Phase 0 upgrade and we'll finally see how its PoS system stakes against that of Cardano.
Read more: Ethereum vs Ripple: which one should be in your portfolio in 2020?