Bombcrypto (BCOIN) price prediction: Is the coin a buy?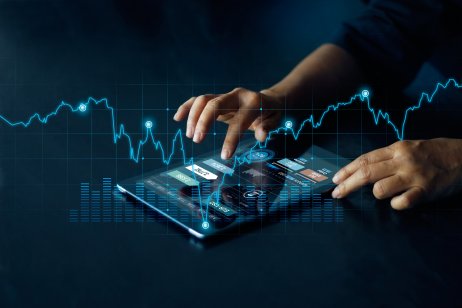 Capitalising on the play-to-earn gaming trend, Bomb Crypto launched at the end of September 2021. By November the game's native cryptocurrency, BCOIN, had soared in value to $8.77.
But it's a long way down from those sorts of peaks and apart from a brief surge in January, down is the direction it has taken since. Today (3 May) it is down a further 5% to be worth $0.09 which is 99% off its all time high.
Other leading game cryptocurrencie are also down slightly today with AXS dropping 3% and MANA off 1% although SAND is up 1%.
What is bombcrypto? Does the decline in price present a buying opportunity? In this article we look at how bombcrypto works and predictions for the direction of the price.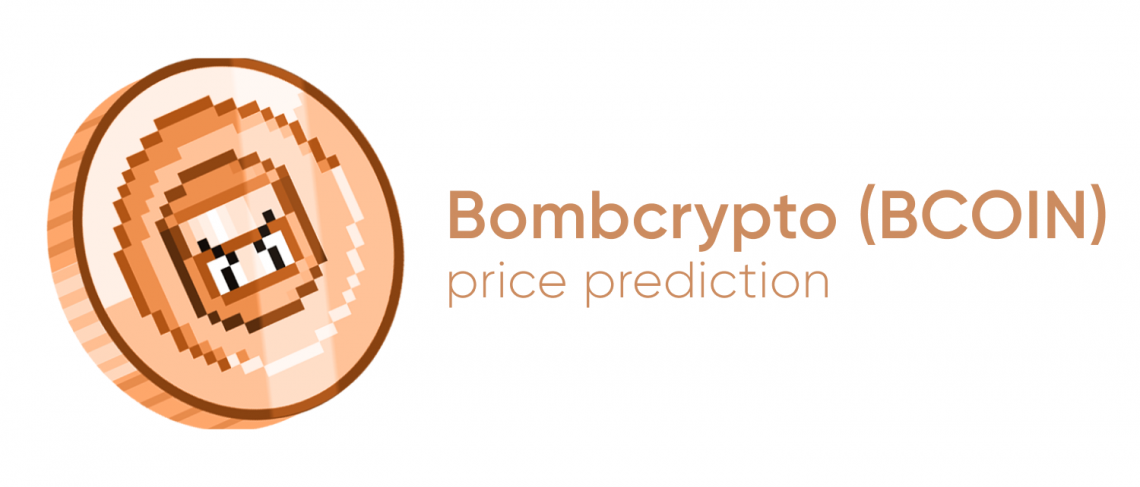 Bomb Crypto joins play-to-earn gaming trend
Bomb Crypto is a play-to-earn game inspired by classic game Bomberman. Players manage a group of bomb heroes that search for BCOIN and fight monsters in Bomberland. Each bomb hero is a non-fungible token (NFT) with different statistics. Players can sell or upgrade their NFTs to increase their abilities and performance. They can also search for other items in the game, like decorations. BCOIN is a BEP-20 token on the Binance Smart Chain (BSC).
Launched on 30 September, the Bomb Crypto game was developed by Senspark, a Vietnamese independent game developer founded in 2011 with a focus on mobile games on Android, iOS platforms and blockchain. Lam Ho, Senspark's CEO, has more than a decade of experience in developing games. Advisors include businessman Eric Vuong as well as Thai Duong and Truong Do, who currently work at Google.
The BCOIN cryptocurrency was launched ahead of the game in an initial decentralised exchange (DEX) offering (IDO) through Launch Zone. Two million tokens were released on 21 September to create liquidity. BCOIN was added to the PancakeSwap DEX on 22 September.
BCOIN holders can use the token to earn rewards from playing the game and participate in governance votes. Holders can upgrade their in-game experience and buy tickets to events, like game battles. From the first quarter of 2022, players will be able to stake their tokens for privileges and rewards, according to the Bomb Crypto website.
Bombcrypto coin news and partnerships
On 17 September, the Bomb Crypto developers announced backing from Wildcat Venture, a private equity company that focuses on funding early-stage projects. That was followed on 18 September by news of an investment from BFRI Capital, investment from VNDC Ventures on 19 September and backing from KardiaChain on 20 September.
Bomb Crypto also has partnerships with 3D metaverse game Heroes TD, which it announced on 30 October, and with Canon Crypto, which is developing blockchain games for its CATO ecosystem. A development announced on 4 November.
On 2 November, Bomb Crypto allocated 200,000 BCOIN tokens to an Ecosystem Fund that will be used to promote the game.
Bomb Crypto had quickly become one of the most popular blockchain-based games. Today (3 May) it ranks 22nd by number of users in the past 30 days, with around 7,600 users, according to data compiled by DappRadar. This is down from 500,000 in April when it ranked 4th.
The rapid growth in the game's popularity presented challenges, with the server sometimes becoming full and preventing some players from being able to log on. The developers have upgraded the system to expand the number of users that can be supported simultaneously.
There have also been problems with users exploiting bugs or speed hacks to profit from the game and scammers running phishing websites or impersonating the Bomb Crypto administrator. On 15 December, the developers tweeted that they had banned more than 11,000 accounts.
????URGENT ANNOUCEMENT????

Previously, we banned more than 11k6 accounts who took advantage of bugs or used secondary software to make profit when playing Bomb Crypto. pic.twitter.com/wr5WmHOVmS

— Bomb Crypto (@BombCryptoGame) December 15, 2021
Bomb Crypto partnered with Verichains, which provides smart contract security audits, in September to "bring safety and security for our game".
The problems that Bomb Crypto has experienced highlight the risk of scams and vulnerabilities in the cryptocurrency space. You should do research to be sure that you are using an authorised website and that a cryptocurrency has adequate security.
What is the outlook for BCOIN in the future? Let's look at some long-term price forecasts.
Bombcrypto (BCOIN) price prediction: Targets for 2022, 2025 and 2030
The bombcrypto coin chart shows that the BCOIN price started October at $1.86 and benefitted from the November rally in the price of gaming and metaverse cryptocurrencies, climbing to a high of $8.77 on 29 November. The coin then trended lower throughout December, dropping to a low of $1.61 on 3 January. It has since moved back above the $2 level.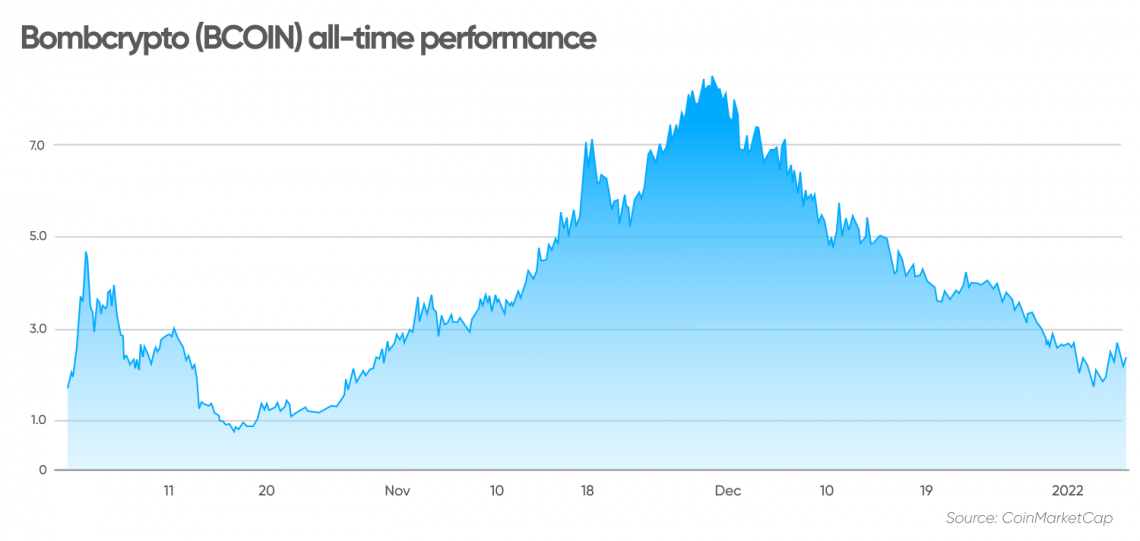 Technical analysis data from algorithm-based forecasting site Wallet Investor was bearish at the time of writing (3 May), and did not expect the price to rebound. Its bombcrypto price prediction has the coin falling to $0.007 in 12 months. By the end of 2025, BCOIN could reach $0.005 and still be trading at $0.005 by May 2027.
The BCOIN forecast from Price Prediction had the coin averaging $0.49 in 2022 and $1.5 in 2025, jumping to $9.89 by 2030, based on deep artificial intelligence-assisted technical analysis.
DigitalCoin was less bullish in its bombcrypto token price prediction. Based on historical data, the site projects that the BCOIN price could average $0.12 in 2022 and $0.17 in 2025, reaching $0.42 in 2030.
Deep learning technical analysis from GovCapital expected that the BCOIN price could fall to be worth effectively nothing in 12 months.
It's important to keep in mind that cryptocurrency markets remain extremely volatile, making it difficult to accurately predict what a coin's price will be in a few hours, and even harder to give long-term estimates. As such, analysts and algorithm-based forecasters can and do get their predictions wrong.
We recommend that you always do your own research, and consider the latest market trends, news, technical and fundamental analysis, and expert opinion before making any investment decision. Keep in mind that past performance is no guarantee of future returns. And never invest more than you can afford to lose.
FAQ
Is the bombcrypto coin a good investment?

Cryptocurrencies are highly volatile assets, making them high-risk, especially newer tokens like BCOIN. Whether you hold the coin as an investment in your portfolio depends on your personal circumstances and risk tolerance. You should evaluate the level of risk you are prepared to accept before investing. And never invest money that you cannot afford to lose.
How high can bombcrypto go?

Forecasts varied as to the level the BCOIN price could reach in the future. As of 3 May only Price Prediction reckoned the price would return above $1 within the decade.
Read more: Top 5 meme coins: Which are the largest by market cap?