Best cryptocurrency to invest in for May 2021: no BTC included
Subscribe to Weekly Highlights
The major market events for the week ahead right in your inbox.
Subscribe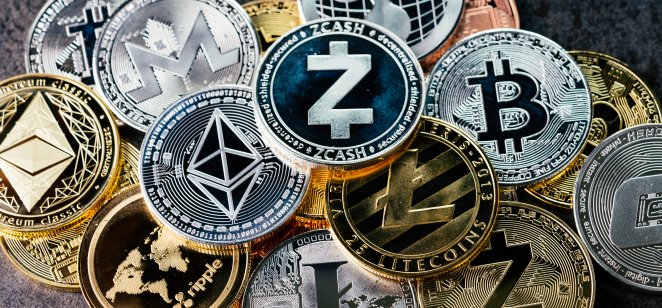 Content
The cryptocurrency markets are now in their biggest rally since late 2017, increasing interest from investors looking to add some exposure to their portfolio.
Bitcoin (BTC) recently hit a record high of $63,000 before selling off sharply, potentially offering an opportunity for investors to buy the dip before it launches higher again. Ether (ETH) has continued to rally, hitting the $2,800 mark for the first time on 29 April.
Cryptocurrency prices retreated from the highs after US President Joe Biden indicated plans to raise capital gains taxes, prompting some investors to sell off their holdings.
However, cryptocurrencies are seeing more and more adoption in financial services. Visa (V) revealed at the end of March it will allow the use of the USDC stablecoin, a cryptocurrency pegged to the US dollar, to settle transactions on its payment network. The Gemini cryptocurrency exchange announced this week that it will launch a rewards credit card with Mastercard (MA) that will allow users to earn cashback in cryptocurrencies. Investment bank JP Morgan (JPM) is said to be preparing to launch a managed bitcoin fund for its clients.
And a growing number of merchants are accepting meme crypto dogecoin (DOGE) as a form of payment, from online technology retailer NewEgg to The Kessler Collection luxury hotel chain and the Dallas Mavericks NBA team.
Are you wondering what are the best coins to invest in for May? In this article, we look at some of the cryptocurrencies showing potential to make gains in the coming weeks.
Best cryptocurrency to invest in for May 2021: from ETH to MATIC
There are more than 4,800 cryptocurrencies in circulation listed on Coinmarketcap, with new coins and tokens launching almost daily. We've picked the top five cryptocurrencies to invest in that you can trade through contracts for difference (CFDs) on the Capital.com platform.

Ether is the second-largest cryptocurrency after bitcoin, with a market capitalisation of $316bn. Created in 2015, the Ethereum blockchain runs smart contracts that enable decentralised applications (dApps), which have taken off in 2021. While investors opt to hold bitcoin as an asset much like gold, ether is used to enable dApps including increasingly popular decentralised finance services (DeFi). That drives a higher number of public blockchain transactions on Ethereum than on Bitcoin.
The total value locked in decentralised finance has soared from around $15bn in December to $66bn at the end of April, according to DeFi Pulse.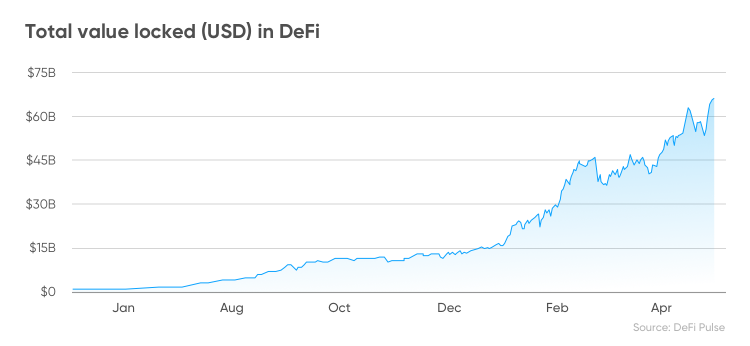 The Ethereum blockchain uses a Proof-of-Work (PoW) algorithm to validate transactions and reward validators through the mining of coins, but it is transitioning to a proof-of-stake (PoS) algorithm, which is more energy efficient, and provides rewards through staking, which pays holders interest. A series of Ethereum 2.0 updates is designed to improve the security and scalability of the network, increasing its adoption.
The ether price has gained $2,000 since the start of the year, climbing from $739 at the beginning of January. The price has outperformed bitcoin in recent days, rallying to new highs while the bitcoin price has retreated. Some market observers expect the ether price to reach $3,000 in the near term, with long-term price targets at $10,000 up to $25,000.
Technical analysis from CoinCodex suggests that the ether price is bullish in the short term, with 26 indicators giving buy signals. The closest support is at $2,697.90 and resistance is at $2,815.74 up to $2,933.57.

The Binance Coin is the third-largest cryptocurrency with a market cap of $90.9bn. Launched in 2017, the coin is the native cryptocurrency of not only the Binance exchange, one of the largest in the world, but also the broader ecosystem Binance is developing, including the Binance Smart Chain (BSC). Binance aims to become the primary infrastructure services provider for the blockchain ecosystem.
In June 2021 the FCA, the UK financial regulator, issued a warning on Binance Markets Limited (BML) and the Binance Group, ruling that BML "is not permitted to undertake any regulated activity in the UK" as it lacks authorisation.
The watchdog also advised people to be "wary of adverts on social media promising high returns on investment in cryptoassets".
| | |
| --- | --- |
| Long position overnight fee | -0.0125% |
| Short position overnight fee | -0.0013% |
| Overnight fee time | 22:00 (UTC) |
| Spread | 0.03 |
| | |
| --- | --- |
| Long position overnight fee | -0.0500% |
| Short position overnight fee | 0.0140% |
| Overnight fee time | 22:00 (UTC) |
| Spread | 0.00344 |
| | |
| --- | --- |
| Long position overnight fee | -0.0167% |
| Short position overnight fee | 0.0060% |
| Overnight fee time | 22:00 (UTC) |
| Spread | 3.0 |
| | |
| --- | --- |
| Long position overnight fee | 0.0601% |
| Short position overnight fee | -0.0882% |
| Overnight fee time | 22:00 (UTC) |
| Spread | 0.006 |
Binance, the world's biggest cryptocurrency exchange, said that "BML is a separate legal entity" and the FCA notice would have no "direct impact on the services it provides from the Binance.com".
The cryptocurrency rally has prompted a surge in trading that is driving strong growth in transactions on the Binance exchange. The BNB price has climbed from $38.80 at the start of 2021 to trade around $600 this month, attracting the interest of investors rather than just exchange users.
Market observers expect Binance Coin to climb further to reach $1,000. Technical analysis for the short term is also bullish, with 24 indicators offering buy signals and none giving sell signals. There is support at $543.66 with the strongest at $506.50, and resistance levels up to $617.99.
Solana, one of the fastest-growing DeFi ecosystems, is gaining attention as more apps launch on the blockchain. The project officially launched in March 2020 after three years of development. The SOL cryptocurrency is the network's native coin and has climbed from $1.62 to a peak of $47 this month. It has become the 14th largest cryptocurrency with a market cap of $11.19bn.
Solana uses a PoS consensus algorithm mechanism that uses Proof-of-History (PoH) for one of the highest speeds for transactions and smart contract execution of any blockchain. It also offers low transaction fees for users looking for an alternative to rising fees on Ethereum.
Technical analysis from CoinCodex is neutral on the SOL price for the short term. However, with adoption growing rapidly, the price is expected to rise above the $100 level, according to forecasting sites like Wallet Investor and Digitalcoin.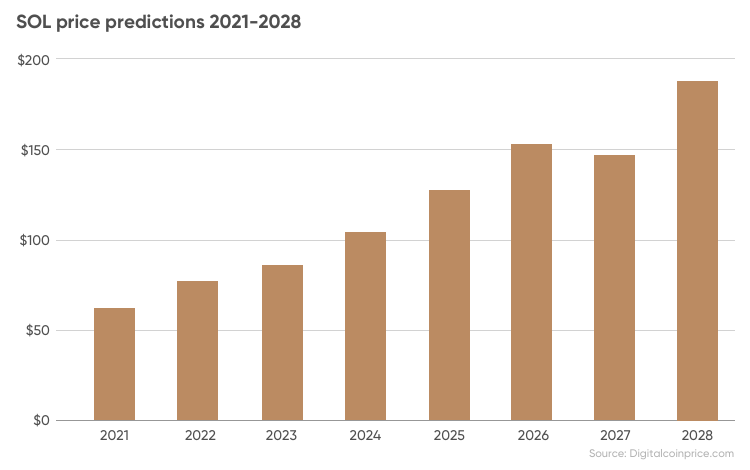 Chainlink is a decentralised oracle network that is designed to connect DeFi smart contracts on the Ethereum blockchain with real-world applications, as blockchains cannot otherwise access external data. The oracles feed information from the real world into the network to trigger smart contracts when certain conditions are met.
The price for the LINK cryptocurrency has risen from $11.32 at the start of the year to a peak of $42.66 earlier this month. It has pulled back in the last two weeks to trade around the $35 level.
The initial target for LINK is $50, with the coin expected to rise further to $100 in the longer term. Short-term technical analysis shows sentiment is neutral, with 17 indicators giving bullish signals, while seven are bearish. There is tight support at $35 down to $33, with resistance in the $37-39 region.
The Matic network is rebranding as Polygon, reflecting its goal to become "Ethereum's Internet of Blockchains". Founded in 2017, the Polygon protocol and framework aims to build and connect Ethereum blockchains to create a multi-chain system for scaling and infrastructure development.
The MATIC token, which launched in 2019, was listed on the Coinbase crypto exchange on 11 March, prompting a rally in the price. The price has soared from $0.0017 at the start of 2021 to $0.36 at the start of April and a fresh high above $0.92 at the end of the month.
Technical analysis from CoinCodex shows sentiment is bullish, with 24 indicators offering signals and no bearish signals. MATIC has moved well above support of $ 0.78 down to $0.61, approaching resistance at $0.94, $1.01, and $1.11.
Cryptocurrency outlook: will the rallies continue?
The liquidation of bitcoin positions after the price hit $63,000 and pulled back could indicate a loss of momentum that could weigh on the market in the short term, JP Morgan analyst Nikolaos Panigirtzoglou told CNBC last week. However, some analysts have predicted the price will rebound over the long term and set new highs.
There are signs of the cryptocurrency markets being overheated in the short term, but individual coins could continue to perform well. For example, some investors have been rotating out of bitcoin and into ether. Given the high volatility of cryptocurrency prices, it is especially important to do your own research and consider the level of risk that is appropriate for your portfolio.
Have you taken a view on the best cryptocurrency to invest in now?
Read more: Ethereum price prediction: what is the outlook for the second-largest crypto in 2021 and beyond?