Airbnb stock price prediction: Is now the time to buy?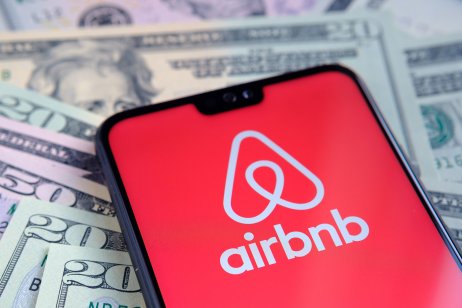 Airbnb (ABNB), the accommodation platform, has benefitted from the post-pandemic travel recovery, with first quarter bookings exceeding 100 million for the first time.
The turnaround helped lift revenue to $1.5bn for the period – up 70%-year-on-year, despite the ongoing Covid-19 issues, macroeconomic headwinds and the war in Ukraine. The company also gave upbeat predictions for the second quarter, with revenue expected to come in at more than $2bn.
Despite the positive backdrop, the ABNB stock price has fallen 31% this year from $172.68 at the start of January to $116 at the time of writing on 12 May. In this analysis, we look at what factors could shape Airbnb share price prediction in 2022 and beyond.
Airbnb stock analysis: Technical view
Shares in Airbnb (ABNB) more than doubled in their stock market debut back in December 2020, which valued the company at just over $100bn. However, the stock price has been rather turbulent since then and is down almost 20% over the past year.
The price peaked at the record high of $219.94 on 11 February 2021, but lost almost half of its value since. This year was particularly challenging for the stock, which lost over 30% in 2022 amid wider shift in market sentiment due to geopolitical tensions and monetary tightening.
Most recently, the stock fell 23% in just four days between 5 and 11 May, as seen on the Airbnb stock chart below. The share price slumped after the US Federal Reserve (Fed) announced an interest rate hike, sending the S&P 500 (US500) and tech-heavy Nasdaq 100 Composite Index (US100) down.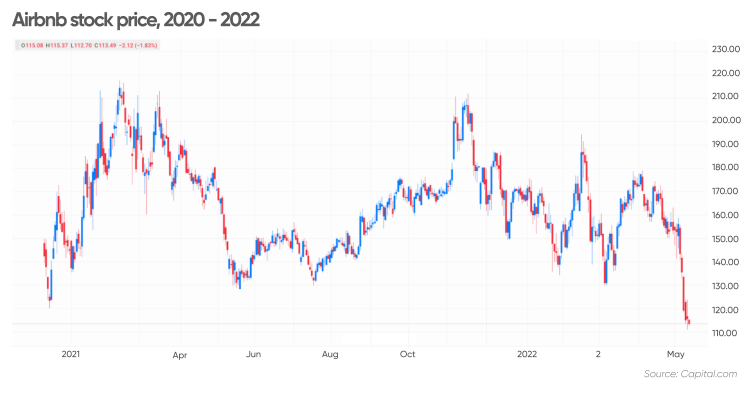 Technical analysis at the time of writing (12 May) revelaes bearish sentiment for the stock. ABNB was trading below its 10, 20 and 30-day moving averages, signifying a downward trend. Meanwhile, the relative strength index (RSI) reading of 28 was in oversold territory, signalling that the stock is undervalued and may bounce back.
Airbnb's latest earnings
In the most recent Airbnb (ABNB) news, the platform announced figures for the first quarter of 2022, which included revenue hitting $1.5bn. This was 70% more than the same period in 2021 and 80% up on the first quarter of 2019, demonstrating the strong travel rebound.
Nights and experiences booked also surpassed pre-pandemic levels and exceeded 100 million for the first time ever, driven by North America, EMEA and Latin America.
Meanwhile, the net loss of $19m was significantly improved from prior years due to strong revenue growth combined with cost management and the absence of certain one-time charges.
The management is now looking forward to another "strong summer travel season", albeit just one year after the travel rebound started. The company expects revenue to exceed between $2.03bn and $2.13bn in the next quarter, rising as a share of gross booking value in line with historical seasonality.
The pandemic has accelerated the adoption of long-term stays in Airbnb, according to Brian Chesky, its co-founder, chairman and chief executive.
"Millions of people don't need to go back to an office five days a week, and the vast majority of companies are not requiring employees to come back to an office," he told the earnings call.
Many, he pointed out, have moved to a hybrid or entirely remote model.
Chesky predicted that this will result in sustained growth for stays of longer than a month and stays of longer than a week: "I don't think this is a temporary phenomenon. I think that the genie is out of the bottle, and flexibility is here to stay."
Is Airbnb a good stock to buy?
"In quarter one, the company was still operating at a loss despite record bookings and higher charges."
Airbnb (ABNB) has staged a remarkable comeback and is forecasting a great summer, but concerns remain, according to Danni Hewson, financial analyst at AJ Bell.
"In quarter one, the company was still operating at a loss despite record bookings and higher charges. It's that disconnect which is unsettling investors with an eye on the changing economic picture," she told Capital.com.
"It has a huge debt pile which will become more expensive to service and despite the upbeat rhetoric the cost of living crisis is expected to take a big bite out of all that disposable income," Hewson added.
Dan Wasiolek, senior equity analyst at Morningstar, has increased his fair value estimate to $116 a share in the wake of its first quarter results. He expects the company to benefit from the ongoing shift to mobile bookings and believes some durability in remote working will enhance long-term travel demand.
"Mitigating our otherwise favourable view of Airbnb's network position in the online travel growth industry are competitive, regulatory, and structural cost threats," he said.
"We expect Expedia and Booking investment into the vacation rental industry to intensify during the next few years," he said.
Wasiolek also highlighted the predicted entry of Google's Alphabet (GOOGL), Alibaba (BABA), Amazon (AMZN) and others into the market, which could have a "meaningful impact" on profitability. Yet he added that "replicating Airbnb's network would require significant time and expense".
Doug Anmuth, an analyst at JP Morgan, believes Airbnb continues to execute very well and he's encouraged to see strong top and bottom line performance despite the macro environment. He also predicted that Airbnb would be more profitable coming out of the pandemic.
"Overall, we believe Airbnb is well positioned to benefit from underlying secular trends in travel, even with some potential near-term shift from vacation rentals to hotels w/further re-opening," he said.
However, the analyst noted some potential downsides: "We believe risk reward is balanced as ABNB shares are trading at a meaningful premium to the OTA peers & other category leading businesses."
AJ Bell's Hewson pointed out that people considered travel a necessity after a couple of years plagued by covid restrictions.
"Keen pricing will undoubtedly tempt some people to use the platform rather than traditional holiday accommodation. Then there's the fact that the share price is still down almost 20% since the start of the year, something some investors will factor into their decision making."
Airbnb stock forecast 2022-2025, 2030
Is Airbnb stock a buy, sell or hold and will? The stock was rated a 'hold', based on the consensus views of 32 analysts who have pencilled in a 71% upside to $195.75 over the coming year, according to the MarketBeat data at the time of writing (12 May). Among them, 15 analysts gave the stock a 'buy' recommendation, 16 a 'hold' and one 'sell'.
The highest Airbnb stock price target was $250, which would represent a 119% uplift over the current $114 level. The most pessimistic Airbnb stock predictions, meanwhile, put the expected increase of 31% to $150.
In early May, seven brokerage firms lowered their price targets in the wake of the company's first quarter results, including HSBC cutting their outlook from $233 to $213. Barclays, meanwhile, lowered the price target from $185 to $170.
Will Airbnb stock rise long-term? Analysts don't typically give price predictions beyond one year, yet algorithm-based online forecasters do. According Wallet Investor's Airbnb share price forecast at the time of writing, the stock was a "good long-term investment" that could rise 21% to $144.92 over the next 12 months to May 2023.
It then predicted a dip to $139.38 by May 2024, slipping further to $134.24 by May 2025, with a future price of $129.10 by May 2026. The 5 year Airbnb stock outlook put the stock at $122.95. This would represent a modest rise of almost 3% from the current $119.37 level. The site didn't provide 10-year forecasts.
Note that analyst and algorithm-based price projections can be wrong. Forecasts shouldn't be used as a substitute for your own research. Always conduct your own due diligence before trading or investing. And never invest or trade money you cannot afford to lose.
FAQs
Will Airbnb stock go up?

No-one knows for sure but Wall Street analysts were optimistic at the time of writing (12 May). Their consensus view, compiled by MarketBeat, was that the Airbnb (ABNB) stock could rise to $195.75 over the coming year based on 23 analyst views. Price targets varied from a low of $114 to a high of $250. Note that analyst predictions can be wrong.
Is Airbnb stock a good investment?

Whether Airbnb (ABNB) stock is a good long-term investment will depend on your portfolio goals, investing strategy, timeframe and risk tolerance. You need to perform your own due diligence to decide.