US mid-day: US indexes fall on Monday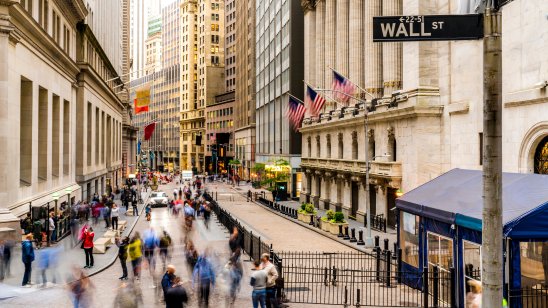 December's up and down movement continues for the major US gauges as the Dow sank almost 300 points and the S&P fell at mid-day Monday, after hitting a new high on Friday.
Halfway through the session, the Dow Jones Industrial Average sank around 298 points, or 0.8%, to 35,672, the S&P 500 dropped near 0.6%, or 28 points, to 4,683, while the Nasdaq Composite dropped around 0.7%, or 100 points, lower at 15,530.
On Friday, the S&P 500 went up around 1%, the Nasdaq Composite improved 0.7%, while the Dow Jones Industrial Average jumped 0.6%.
Last week, both the S&P 500 and Nasdaq Composite completed their best five days of trading since February, while the Dow posted its best week since March.
Winners and losers: Pfizer shares soar after big purchase
Shares of Tesla are off by 2.2%, despite company CEO Elon Musk named as Time Magazine person of the year.
Shares of Apple are around 1.2% lower, despite closing-in on a $3trn market valuation.
On Monday, shares of Harley-Davidson are surging over 8% after the company announced it's taking its electric motorcycle unit LiveWire public in a deal which values it at $1.77bn (£1.34bn), making it the first publicly traded electric vehicle (EV) motorcycle company in the US.
In a deal worth $6.7bn in equity value, Pfizer is acquiring Arena Pharmaceuticals, sending stock in the two companies skyward.
In early trading, shares for Pfizer are up by nearly 4%, while shares for Arena are surging around 85%.
According to a joint release, Pfizer will also take on all outstanding shares in Arena at a price of $100 each, in an all-cash transaction.
What is your sentiment on US30?
Vote to see Traders sentiment!
Oil: Crude prices holding gains
Oil futures are up slightly on Monday after posting their best mark since August on Friday.
West Texas Intermediate crude for January delivery spiked 0.5% to trade at $71.83 a barrel.
Gold: Precious metal continues strong December
Gold futures are up again on Monday after ending last week in the green.
February delivery is up 0.2% to trade at $1,787.70 an ounce.
Forex: US dollar strengthens on Monday
On Monday, one US dollar equals $1.28 of the Canadian dollar, and $0.89 of the Euro, gaining small ground on both from Friday.
The yield on the 10-year Treasury note was off five basis points at around 1.44% Monday, after rising about 14.5 basis points last week, while the ICE US Dollar Index – a measure of the currency against a half-dozen other monetary units – jumped 0.2%.
Read more: Pfizer buy speeds up fight against inflammatory diseases