Step App (FITFI) price prediction: Will the coin rebound?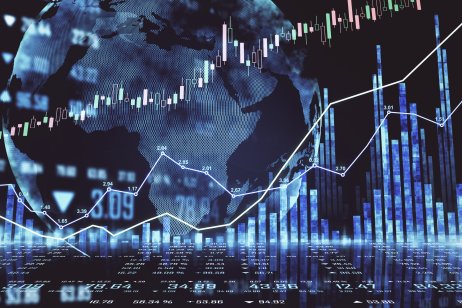 After having a bull run in the first few months of 2022, Step App cryptocurrency (FITFI) has been losing momentum. The token had gained over 145% in a week thanks to a double listing, the latest upgrades, developments and changes in the Step App ecosystem.
FITFI hit an all-time high of $0.7346 on 6 May, but has dropped more than 50%, as of 10 May. Will it manage to climb back or even surpass that value? Let's look at Step App price prediction for 2022 and beyond.
What is Step App coin?
Deriving its token name from the Fitness Finance (FitFi) protocol, Step App is the first fitness application to be built in the metaverse and GameFi market that links physical experience with the metaverse. Step App aims to create a fitness experience within the metaverse, with the help of non-fungible tokens (NFTs) and geo-location technology.
Augmented reality (AR) for better immersion is an added feature of Step's FitFi metaverse that engages a huge crowd and inspires many to get into regular fitness and physical activities. A blockchain can become part of one's day-to-day life and encourage crypto adoption. Fitness Finance is part of a market economy in which participants earn from the value generated by the $100bn fitness industry through Web3 versions of digital fitness experiences and apps.
The Step App token economy includes staking, liquidity incentives, locks, buybacks, and burns, all of which are driven by gameplay perks and value drawn from the game economy.
While FITFI is the governance token that benefits from ecosystem fees, owners actually trade on KCAL tokens, the in-game currency used to buy SNEAKs. There are several other ways of making in-game income, like micro-transactions that are non-SNEAK purchases such as map styles, character skins and SNEAK skins. These purchases can be made via credit card or by purchasing crypto.
Players can also earn money by running against friends or playing matches against others. A 2.5% fee applies to the winning pool in case of competition. There are several tournaments organised in the game and players can compete to beat step count on a global and regional leaderboard. These events are ticketed and 5% of all accrued ticket fees are pooled in as the prize money.
All in all, the KCAL token generates value from the game economy enabling minting, earning and staking.

As of 10 May 2022, the Step App token price stood at $0.3947, with a market cap of approximately $115.7m. There are around 300 million FITFI in circulation today (10 May). The cryptocurrency is traded on MEXC, OKX, Bybit, BingX and Bitget.
Let's take a look at Step App's price trend in the chart below as we undergo an analysis of the coin.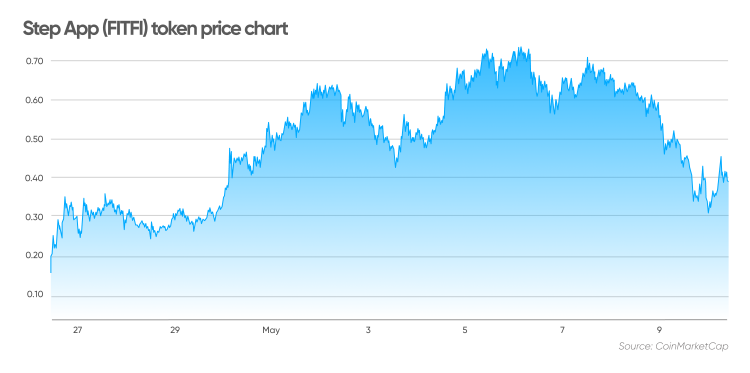 Step App coin news
Step App has an elaborate ecosystem that has been recently upgraded. It includes the native metaverse, GPS-integrated rewards, an Android and iOS app, a native mobile-compatible NFT marketplace for wider engagement and a native crypto wallet. The Step App crypto IDO or FIFTI will be held on a Decentralised Autonomous Organisation (DAO) Maker.
Step App's rally in the last few weeks was due to its launch on Bybit on 26 April, which boosted token prices by nearly 130,000% – it hit an all-time high of $0.73 on 5 May. Being part of the 'move to earn' phenomenon, the token faces strong competition from natives like STEPN (GMT), especially as the crypto is not even a month old.
✨Step App Core Liquidity
$3 Million Added to DEX This Week

Step App core DEX liquidity will proceed as planned. To push the asset towards non-correlation with the market, liquidity will be added in stablecoins only. pic.twitter.com/8RxtgXZmVQ

— Step.App (@StepApp_) May 9, 2022
On 9 May, the token added $3m core DEX liquidity in order to tap the ecosystem for those users not on a centralised exchange (CEX). The company said the aim was "to push the asset towards non-correlation with the market, liquidity will be added only in stablecoins." This could impact any Step App prediction.
Step App crypto price prediction: What are analysts saying?
As the gamified metaverse coin progresses, it's essential to look at how prices will hold in the future based on the token's fundamentals and its DAO.
As of 10 May, algorithm forecaster Price Prediction's FITFI coin price prediction was optimistic. The target price for FITFI/USD was set at an average of $0.30 for 2022, $0.43 in 2023, $0.65 in 2024, $0.95 in 2025 and $1.36 in 2026. The Step App coin price prediction for 2030 was $6.40.
The forecast from DigitalCoinPrice also gave an optimistic outlook for Step App, with FITFI prices averaging $0.42 in 2022, and projections from 2023 to 2025 targeted at $0.46, $0.47 and $0.64, respectively. By the end of 2030, FITFI could hit $1.47.
At the time of writing (10 May), Wallet Investor had not come up with any FITFI forecast.
Before making any investment decision, always keep in mind that analysts' forecasts and any algorithm-based FITFI crypto price prediction could be wrong. Investors should always do their own research, which includes looking into changes in the token's ecosystem, collaborations, partnership deals and other fundamentals.
You should gauge how comfortable you are about losing money. And never invest money you cannot afford to lose.
FAQs
Is Step App coin a good investment?

Whether Step App is a good investment for you or not will depend on your portfolio composition, investment goals and risk profile. Different trading strategies will suit different investment goals. You should do your own research. And never invest what you cannot afford to lose.
Will Step App crypto go up or down?

At the time of writing (10 May), algorithm-based forecasts believed the coin could recover from its recent downward trend and move up again. However, one should not make investment decisions based on these forecasts. You should always do your own thorough research before investing.
Will Step App (FITFI) hit $1?

While this might not happen this year, many FITFI predictions saw the coin hitting $1 sometime in 2026. However, these predictions can be wrong. Always do your own research. And never invest money you can't afford to lose.
How high can Step App coin go?

According to algorithm-based forecaster Price Prediction's FITFI price prediction, Step App is poised to hit as high as $6.40, by the end of 2030. However, these predictions use past performance to estimate future price. They can be wrong.