Snickerdoodle plans new Hispanic-themed NFT sale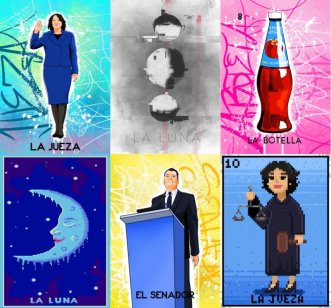 A new blockchain technology company will offer a series of non-fungible tokens (NFTs) to launch its platform, which will eventually include a new cryptocurrency, the company's CEO told Capital.com.
Snickerdoodle Labs is launching a series of Latinx and Hispanic-American themed NFTs based on the popular Mexican game of chance, Loteria. The inaugural NFT collection will consist of 54 different digital images, based on popular Hispanic public figures, as well as cultural themes within the Latinx community.
One of the NFTs, titled La Jueza (Spanish for the judge), bears a striking resemblance to US Supreme Court Associate Justice Sonia Sotomayer, the first Hispanic-American appointed the highest court in the US.
The future of Snickerdoodle
Founded earlier this year with a focus on personal data security using blockchain technology, Snickerdoodle – a double entendre referencing the popular sugar cookies, as well as the unpopular cookies we block and delete from our internet browsers – is primarily a data infrastructure and analytics company focused on internet advertising.
"If everything goes as planned, we view companies like Facebook and Google as peers," said company CEO and co-founder Jonathan Padilla.
"Using a tokenised data architecture, Snickerdoodle will allow individuals to control their personal information and still target the individual without sharing all their personal data," he added. "As well as monetise their data, through NFTs."
Waiting list until December
Snickerdoodle has created a waiting list for the Loteria NFT collection and the individual tokens are scheduled to be offered via an online auction later in December. NFTs will be minted on the Salana blockchain traded over the FTX cryptocurrency exchange. Various crypto assets will be accepted, as well as traditional fiat currency. (FTX is the official cryptocurrency exchange of Major League Baseball.)
Snickerdoodle plans future NFT series, based on the initial 54 set offering, created by Latino artists, Padilla said.
Proceeds from the NFT sale will go to the Hispanic Heritage Foundation, the Latino Community Foundation and the Rising Tide network, in support of blockchain and technical engineering in the Hispanic community, noted Padilla.
In conjunction with the NFT offering, Snickerdoodle Labs will begin a pre-sale for a new cryptocurrency asset, dubbed Doodle. Padilla said the plan is to mint a fixed 13.5bn Doodles over the Snickerdoodle platform as utility tokens. Padilla estimates the Doodle utility tokens will be available in four to five weeks.
The future of NFTs
Padilla envisions NFT assets as being much more than digital art and eventually becoming the method we transfer various assets and contracts over blockchains.
"NFTs have the ability to transcend digital art," Padilla said. "They could become deeds, music, movies, anything. Theoretically, an individual could create an NFT of one's Covid-19 vaccination card and post securely it on a blockchain," the CEO said.
Snickerdoodle completed a $2.4m venture capital funding round in June, with backing by tech VC firms Alameda Research, Blockchain Capital, Kenetic Capital and Tribe Capital.
Read more: Leading Indian film actor says he will launch NFTs in December