Renewable energy stocks: Surging growth could benefit these companies
Subscribe to Weekly Highlights
The major market events for the week ahead right in your inbox.
Subscribe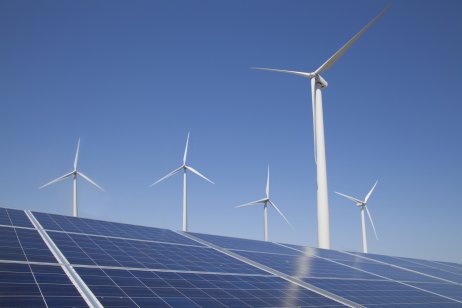 Content
AES Corporation (AES), Ormat Technologies (ORA) and RWE AG (RWE) are among the stocks that could benefit from the surge in the renewable sector's growth.
AES Corporation (AES) price chart
That's according to Michael Cerasoli, a portfolio manager of energy infrastructure strategies at Eagle Advisors.
It follows a new report by the International Energy Agency (IEA), which has forecast a sharp acceleration of investment in renewables.
What is your sentiment on ORA?
Vote to see Traders sentiment!
Renewable energy stocks to watch
As a result, here are some companies that could benefit.
Cerasoli said in an email sent to Capital.com that AES, which helps businesses transition to cleaner energy, has a growing renewable footprint that predates the Inflation Reduction Act's (IRA) passage and noted how its backlog has increased even more while still boasting a discounted valuation.
Ormat, meanwhile, is an "overlooked" leader in geothermal production with a strong cash flow stream and has geographical diverse growth opportunities, Cerasoli noted, and said it is favourably positioned to benefit from the energy storage "megatrend" as a result, which has also been bolstered by tax credits from the IRA in the US.
Ormat Technologies (ORA) price chart
The portfolio manager also opted to highlight RWE because, he said, it is one of the best energy stocks in Europe.
"RWE is the unequivocal leader that's accelerating Germany's ambitious transition plans and is expanding globally, as evidenced through its recent acquisition of ConEd's clean energy business," Cerasoli said.
RWE AG (RWE) price chart
RWE describes itself as the world's number two in offshore wind power and Europe's third largest in renewable energy.
Energy stocks in China "good opportunity"
Giles Coghlan, chief market analyst at HYCM, shared with Capital.com how energy stocks in China could also benefit from the renewable investment surge.
"As a big driver of green energy and a key source for rare earth metals, any stocks in the clean energy industry in China should provide investors with good value for money as the global renewables sector continues to enjoy significant growth. GCL New Energy Holdings Limited (0451.HK), for example, has enjoyed a price gain of over 300% in the year to date, at the time of writing."
How mining stocks can also benefit
Coghlan said mining stocks could also benefit.
"Along with copper, gold and silver mining stocks in particular could profit from the renewables boom. Indeed, silver is used in solar panels, while gold is used in most of the technologies that will shape the future of the sector.
Copper spot CFD price chart
Silver spot CFD price chart
"First Majestic Silver (AG) gets half its revenue from silver and half from gold, so should benefit from renewables growth, and can expose investors to both silver and gold at the same time.
First Majestic Silver (AG) price chart
"On top of this, with stagflation on its way, gold and silver could be in for a double boost as investors retreat to safe haven assets if – or perhaps more accurately, when – the Fed chooses to pause their rate hiking cycle because of a weaker USD," Coghlan added.
Gold spot CFD price chart
"That said, there are still risk factors involved with the growth of the renewables sector, as well as the stocks that I've suggested above. As the world enters a global recession, demand may fall, harming the level of investment in renewables, while higher than currently anticipated US inflation could strengthen the USD and weaken stocks globally. Investors must, therefore, do their own research before committing," he further noted.
US solar panel companies to watch
David Russell, VP of market intelligence at TradeStation Group, also highlighted how the big US solar panel companies are worth watching now – with growth set to widen considerably in the next few years.
"Investors can think about renewable energy like computers in the 1990s. At the beginning of the decade, every business and school office had typewriters. At the end of the decade, they all had PCs. A similar inexorable growth could now occur in renewable energy. The technology is increasingly viable for mass markets and there's significant government support.
"Attention is mostly focused on US solar suppliers (solar panels and related devices/services): Enphase Energy (ENPH); SolarEdge Technologies (SEDG); First Solar (FSLR); Sunrun (RUN) and SunPower (SPWR).
Enphase Energy (ENPH) price chart
SolarEdge Technologies (SEDG) price chart
"There are also some engineering firms like Aecom (ACM) providing a lot of the support for renewable energy investments. These get less attention but should also be on the list.
Sunrun (RUN) price chart
"Ormat (ORA) is another name to know about. It's a pure-play geothermal stock, which is a lesser known part of the clean energy complex.
"It's important to remember that we're probably in the early stages of this growth. Many new companies will emerge and existing firms will shift toward green energy. Now could be a good time to start following the trend but also keep an open mind because there is so much future ahead of us," Russell added.
SunPower (SPWR) price chart
Reliability of renewable investments
Despite the acceleration to boost renewable investment, Brendan Long, director of institutional research at WH Ireland Capital Markets, said to Capital.com that the sources are still not reliable enough.
"I believe that there is increased investor awareness that at the present time renewables are not up to the job of providing reliable sources of low-cost energy and that they have contributed significantly to our energy precarity."
Although that could change as investment does continue to increase in the energy sector - as set out in a new Renewables 2022 report by the International Energy Agency (IEA), which highlights how growth is being "turbocharged" as countries seek to strengthen energy security.
First Solar (FSLR) price chart
IEA Renewables 2022 outlook
"Renewables are set to account for over 90% of global electricity expansion over the next five years, overtaking coal to become the largest source of global electricity by early 2025," the report said.
The switch to renewables, such as wind and solar, has been fast-tracked in recent months following Russia's invasion of Ukraine in February as countries opted to move away from Moscow's fossil fuels, such as its crude oil and natural gas, and source alternative energy sources.
Brent crude price chart
US crude oil (WTI) price chart
"Global renewable power capacity is now expected to grow by 2,400 gigawatts (GW) over the 2022-2027 period, an amount equal to the entire power capacity of China today," the Renewables report said.
US natural gas price chart
The United States, China and India are leading the way with renewable growth, implementing policies and market reforms more quickly than previously planned to address the energy crisis.
The report highlights that Europe can also achieve a faster deployment of wind and solar PV infrastructure if they follow suit and implement the policies needed and reduce permitting timelines, among other factors, including improving incentive schemes.
It was also noted that solar PV and onshore wind are the two cheapest forms of electricity generation in the majority of countries.
Related reading