Poland house price crash: Rising rates squash mortgage applications despite government-imposed credit holidays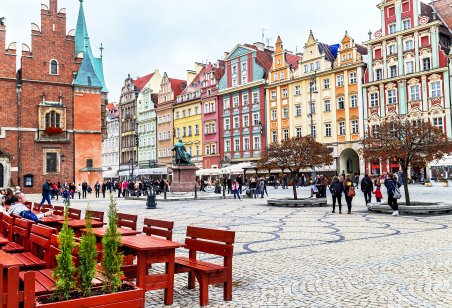 Mortgage applications in Poland have dropped drastically in recent months due to soaring borrowing costs and multi-decade high inflation in the European nation, which has seen 11 consecutive interest rate hikes since October 2021.
Polish housing demand is expected to fall further, with the interest rate hike cycle showing no signs of slowing down. The September inflation report revealed consumer prices in Poland accelerated at their fastest pace in 26 years. Does it mean that a housing market crash in Poland is imminent?
Housing market crash explained
A housing market crash is a period of a sharp drop in real estate prices. It is typically preceded by a housing bubble, which is a period of high real estate prices fuelled by increased demand, cheap loans and speculative interests. Economist Joseph Stiglitz defined asset bubbles as follows:
"If the reason that the price is high today is only because investors believe that the selling price is high tomorrow – when 'fundamental' factors do not seem to justify such a price – then a bubble exists."
There has long been a false perception that property prices are immune to market crashes and will only increase with time. However, housing markets are susceptible to external factors such as supply, demand and interest rates and can undergo boom and bust cycles.
The US subprime mortgage crisis that started in 2007 is a widely-quoted housing market crash example. It was triggered by excessive mortgage borrowing at low-interest rates by under-funded borrowers resulting in a speculative housing bubble.
As the borrowers began defaulting on their mortgages, foreclosures of properties increased, mortgage-linked securities held by banks crashed and property prices dropped. These events ultimately led to the financial crisis of 2007–2008.
What is your sentiment on USD/PLN?
Vote to see Traders sentiment!
History of house prices in Poland
Looking at historical house prices in Poland, we can see a similar trend of a cyclic housing boom in the nation during the post-pandemic era as seen in most regions across the world.
It also should be noted that house prices in Europe had been consistently increasing for over a decade. According to Eurostat data, house prices in European Union (EU) member states increased by 48.1% between 2010 to the second quarter of 2022.
During this period, house prices decreased in only three EU member states: Greece, Italy and Cyprus.
In the last decade, the post-pandemic years have seen the sharpest increases in housing prices in Europe. Much of this was due to ultra-low interest rates prevalent in 2020 and 2021 after central banks were forced to lower borrowing costs to support economic growth during global lockdowns. Increased housing demand from global social trends such as working-from-home also supported prices.
Following a temporary drop in housing activities in early 2020, property construction and transaction rebounded in the second half of 2020 as economies reopened and borrowing rates hit historical lows.
According to a report by the Polish central bank, the main drivers behind high demand in the Poland property market were:
Recovery in general and commercial constructions supported by government funding and low interest rates
Shortage of housing in large cities

Rising household income

Low interest rates on both deposits and loans
Simultaneously, enthusiasm about the housing market in Poland was high as activity in housing constructions hit a record high by the end of 2020. A year later, Poland saw a fresh peak in the number of dwellings completed in the fourth quarter of 2021.
According to Eurostat's house price index (HPI), house prices in Poland grew 12.1% year-on-year in the fourth quarter of 2021 and 12.4% year-on-year in the second quarter of 2022.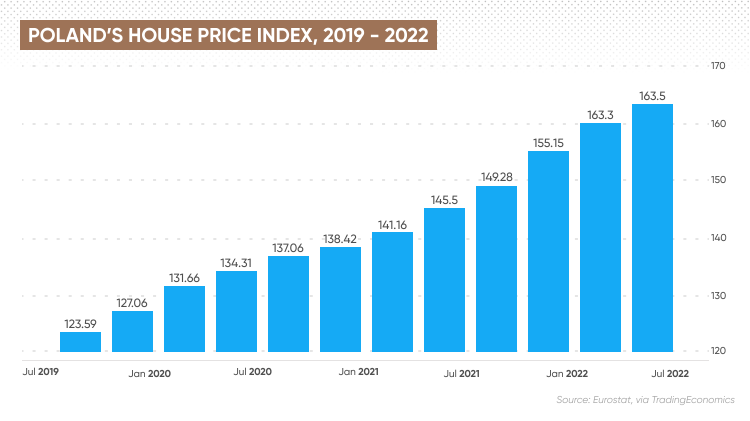 Signs of over-exuberance in the Polish housing market were there in 2020, as indicated by Eurostat's deflated HPI growth rate. The deflated HPI removes consumer prices inflation from the HPI and is considered a key variable for the analysis of house price cycles. The agency explained:
"In particular, a too high growth rate is considered an early warning indicator of tensions in the real estate market signalling the risk of price bubbles. The alarm threshold adopted in the context of the MIP is 6 % of annual growth rate in the deflated HPI."
The annual deflated HPI for Poland came in at 6.1% in 2019 and 6.9% in 2020, indicating the risk of a Polish property bubble. Poland's annual deflated HPI fell to 3.5% in 2021 amid rising inflation.
High interest rates hurt housing demand
Housing markets are very sensitive to interest rates. Generally, demand for housing declines as interest rates rise due to increased mortgage costs. The gradual increase in housing prices in Europe over the last decade, as mentioned earlier, have coincided with historically low interest rates in the EU.
The European Central Bank (ECB) maintained negative interest rates as low as -0.5% from June 2014 to July 2022. With mortgage rates linked with prevailing central bank interest, the flush of cheap liquidity aided housing market growth.
The Polish central bank, Narodowy Bank Polski (NBP), has been ultra-aggressive in 2022 having conducted 11 consecutive interest rate hikes since October 2021. Interest rates have surged from a record low of 0.1% in September 2021 to 6.75% by October 2022.
The devaluation of European currencies in 2022 points to a potentially prolonged rate hike cycle in the region to combat rising inflation and keep up with a hawkish US Federal Reserve (Fed). The Polish zloty has lost over 17% year-to-date (as of 20 October) against the US dollar (USD/PLN) compared to the euro's 14% drop against the greenback in the same period (EUR/USD).
USD/PLN exchange rate
According to real estate investment firm CBRE, the housing market in Poland began showing signs of demand weakening in early 2022. In the first quarter of 2022, only 3,307 developer flats were sold in Warsaw compared to an average quarterly sales of 5,427 flats over the past five years.
With Poland's annual inflation rate coming in at a 26-year high at 17.2% during the month of September 2022, the NBP is expected to extend its rate hike cycle.
In a bid to ease consumer burden, the Polish government approved a law to allow "credit holidays" in July, Notes from Poland reported. Mortgage lenders in Poland can opt to suspend payments temporarily for up to four months in 2022 and another four months in 2023.
The NBP is scheduled to meet on 9 November for its next monetary policy meeting. Economists at JP Morgan expected interest rates to climb higher to 7.25% by the end of 2022 before peaking at 8% in 2023, according to the October note obtained by Capital.com.
Poland housing market predictions for 2022 and beyond
With mortgage rates expected to rise further in the near-term, is a Poland real estate market crash imminent? The answer is not straightforward.
The demand for housing in Poland has taken a hit amid higher borrowing costs and rising inflation, but home prices have not seen a significant drop in prices due to limited supply. CBRE noted:
"The market is entering a phase of reduced demand with limited supply. In the coming months, we will observe an increase in the available offer of flats for sale, although some projects may be postponed…Prices are likely to continue to rise, primarily due to increasing construction costs."
The trend is similar in other economies as well amid the global monetary tightening. Morgan Stanley described the current housing market in the US "like no other". The bank said:
"Rising mortgage rates have historically put the brakes on home-price appreciation, but this housing market is like no other. Record-low supplies, years of conservative lending and other factors suggest that home prices should continue appreciating, though at a slower pace."
However the demand side indicated bearish housing market predictions in Poland. Data from the Credit Information Bureau revealed that the number of new mortgage applications in Poland dropped by about 71% in August compared to a year ago, according to the report by Notes from Poland.
The bottom line
Forecasting housing market crashes is a challenging task due to the unknowns of the future.
Therefore, it is important to note that analysts and experts can be wrong in their Poland housing market predictions.
Forecasts shouldn't be used as a substitute for your own research. Always conduct your own due diligence. Remember that your decision to trade or invest should depend on your risk tolerance, expertise in the market, portfolio size, and goals. And never trade money that you cannot afford to lose.
FAQs
Are property prices falling in Poland?

According to Eurostat's house price index (HPI), house prices in Poland grew 12.4% year-on-year in the second quarter of 2022.
Will house prices drop in Poland?

Expectations of higher interest rates have dampened housing demand in Poland, however CBRE analysts expected limited supply of houses and high construction costs to keep house prices high.
Is buying property in Poland a good investment?

Real estate investments are subjected to several macroeconomic and market risks. You should always conduct thorough research before buying property.

Remember that your decision to trade or invest should depend on your risk tolerance, expertise in the market, portfolio size, and goals. And never trade money that you cannot afford to lose.