Nike follows Adidas: Ending ties with controversial stars to protect brand image
Subscribe to Weekly Highlights
The major market events for the week ahead right in your inbox.
Subscribe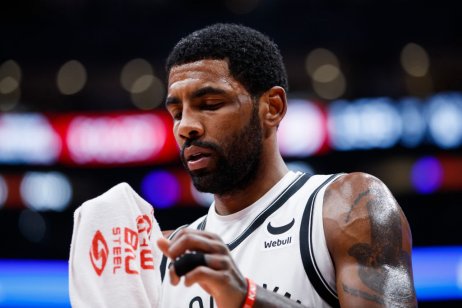 Content
Off the court drama has led to sporting giant Nike (NKE) following in the footsteps of its competitor Adidas (ADSGN) and has parted ways with one of its key sporting stars, Kyrie Irving.
NKE announced on Monday that it would no longer allow Irving – who plays professional basketball for the Brooklyn Nets – to represent the brand, on or off the court, after the sports star promoted an anti-Semitic film on his Twitter page.
Nike's share price has been down 34% this year, as it faces a multitude of macro pressures, which could force the company to slash its sneaker prices during the festive season.
What is your sentiment on NKE?
Vote to see Traders sentiment!
Nike (NKE) share price chart
How will Irving departure affect NKE stock?
Nike initially paused the relationship with Irving back in November and cancelled the launch of the Kyrie 8 shoe. However, a suspension has now turned into a permanent parting of ways and has led Nike to take things further.
The group announced this week that it had reached a decision to drop the basketball star, after Irving posted a Twitter link to a documentary containing anti-Semitic messages back in October. Irving initially refused to issue an apology.
Nike said in an interview: "Kyrie Irving is no longer a Nike (NKE) athlete."
But like Adidas, cutting ties with a major celebrity or sporting endorsement can affect the stock. So, how will severing ties with Irving impact NKE stock?
David Swartz, an equity analyst at Morningstar wrote in a note: "There are some things that are outside of Nike's control, like supply chain and sourcing issues that are not so easily fixed. This Kyrie Irving situation was in Nike's control. They can drop him."
Nike released a statement saying: "At Nike, we believe there is no place for hate speech, and we condemn any form of anti-Semitism."
"We are deeply saddened and disappointed by the situation and its impact on everyone."
Unlike Adidas, Nke wasted no time in cutting ties with Irving.
Adidas' relationship with controversial rap star, Ye (formally known as Kanye West), meant that on 9 November, ADSGN announced a new forecast for its operating marigin of around €250m ($262.7m), a drop from its previous target of around €500m, which it laid out on 20 October.
NKE has yet to experience the same financial impact, but some may question the revenue that Irving's shoe's bring into the company and whether this could affect NKE's long-term earnings.
Irving had a signature sneaker line with NKE since 2014, the deal is reported to be worth over $10m a season.
With that said, Irving is not the only star NKE has on its books.
Adidas (ADSGN) share price chart
Take former basketball legend Michael Jordan, NKE has a 38-year contract with Jordan and this remains' the gold standard. In 2021 the Jordan brand contributed just under $5bn to NKE's total revenue of $44.5bn.
NKE also has deals with Los Angeles Lakers star LeBron James and Irving's Net teammate Kevin Durant.
But NKE and other brands are now more aware of the affect celebrity endorsements can have on its brands. Using sports stars and well-known figures to promote a company's products can have its pitfalls, especially during the age of social media.
The 2009 sex scandal involving professional golfer Tiger Woods is testament to the perils of celebrity endorsement.
Accenture (ACN) – which had featured Woods in its adverts – saw its share price fall by over 1%, after the company dropped him on Sunday 13 December 2009.
Research carried out by the University of California, also showed that shareholders of Woods' sponsors lost up to $12bn (£9bn) in the wake of his scandal.
"Total shareholder losses may exceed several decades' worth of Tiger Woods' personal endorsement income," Victor Stango, a professor of economics at the UC Davis Graduate School of Management and co-author of the study, said in a statement.
Further research conducted by the University of Sheffield and Leeds, highlights some of the negative outcomes that can happen to a company, when a celebrity endorsement goes wrong.
"PepsiCo (PEP) is one major brand that may have suffered because of negative publicity surrounding a series of its endorsers. Wide media coverage, for example of Michael Jackson's scandal. Mike Tyson's conviction, and Madonna's controversial 'Like a Prayer' video have all arguably not helped to promote an ideal brand image for the company, although it is unclear whether such activities translated into lost revenue," Des Thwaites Senior Lecturer at University of Leeds said.
But there are times when celebrity endorsements can help a company and potentially add to its stock.
'Dream Crazy' celebrity campaign was a dream come true for NKE stock
In 2018, for its 30th anniversary of Nike's Just Do It campaign, the sporting company used controversial NFL quarterback Colin Kaepernick in an ad called 'Dream Crazy'. NKE reported following its first-quarter results that this campaign drove "real uptake" in traffic and engagement and helped to boost sales. The campaign, which was released on 5 Sepetmber 2018, helped NKE's stock price surge by 6% over a three-week period.
Celebrity endorsements have the power to really boost a stock and its brand presecnce. But in the age of social media, its imperative that these organisations weigh up whether the risk is in fact worth the gain.
Related reading