Netherlands house price crash: Dutch property costs record largest-ever quarterly drop as inflation bites
Subscribe to Weekly Highlights
The major market events for the week ahead right in your inbox.
Subscribe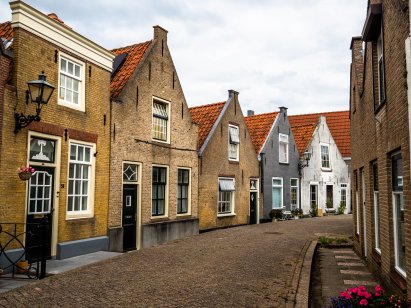 Content
Buying an affordable home in the Netherlands has become tougher since 2021, with monthly price increases peaking at 21% in January 2022 year-on-year (YoY). However, the pace of house price rises started to slow since July this year, although it is still in the double digits.
The Netherlands' deteriorating economic outlook, soaring interest rates and high energy prices have started to dent demand in the country's real estate market.
As the Dutch economy is set to slow next year and inflation is expected to remain high, will there be a Netherlands house price crash?
What is a housing crash?
A housing market crash is explained as a sharp drop in house prices following a period of high prices.
A housing market crash often follows a housing bubble, which occurs when the average price of a home is significantly higher than its underlying value, typically due to rising demand and limited supply. Low mortgage rates, improved welfare and easy access to bank loans are just a few of the factors that can drive up housing demand.
The bubble may burst if construction companies continue to build new homes even after demand has begun to dwindle and sales have slowed.
Finding new buyers may become more challenging when a central bank increases its benchmark interest rate. Mortgage costs could rise as a result of higher interest rates, placing current homeowners in difficult financial circumstances. Homeowners who are unable to make their mortgage payments could face defaults and foreclosures, increasing the number of homes on the market.
Economic downturns, particularly recessions, can result in job losses, decreased savings and fewer available jobs, all of which reduce demand for housing.
What is your sentiment on Natural Gas?
Vote to see Traders sentiment!
House prices in the Netherlands: Historical context
House prices in the Netherlands had slumped from 2010 to 2014. Based on data from the European Union's statistics office, Eurostat, house prices in the country dropped by 7.9% annually in 2012 and 2013, compared to a 3.3% fall in 2010.
The prices rebounded to positive growth in 2015 and continued its uptrend over 2021, hitting double digit growth of 11.2% year-over-year (YoY) in 2021, according to Eurostat.
House prices on the Amsterdam real estate market rose by 12% in 2021, Filip Nuytemans, co-founder of Dutch real estate investing firm BRXS wrote in a note on 5 October.
The Dutch economy, low interest rates and an acute shortage of housing supply had turbocharged property price growth in the country, according to Rabobank in its December 2021 report.
The abolishment of stamp duty for Dutch people under 35 in early 2021 increased sales by first-time buyers, the bank added.
In November 2021, the price of owner-occupied dwellings, excluding new construction, represented by the House Price Index jumped 20.1% YoY, according to Statistics Netherlands (CBS), the country's national statistics agency. The House Price Index monitors existing residential property sold to private buyers in the Netherlands.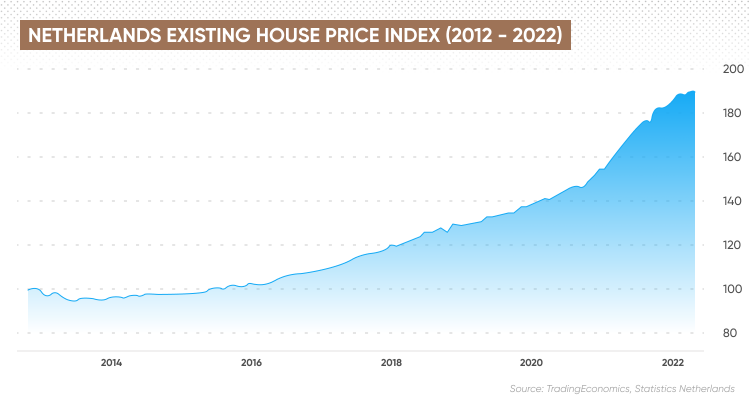 Despite the strong growth, few analysts viewed the situation as indicating the presence of a market bubble in the Netherlands.

The index peaked at 21.1% in January 2022 – the largest price increase since monitoring began in 1995 – but it has gradually dropped to single-digit levels, according to CBS.

In September, owner-occupied dwellings rose by 9.6% from September 2021, but slowed from an 11.9% increase in August, CBS reported on 24 October.

The agency noted that it was the "the fifth consecutive month that the price increase levelled off".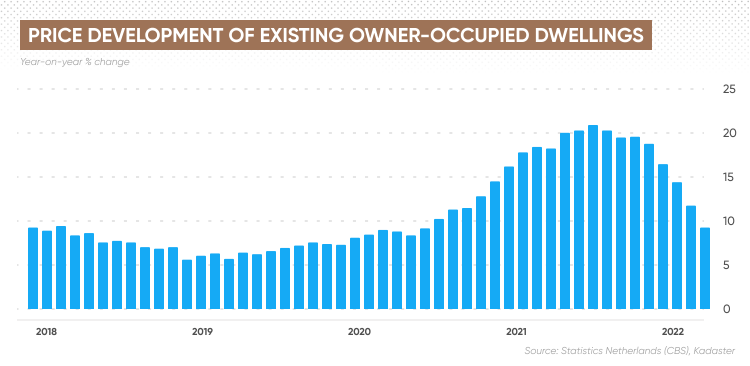 Drivers to falling housing prices in the Netherlands
Let's look closely on what factors are driving the fall in the house market in the Netherlands.
End of low mortgage rate
Soaring inflation in the eurozone, partly caused by the war in Ukraine, has forced the European Central Bank (ECB) to start hiking policy rates. Since July, the ECB has hiked its policy rate thrice, lifting the deposit facility rate to 1.5% and the main refinancing rate to 2%.
In its latest meeting on 27 October, the central bank hiked rates by 75 basis points (bps), meaning that in slightly more than three months, the ECB has hiked rates by a total of 200bps.
ING Research Head of Macro Carsten Brzeski noted that it was "sharpest and most aggressive hiking cycle ever," as in the two previous hiking cycles since the birth of the monetary union "it took the ECB at least 18 months to hike rates by a total of 200bp."
This has more than doubled the mortgage rate in the Netherlands to 4.10% from 1.8% which means buyers can borrow less for a home, but at the same time facing a rise in monthly costs, according to Rabobank's housing report on 22 September.
Higher mortgage rates have also changed customer preferences. Buyers now opt for a shorter-fixed interest rate period, rather than the popular 20-year fixed rate, to borrow more and keep costs down.
"But this only partly cushions the decline in the maximum mortgage. Borrowing less also means being able to bid less. And that has repercussions on house price development," Rabobank's senior economist Nic Vrieselaar and senior housing economist Carola de Groot wrote in the September report.
Rising energy prices weaken purchasing power
Like any other European countries, the Netherlands has also been facing exorbitant energy prices as global gas prices hit record highs due to Russia's invasion of Ukraine. Soaring energy prices – particularly that of natural gas (55% rise year-to-date) and crude oil (21% rise year-to-date) – have inflated costs of maintaining and owning a home due to the impact on electricity and heating costs.
Vrieselaar and Groot commented on the effect of the energy crisis on housing demand:
"The demand for owner-occupied houses is likely to be further depressed by the rocketing energy prices and uncertainty about households' future energy costs. More and more households will feel the increased energy prices in their wallets as soon as fixed energy contracts expire and are switched to variable contracts with higher tariffs."
The Dutch government has introduced a temporary price cap on energy prices starting 1 January 2023. It sets the maximum gas price at €1.45 per m3 and the maximum electricity tariff at €0.40 per kWh.
Still, analysts believed it would do little to revive consumers' purchasing power.
Philip Bokeloh, ABN-Amro's senior economist for the Netherlands, wrote in a note on 12 October:
"Government measures and wage increases are not enough to completely wipe out the loss in purchasing power. This leaves households with less money for housing."
Lingering housing shortage to support prices
Despite several bearish factors, analysts expected the persisted shortage in house supply to cushion the drop in prices.
The housing shortage has been acute in the Netherlands for years due to lack of land – a large part of the country's lowland areas are covered with water. A shortage of materials and construction workers as well as the slow issuance of building permits have compounded the shortage.
"Rising interest rates are making it harder for projects to get off the ground. In addition, environmental and climate issues are hindering housing construction," commented ABN-Amro's Bokeloh.
In mid-2021, the Netherlands had a deficit of 279,000 houses as demand exceeded supply, according to a report by De Nederlandsche Bank (DNB), the country's central bank.
Evidence of tight house supply was that it took only a month for a home in Amsterdam property market to be sold in the first half of 2022, according to a report by BRXS.
"This very short listing time still indicates a serious shortage in supply on the Amsterdam housing market," said BRXS co-founder Nuytemans.
New constructions are not going to come in at more than 70,000 homes a year, according to a Rabobank estimate, which is lower than the 85,000 new homes built during the house market crisis in 2008.
"So, in this respect, the owner-occupied housing market has to come from further afield before buyers take control again. This may dampen the anticipated house price decline. Also, the (planned) purchasing power measures to reduce the impact of the energy crisis may limit the expected price decline," Rabobank's economists said.
Netherlands housing market predictions: 2022-2023 target and beyond
On 12 October, ABN-Amro revised down its Netherlands property prices for 2022 to a 14% increase, compared to previous estimate of a 15% rise in housing prices. It expected the housing price to fall by 2.5% in 2023, a revision from the previous estimate of a 2.5% increase.
"However, if the upcoming recession is more severe than we currently foresee, a larger correction cannot be ruled out," ABN-Amro's Bokeloh said.
The number of Netherlands' real estate transactions was estimated to fall by 15% in 2022, compared to previous estimate of 17.5%. In 2023, the bank predicted the number of transactions to fall by 1% – smaller than its previous forecast of a 2.5% drop.
In its quarterly report released on 22 September, Rabobank's Vrieselaar and de Groot predicted average house prices in the Netherlands to increase by a modest 3% in 2023, from an estimated 15.2% in 2022.
These estimates were a downward revision from 16.1% increase in house prices for 2022 and a 4.5% growth in 2023 in the bank's previous quarterly report in June due to the deteriorating outlook of the country's economy.
Vrieselaar and de Groot wrote:
"After almost a decade of rising house prices, we believe we will again face falling house prices in the coming years, which raises the question of whether we can expect another housing market crisis like the one between 2008 and 2013."
As for transactions, Rabobank forecast 189,000 homes to change hands in 2022 – a potential 16.1% drop from 2021. The number of homes sold were expected to increase to 197,000 houses in 2023.
According to data aggregator TradingEconomics, the Netherlands Existing Housing Index was predicted to come in at a potential 200.41 points by the end of this quarter. The index was projected to trend at 207.63 points in 2023 and 212.61 points in 2024, according to the platform's econometric models.
Final thoughts
ABN-Amro expected house prices in the Netherlands to fall in 2023, while Rabobank forecast the prices would still increase but at a significantly slower pace.
Remember that analysts' forecasts on the Netherlands' housing market crash can be inaccurate. You should always conduct your own research before trading, looking at the latest news, technical and fundamental analysis and a wide range of analyst commentary.
Bear in mind that past performance does not guarantee future returns. And never trade with more money that you cannot afford to lose.
FAQs
Is there a housing crisis in the Netherlands?

There is a housing shortage. The Netherlands has been experiencing a housing shortage for several years due to a lack of land, lack of construction workers and building materials, and issues with registration regulations. Housing costs in the Netherlands are relatively expensive.
Is the Netherlands housing market a bubble?

Rabobank's Dutch housing market quarterly report in May 2022 wrote that while the Netherlands housing market is overheated with prices rising by double-digit, it did not suggest that it is entering a bubble period.

Remember that analysts' forecasts can be inaccurate or wrong. Always do your own due diligence before trading or investing.
Is the Netherlands housing market going down?

Analysts have forecast the growth of housing prices in the Netherlands to slow in 2023 as high interest rates, soaring energy prices and worsening economic outlook weaken consumers' purchasing power.

However, analysts' forecasts can be inaccurate or wrong. Remember to always do your own research before trading or investing.
Related reading