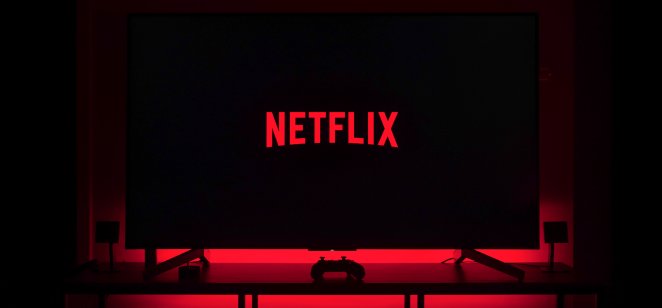 Content
Netflix (NFLX) has seen its share price plummet close to 70% since the start of this year as it lost 200,000 subscribers in Q1 – the first subscriber decline in over a decade.
The streaming giant has blamed people sharing subscriptions, fierce industry competition and macroeconomic issues. It's laid off 450 employees since April in an attempt to cut costs.
What's next for the NFLX stock price? Will its fortunes turn around over the coming months, or is further pain on the cards for investors? In this Netflix stock forecast, we take a look at the company's news and recent results and find out what analysts expect over the coming months.
Bear market territory
The NFLX stock price has fallen close to 70% from $597.37 at the start of the year to $191.98 on 19 July 2022.
The stock price is 72% down from its record high – a significant correction that indicates bear market territory. The recent decline means NFLX is now trading only marginally above where it was five years ago, having been at $691.69 as recently as November 2021.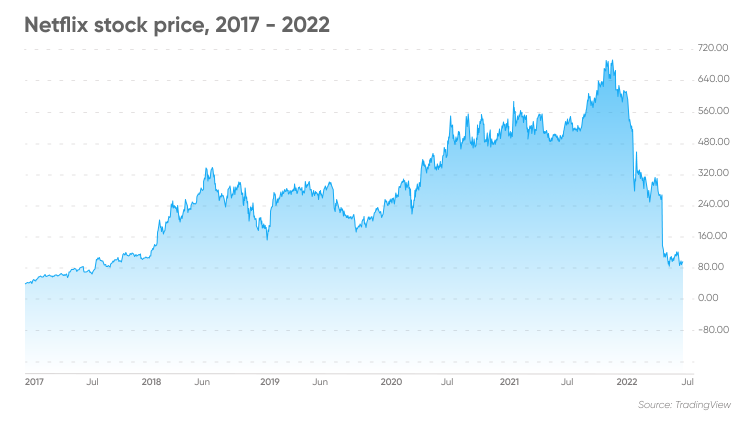 The streaming giant is not the only company suffering through a sell-off. The benchmark S&P 500 (US500) index has lost 19.10% year-to-date, while the tech-focused Nasdaq 100 (US100) has wiped out 27% of its value in 2022. Netflix, however, is one of the worst performers.
The wider equity sell-off comes amid investor sentiment shift away from risk-on assets following aggressive policy tightening by the US Federal Reserve (Fed) and increasing fears of a US recession in 2023.
What is your sentiment on NFLX?
Vote to see Traders sentiment!
Netflix lost 200,000 subscribers in Q1
In its first-quarter results, Netflix announced revenue had risen 9.8% year-on-year to $7.86bn. The net income figure came in at $1.59bn from $1.71bn in the first quarter of the previous year.
The company also reported diluted earnings per share (EPS) of $3.53.
Arguably the biggest disappointment for Netflix shareholders was the loss of subscribers for the first time since October 2011. Around 200,000 users left the streaming service in the first quarter. The disappointing results sent NFLX share price down over 35% in just one day.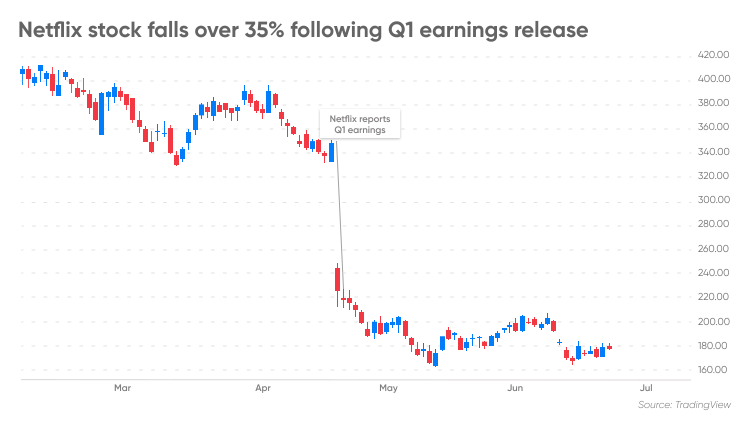 Neil Macker, senior equity analyst at Morningstar, pointed out that the company's stock price tumbled 25% in after-hours trading in the wake of its first-quarter 2022 results.
"The firm posted its first streaming subscriber net loss ever in the quarter due in part to closing operations in Russia, but even when accounting for that loss, net adds of 0.5 million came in well short of the low end of guidance of 2.5 million," he wrote in a note published in April."
A further two million more subscribers are expected to be lost in the second quarter, while the company maintains its 20% margin target for the full-year.
"Despite competition and recent price increases undoubtedly playing significant roles in the weak results and guidance, management primarily blamed other factors such as the shortages of connected televisions and password sharing," he added.
"There will be hell to pay if they report a number that is significantly higher than the 2 million loss being thrown around," Andrew Hare, a senior vice president of research at Magid, told
CNN Business
on 17 July.
In a letter to shareholders that accompanied the first-quarter results, Netflix acknowledged that revenue growth had "slowed considerably".
"Streaming is winning over linear, as we predicted, and Netflix titles are very popular globally. However, our relatively high household penetration – when including the large number of households sharing accounts – combined with competition, is creating revenue growth headwinds."
The company noted the Covid-19 boost to streaming had "obscured the picture" until recently. The slowing of a stay-at-home trend could therefore be another factor shaping NFLX stock forecast.
"While we work to reaccelerate our revenue growth – through improvements to our service and more effective monetisation of multi-household sharing – we'll be holding our operating margin at around 20%," it added.
In the latest Netflix news, the company laid off another 300 employees in June in an attempt to cut costs amid falling subscriber numbers. This is the second job cut since the streaming giant reported earnings, already cutting 150 employees in May.
What factors are affecting revenue growth?
The pace of Netflix revenue growth is partly dependent on factors the company doesn't control, such as the uptake of connected TVs and data costs.
While Netflix has 222 million paying households, it estimates accounts are being shared with more than 100 million others. This makes it harder to grow membership numbers.
Linear TV, YouTube, owned by Google (GOOGL), and Amazon (AMZN) have provided robust competition for years, while traditional entertainment companies have also launched streaming services.
Finally, sluggish economic growth, increasing inflation, and geopolitical events such as Russia's invasion of Ukraine have also affected the company's performance.
Forward guidance for Q2
The company has forecasted revenue of $8.05bn for the second quarter of 2022 – 9.7% up on the corresponding quarter last year.
Net income is expected to come in at $1.73bn, down from the $1.85bn in the second quarter of 2021, with diluted earnings per share of $3.
"Our plan is to reaccelerate our viewing and revenue growth by continuing to improve all aspects of Netflix – in particular the quality of our programming and recommendations, which is what our members value most," Netflix said.
On the content side, the company is "doubling down on story development and creative excellence", which has been reflected in major hits such as Bridgerton and Inventing Anna. Management is also looking at how to monetise the 100 million households that are using someone else's account.
"This is a big opportunity as these households are already watching Netflix and enjoying our service," it added.
Morningstar's Macker however doubted plans to charge a sharing fee will be the panacea strategy that some investors have outlined over the last few years.
"Netflix may be able to squeeze a few more dollars out of some of the primary households, but we think that other ones will look at the new sharing fee as another pricing increase and cancel," he said.
"Also, many of the households that don't pay may not view the service as valuable enough to pay for, particularly in higher price markets like the US and Western Europe."
Over the longer-term, Netflix anticipates that much of its growth will come from outside the US.
"Netflix is now producing films and TV in more than 50 countries with a high degree of integration in the local entertainment ecosystem resulting in the creation of blockbusters from every region," it stated.
The company will report its earnings for the second quarter of 2022 on 19 July 2022.
Netflix stock forecast for 2022
The stock is a 'hold', based on the views of 39 analysts compiled by MarketBeat, as of 19 July, although there is a wide disparity between them – 23 analysts rated it a 'hold', 10 a 'buy' and six had 'sell' recommendations.
Their consensus view for their Netflix share price forecast was that the stock could rise by 69% to $324.97 over the next 12 months. The most optimistic NFLX stock forecast for 2022 suggested the price could even soar to $730 over this period, although others warned it could fall to $157.
According to the algorithm-based Netflix stock predictions from Wallet Investor, as of 19 July, the stock was a "very good long-term investment" that could rise 29% to $247.714 over the coming year. The site's Netflix stock forecast for 2025, meanwhile, suggested the price could hit $369.202 in three years' time.
Note that analysts' predictions can be wrong. Forecasts shouldn't be used as substitutes for your own research. Always conduct your own diligence. Remember that your decision to trade or invest should depend on your risk tolerance, expertise in the market, portfolio size and goals.
Keep in mind that past performance doesn't guarantee future returns. And never invest or trade money you cannot afford to lose.
Analysts' views on Netflix stock predictions
If Netflix was writing its own story, this year would be the middle interlude when the hero has to "overcome adversity to ultimately triumph", Danni Hewson, financial analyst at AJ Bell, told Capital.com in late June 2022.
"Shareholders will be hoping it knows how to follow a script because the 70% wiped off the company's value since the start of the year is certainly a plot twist," she said.
While the streaming giant seemed to be unassailable at one point, she believes the game has changed, noting:
"There are a whole load more players on the field trying to grab hold of the consumer shaped ball. It's having to pare down costs where possible but needs to keep spending up when it comes to content because that's what its competitors are doing."
Netflix has some popular shows, but the prospect of consumers having to tighten their belts means the days of households paying for numerous subscriptions could be over.
"The next 12 to 24 months are going to get harder, not easier, particularly with rivals like Paramount expanding into Europe. It will need to think seriously about its revenue model and if the rumours are true and it is looking to pull Roku back into the fold, then advertising is undoubtedly part of the long-term plan," said Hewson.
As far as her NFLX stock forecast is concerned, she believes players like Netflix are likely to thrive as the world becomes "embedded deep into the metaverse", but there is work to be done.
"The business needs to evolve and there will be many investors waiting to see evidence of how that evolution will look before being won over," she added.
Analysts at Morgan Stanley (MS) have warned of an impending "streaming recession" that will likely adversely impact Netflix and similar firms.
"We are lowering net adds expectations across the board to reflect rising churn risk from consumers trimming their streaming portfolios in a more difficult economic environment," analyst Benjamin Swinburne said in a note quoted by
Yahoo Finance
.
Swinburne added that recession expectations could also negatively impact EBITDA, as advertisers pull back amid the economic uncertainty, with Morgan Stanley lowering its advertising estimates "across the board".
"A potential recession creates risk to advertising estimates, which may be exacerbated by Disney and Netflix adding advertising inventory as ad budgets come under more pressure," Swinburne added.
Wall Street expects the following key figures from the 19 July earnings report, according to Bloomberg estimates quoted by Yahoo Finance:
Revenue: $8.05bn

Adj. earnings per share (EPS): $2.99

Subscribers: Loss of 2 million users
FAQs
Is Netflix a good stock to buy?

Whether NFLX stock is a good investment for you will depend on your own investment objectives and the research you have carried out on the stock. Remember, it's very important to form your own opinion of a company's prospects and its likelihood of achieving analysts' targets. Keep in mind that past performance doesn't guarantee future returns. And never invest or trade money you cannot afford to lose.
Will Netflix stock go up?

The consensus forecast from analysts compiled by Marketbeat as of 22 June was that the stock could rise to $350.29 over the coming year – but it's important to remember that they may be wrong. You'll need to carry out your own analysis on the stock and make your own mind up about its prospects.
Should I invest in Netflix stock?

This depends on your view of the company. Analysts believe the industry is likely to grow – but warn it's already fiercely competitive. You will need to draw your own conclusions on how Netflix is likely to perform over the coming years. Keep in mind that past performance doesn't guarantee future returns. And never invest or trade money you cannot afford to lose.
Further reading: