Metaverse travel: RFOX aims to roll out a localized metaverse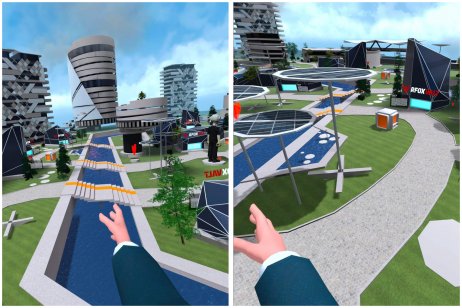 RFOX aims to roll out localized metaverses with a metaverse passport to travel between them.
RFOX VALT offers people a chance to be a Lego master builder, as an opportunity to earn and create and play despite their geographical location.
The RFOX metaverse, also known as the VALT, consists of four themed quarters and with 25 premium SHOPs in each. Each quarter is targeted to bring e-commerce, NFT marketplace, immersive entertainment, and social events to the masses via VR and mobile.
The first and second quarters are art themed Callinova and gaming themed Arkamoto which were both completed in 2021. The other two quarters, Music and Science and Tech, will be up for auction soon.
RFOX is VALT's primary payment method and will see all virtual assets and items exchanged for the RFOX token, which is based on the Ethereum blockchain (ETH).
ETH to US dollar
The choice of ETH was simple according to RFOX CEO Ben Fairbank, as he said it is the most commonly used blockchain with a lot of exposure in the market.
RFOX has a global VALT but it is looking to launch local versions.
"Once we roll this out in Malaysia, for example, it changes completely because it would be personalized to Malaysia," Fairbank said.
He added that the difference might be seen in languages on the signs, music, look and feel that is distinct to Malaysia, as it is localized.
RFOX offers VFOX tokens as rewards for the VALT ecosystem. VFOX holders will receive rewards in the form of RFOX.
The RFOX token is available on Ethereum, Binance Smart Chain (BNB), and WAX (WAXP) with more chain integrations to come.
What is your sentiment on ETH/USD?
Vote to see Traders sentiment!
WAXP to US dollar
When asked whether it is possible to travel between different localized VALTs, Fairbank said there would be a metaverse passport to make travelling to VALTs around the world possible, and one can even record your travels and minting it as an NFT.