Metal price prediction: Can MTL retest its highs?
Subscribe to Weekly Highlights
The major market events for the week ahead right in your inbox.
Subscribe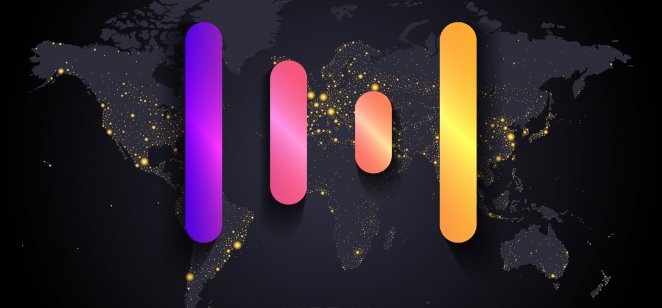 Content
On 19 April, MTL, the native token of payment processing platform Metal, hit a 90-day high of $3.43, according to CoinMarketCap. However, at the time of writing (3 May), the MTL token price fell to $1.95, a decrease of more than 43% from the high.
The recent decline in the Metal (MTL) coin value has been consistent with bearish sentiment in the broader cryptocurrency market. Bitcoin (BTC) fell by 24% from the 90-day high of $48,086 on 28 March to $36,491 at the time of writing (5 May).
Additionally, other crypto market leaders such as Ripple (XRP), Solana (SOL) and Cardano (ADA) have decreased by 7.44%, 13.63%, and 6,48%, respectively, over the previous week.
Is the global cryptocurrency market in a retracement phase, or is it on the verge of a crypto winter? What will happen to the MTL token in 2022 and beyond?
Let's consider the project's fundamentals and the latest MTL coin news to get a clearer outlook on what might be a plausible Metal crypto price prediction.

What is the Metal coin?
Metal is a blockchain-based system that identifies users through Proof of Processed Payments (PoPP) and rewards them for converting fiat money to cryptocurrency.
According to the project's
whitepaper
, users can, "Earn crypto when you spend money, earn crypto when you receive money. Through PoPP and the Metal platform we are incentivizing usage and adoption of cryptocurrency and building an ecosystem for users and merchants."
It has a similar mechanism to Bitcoin, but with a more user-friendly interface, similar to Venmo, Block (SQ) or PayPal (PYPL).
Metal believes that businesses that now operate solely on cash might profit from adopting cryptocurrency as a new payment method since cryptocurrencies have many of the same features as cash, notably anonymity, censorship resistance and fungibility.
Metal performs all of the functions associated with typical payment applications. This includes peer-to-peer payment and invoicing in real time. Metal hopes to save customers 4%-5% on all transactions by offering digital payments that rely on blockchain technology rather than traditional banking services, according to the whitepaper.
MTL is the Metal network's native token – an ERC-20 token built on the Ethereum blockchain. Users are eligible for rewards, like loyalty bonuses for holding MTL on an exchange. According to Metal's website: "MTL is made for everyday use, so cash it out to your bank, pay someone with it, or save it and watch it grow."
Using Metal's marketplace, users can "buy and sell over 50 cryptocurrencies directly from your FDIC [Federal Deposit Insurance Corporation] -insured cash balance in our partner bank".
MTL coin news and price drivers
The project has shared several important updates lately, which may affect the MTL future target price.
Partnership with EvoShare
Metal collaborated with EvoShare in April 2022 to allow customers to earn cryptocurrency when they spend online at thousands of retail stores.
EvoShare is a cryptocurrency cashback platform that compensates users for their existing activities. Users can access a list of over 10,000 retailers and over 700,000 hotels who joined with EvoShare by setting up an account.
Each time a user makes a purchase at one of Metal's partner locations, they get up to 30% in Metal Pay cashback, which can be instantly converted to cryptocurrency and added to their wallets.
Opening new markets
Metal Pay obtained a Money Transmitter Licence from Alabama, United States, in March 2022, providing residents with full access to the Metal Pay experience.
As of April 2022, Metal Pay was available in 42 US states, Puerto Rico and the US Virgin Islands. According to the company, they are currently working on expanding to other US territories and markets in Europe, Australia, New Zealand, Canada and South Korea.
| | |
| --- | --- |
| Long position overnight fee | -0.0500% |
| Short position overnight fee | 0.0140% |
| Overnight fee time | 22:00 (UTC) |
| Spread | 60.00 |
| | |
| --- | --- |
| Long position overnight fee | -0.0500% |
| Short position overnight fee | 0.0140% |
| Overnight fee time | 22:00 (UTC) |
| Spread | 5.00 |
| | |
| --- | --- |
| Long position overnight fee | -0.0500% |
| Short position overnight fee | 0.0140% |
| Overnight fee time | 22:00 (UTC) |
| Spread | 0.00322 |
| | |
| --- | --- |
| Long position overnight fee | -0.0500% |
| Short position overnight fee | 0.0140% |
| Overnight fee time | 22:00 (UTC) |
| Spread | 0.0012155 |
Metal teamed with Railsbank in September 2021 to introduce Metal Pay on the European market. Railsbank is a London-based financial institution, which offers banking as a service to financial institutions worldwide.
This partnership allowed Metal to provide its services to customers across the European Union and keep its headquarters in the US.
Listing of MTL token on Liquid
MTL coin was launched on Liquid, a cryptocurrency trading platform, in August 2021. This is the 22nd exchange to offer MTL tokens.
MTL/USD price analysis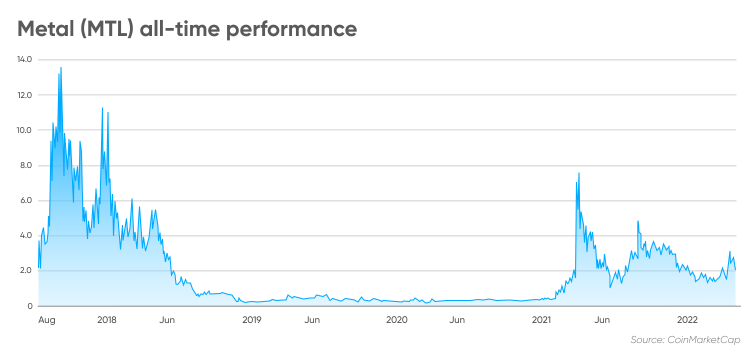 Based on the earliest available historical price chart from 2017, MTL token price spiked from $2.04 on 10 July to $3.69 on 12 July. The cryptocurrency hit its all-time high of $14.82 on 7 September 2017. However, the glory was short lived, and the MTL token declined to $3.82 on 12 November. It closed the year at $8.06.
In 2018, MTL reached $11.01 on 4 January, and after that, its price kept declining and closed the year at $0.25, down nearly 98% from the January high. It closed 2019 at $0.22. The bearishness continued in 2020, and the MTL token declined to its all-time low of $0.11 on 13 March 2020. MTL token turned slightly bullish afterwards and reached $0.41 on 22 August. It closed the year at $0.40.
At the start of 2021, the broader cryptocurrency market turned bullish, triggering new highs in MTL token price. It spiked from $0.40 on 1 January to $7.56 on 4 April. The retracement sent the price to $1.04 on 22 June. It closed the year at $2.06.
At the start of 2022, the MTL token was trading in a bearish market. It declined to a 90-day low of $1.16 on 24 February amid the meltdown of the global cryptocurrency market. However, the MTL token picked some pace and reached a 90-day high of $3.43 on 19 April.
At the time of writing (5 May), the token was trading at $1.92 and had a market capitalisation of $128m.
Does the cryptocurrency have a potential to rebound and test its highs from 2017?
Metal (MTL) price prediction: Targets for 2022, 2025 and 2030
According to CoinCodex's short-term price outlook on 5 May, MTL attracted bearish sentiment, with 23 technical indicators giving bearish signals and nine bullish.
Most of the daily simple moving averages (SMA) and daily exponential moving averages (EMA), along with the volume-weighted moving average (VWMA), average directional index (ADX) and Hull moving average (HMA) gave 'sell' signals.
The Stoch RSI and Williams percent range gave 'buy' signals. The moving average convergence divergence (MACD) and momentum oscillator kept neutral.
According to the short-term Metal price prediction by CoinCodex, the cryptocurrency could reach $2.15 on 11 May 2022.
Several algorithm-based forecasting services provided longer term MTL price predictions for 2022 and beyond:
According to Wallet Investor's MTL forecast, the MTL token could be an 'outstanding' long-term investment. It estimated that the coin's average price could reach $2.15 by the end of 2022 and $4.41 by the end of 2025. Its five-year Metal prediction indicated that the token could reach $5.89 in May 2027.

The MTL prediction from Price Prediction was even more bullish as of 5 May. It suggested that the average price in 2022 could be $2.11 and $3.09 in 2023. Its MTL crypto price prediction expected it to trade at $6.34 in 2025 and hit $43.91 in 2030.

In line with other algorithmic tools, the Metal coin price prediction from DigitalCoinPrice also indicated that the token could rise. Its MTL coin price prediction estimated that the average price could be $2.48 in 2022, $2.75 in 2023, $3.58 in 2025 and $8.72 in 2030.
When looking for a MTL price prediction, bear in mind that analysts' and algorithm-based expectations can be wrong. Their projections are based on fundamental and technical studies of the Metal token's past performance. Past performance is no guarantee of future results.
It's essential to do your research and always remember your decision to trade depends on your attitude to risk, your expertise in the market, the spread of your portfolio, and how comfortable you feel about losing money. You should never trade more money than you can afford to lose.
FAQs
How many Metal coins are there?

As of 5 May 2022, Metal (MTL) has a maximum supply and circulating supply of 66.6 million tokens.
Is Metal coin a good investment?

Metal (MTL) is a blockchain project that intends to increase cryptocurrencies accessibility to the general public by providing a payment software and platform that rewards users for spent, delivered and received money.

Whether the MTL token is a good fit for your investment portfolio depends on your circumstances and risk tolerance. So you should estimate the level of risk you are ready to take before investing.
Will Metal (MTL) hit $50?

Algorithmic forecasting services, including Wallet Investor, DigitalCoin and PricePrediction (as of 5 May), suggested the coin had potential for gains. According to PricePrediction, MTL could exceed $50 by 2031.
How high can MTL coin go?

According to the MTL/USD forecast from Price Prediction (as of 5 May 2022), it could go as high as $63.80 in 2031. Please note that algorithm-based price targets can be wrong.