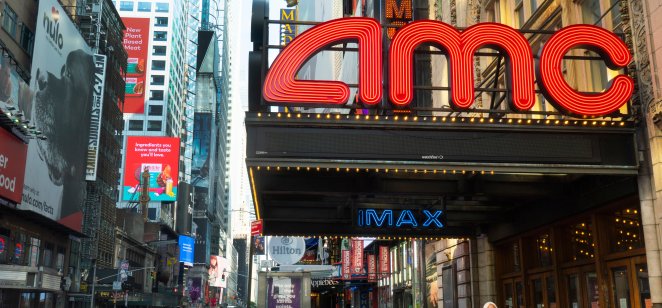 Content
For investors wondering what to make of AMC Entertainment's (AMC) preferred-equity dividend announced last week, it is essentially a stock split, analysts noted. But it does offer AMC a new funding option for the beleaguered theatre operator and original meme stock. In addition to the APE security, the dividend includes a new 'I Own APE' non-fungible token (NFT), which may be traded on third-party exchanges.
AMC Entertainment Holdings 5-day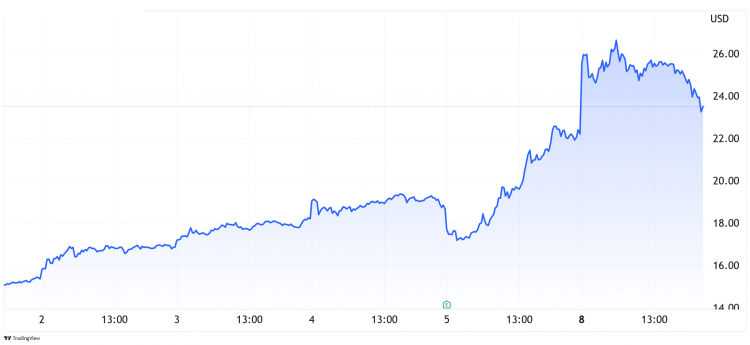 "It's a stock split," said Michael Pachter, managing director of Equity Research Wedbush Securities.
"Fair value for AMC is around $7 to $8 from a business enterprise standpoint because they have so much debt," Pachter said. "So, if fair value is around $8 and you can sell new preferred shares at $25, you do it – Adam Aron has navigated the Titanic through an iceberg field."
As for the new AMC Preferred Equity (APE) securities, which will be listed on the NYSE under the ticker APE beginning 22 August, "when they do issue the new APE securities those will trade at half of one AMC share the day before," Pachter added.
"Let's say AMC has 500 million shares at $25, after the APE securities are issues you will have 100 million shares at $12.50 [per share]."
What is your sentiment on AMC?
Vote to see Traders sentiment!
AMC Entertainment Holdings (AMC) stock price
AMC currently has roughly 516.8 million shares outstanding and will issue a one-for-one dividend of APE securities for each share held as of 19 August. Investors initially disapproved of the move, sending AMC stock 6.81% lower to $16.97 per share before Friday's open. But AMC stock has rebounded since, gaining 35.2% to as high as $26.18 per share Monday. AMC stock trades on the NYSE under the ticker AMC.
"There's no logic behind where AMC trades," said Pachter. "Currently, AMC is trading at 18 times its highest EBITDA in [company] history. Normal multiples for AMC are around nine times but it makes no sense."
Lost in the APE headlines, AMC's second-quarter earnings, released after the market closed on Thursday, were solid – the $0.20 per-share quarterly loss beat expectations of a $0.22 per-share loss, while $1.178bn (£968.38m) in revenue slightly missed $1.18bn estimates.
"AMC continues to right-size the ship by repaying and restructuring debt, acquiring more quality screens while removing underperforming screens, and making inroads into various alternatives for potential future revenue sources, including alternative content in its theatres and retail popcorn sales," wrote Pachner in a note to clients after the earnings release.
"While we reiterate our 'Underperform' rating and $4 price target here, we admit that we are encouraged by AMC's preferred equity announcement, as it will afford the company an opportunity to repay its massive debt and make investments to improve its global footprint" Pachter added in the note. Wedbush had a $7 price target as of last November.
| | |
| --- | --- |
| Long position overnight fee | -0.0064% |
| Short position overnight fee | -0.0059% |
| Overnight fee time | 21:00 (UTC) |
| Spread | 0.40 |
| | |
| --- | --- |
| Long position overnight fee | -0.0308% |
| Short position overnight fee | -0.0137% |
| Overnight fee time | 21:00 (UTC) |
| Spread | 0.65 |
| | |
| --- | --- |
| Long position overnight fee | -0.0064% |
| Short position overnight fee | -0.0059% |
| Overnight fee time | 21:00 (UTC) |
| Spread | 0.31 |
| | |
| --- | --- |
| Long position overnight fee | -0.0308% |
| Short position overnight fee | -0.0137% |
| Overnight fee time | 21:00 (UTC) |
| Spread | 0.29 |
Aron, meanwhile, defended the move on CNBC with stock pundit Jim Kramer and even posted a 12-tweet "tweetstorm" explaining the benefits of issuing the private equity as a dividend.
"For so many reasons, including what we can do with it in the future, the introduction of AMC Preferred Equity units has the potential to immensely strengthen our company," Aron tweeted. "APEs give AMC a vital new currency to pay down debt, for M&A and to raise cash if we choose. They lessen near-term risk we cannot survive this pandemic and increase the likelihood we thrive."
AMC shareholders initially authorised the preferred equity in 2013, prior to Aron's becoming AMC CEO. After the initial APE issuance, AMC can issue up to an additional 4.5 billion preferred shares in APE securities for additional liquidity, something Pachter hopes will go towards lowering AMC's debt burden. AMC has made it a point in 2022 to restructure high-interest debt it took on during the early stages of Covid-19, as government-mandated lockdowns closed movie theatres and froze revenue.
AMC, which carries a below investment-grade "Caa2" rating from Moody's and "B-" from Standard & Poor's, has roughly $5.12bn in debt payments coming due in the next five years, the company reported in its most recent quarterly earnings.

"Should this transaction commence, we would expect AMC to issue a portion of its authorized APE shares for cash to pay down the majority of its outstanding debt, thereby making AMC a more attractive long-term investment," Pachter added in the note.
The new "I Own APE" NFT, included in the dividend with the APE security, is mostly seen as a novelty, albeit one AMC's retail investor base seems to appreciate.
"Issuing preferred stock as a dividend is nothing new," said Scott Sheridan, CEO of tastyworks. "But the NFT aspect feels a bit like the guy who still says, 'wassup' from the old Budweiser commercials – it was catchy at the time, but its moment has passed."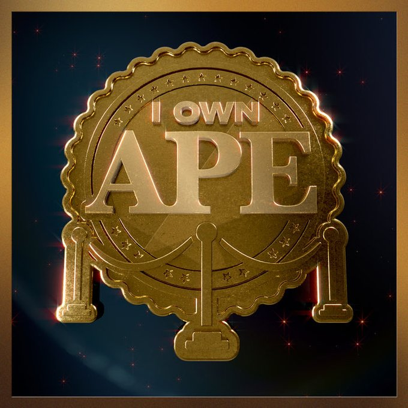 "As an investor, I'm not sure the NFT means much," added Sheridan. "As a customer, an NFT might have some value if it's tied to something that drives business, I appreciate [AMC] trying something new."
The aforementioned "I Own AMC NFT, issued last December, is currently traded on NFT marketplace Opensea with a current 0.005 Ether price, or $8.86.
Further reading