JD Sports share price forecast: What's in store for the retailer?
Subscribe to Weekly Highlights
The major market events for the week ahead right in your inbox.
Subscribe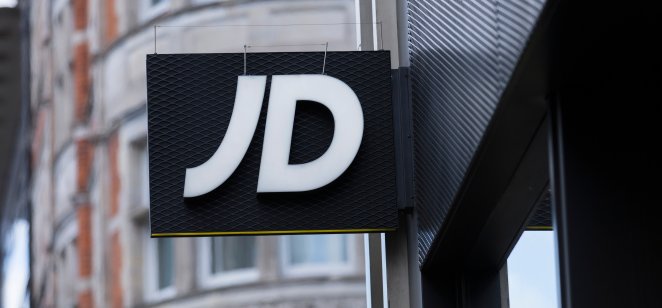 Content
From a single store at Bury, England, to operating 3,300 stores across 29 territories, JD Sports Fashion (JD) has grown. Acquisitions have strengthened its presence in Europe, Asia and North America.
The JD Group's portfolio includes the brands JD, Footpatrol, Shoe Palace, JD Gyms and Mainline. Its Outdoor portfolio includes Go Outdoors, Ultimate Outdoors, Fishing Republic and Naylors.
The company has climbed since March 2020, hitting several peaks. Shares hit an all-time high on 19 November 2021 at £234 ($316.12). Will the uptrend continue? Let's look at JD Sports stock forecast for 2022 and beyond.
What is JD Sports Fashion?
JD Sports Fashion began in 1981 with a store in Greater Manchester. It went public on 22 October 1996. In 2005, 57.5% of the company was bought by the Pentland Group. Since then, JD Sports Fashion has grown.
In more than 40 years, JD Sports Fashion has made several acquisitions, among them Chausport, a French sports retailer, and Sprinter, a leading Spanish sports retailer. While both acquisitions helped JD Sports Fashion expand into European nations, brands like outdoor retailer Blacks and Millets joining the JD Group helped its expansion into the outdoor market.
The JD Group acquired Go Outdoors in 2016. It opened its first gym. It ventured into the Asian and American markets. The company acquired Hot-T, a South Korean retailer of sports branded footwear, followed by the acquisitions of Finish Line and Shoe Palace in the US.
In 2020, JD Group opened its first flagship store in Times Square, New York. In 2021, the company acquired DTLR, a retailer of athletic footwear and apparel streetwear with 247 stores across 19 states.
JD Sports Fashion also engages in charity partnerships through the JD Foundation, supporting 17 charity partners across the UK. The Group simultaneously encourages and incorporates environmental, social and governance (ESG) practices across all its brands.
Before jumping into a JD Sports share price prediction, let's look at the company's fundamentals and past performance. Currently, the JD Group operates 3,300 stores in 29 territories, including over 890 JD stores. The company is listed on the London Stock Exchange under the ticker JD, and goes with the symbol JDDSF or JD.L on the NASDAQ. As of 26 January 2022, shares of JD Sports Fashion were trading at £185.70, with a market capitalization of £9.4bn.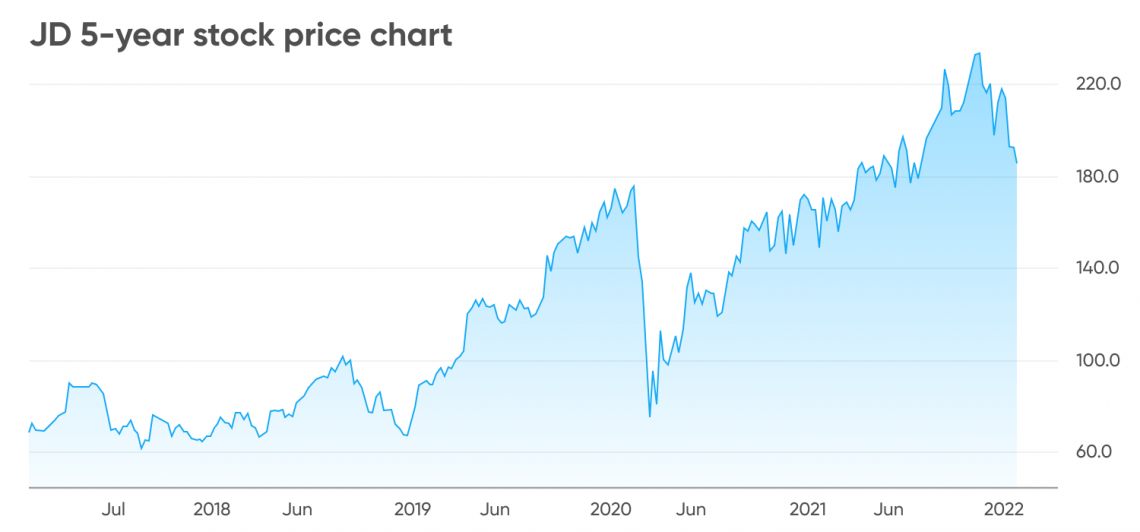 JD Sports Fashion highlights
JD Sports Fashion has been trending upwards in the past two years, despite pandemic woes. Its outdoor section, which focuses on providing products for outdoor sports and indoor activities, especially workouts at home, attracted customers.
According to a report by FashionUnited, JD Sports Fashion's total revenues for the twenty-two week period ended 1 January 2022 were more than 10% up on those of the same period in 2020. The company had positive performance across Black Friday and the Christmas period. With the sustained positive nature of consumer demand, the company is confident that profit before tax for the full year ended 29 January 2022 will be higher than current market expectations, which average £810m. It is anticipating at least £875m for the full year.
| | |
| --- | --- |
| Long position overnight fee | -0.0167% |
| Short position overnight fee | 0.0060% |
| Overnight fee time | 22:00 (UTC) |
| Spread | 3.0 |
| | |
| --- | --- |
| Long position overnight fee | -0.0500% |
| Short position overnight fee | 0.0140% |
| Overnight fee time | 22:00 (UTC) |
| Spread | 0.00253 |
| | |
| --- | --- |
| Long position overnight fee | 0.0601% |
| Short position overnight fee | -0.0882% |
| Overnight fee time | 22:00 (UTC) |
| Spread | 0.006 |
| | |
| --- | --- |
| Long position overnight fee | -0.0125% |
| Short position overnight fee | -0.0013% |
| Overnight fee time | 22:00 (UTC) |
| Spread | 0.03 |
Several collaborations, brand acquisitions and partnership deals have boosted growth. Its expansion during the pandemic, especially the purchase of streetwear retailer DTLR Villa and Shoe Palace, shrugged off hurdles from supply-chain disruption and pandemic restrictions. Among the last few major acquisitions is an 80% stake in Cosmos Sport, which operates 57 stores in Greece and three in Cyprus.
In January this year, JD Sports signed a partnership deal with Excel Esports. According to executive chairman Peter Cowgill:
"JD SPORTS (will) embrace casual and competitive e-gaming audiences across some of the biggest global gaming titles."
JD price analysis
Looking at JD Sports Fashion's fundamentals, as of 30 January 2021, the company had total revenue of £6.16bn, which is a 27.6% growth in the last three years. It has an operating profit of £385m, and paid a dividend of 0.29p.
Diving into some JD Sports share price news, the share price reached an all-time high on 18 November 2021 at £234. But this month prices have fallen by around 15% (as of January 26). Like other apparel and fashion retailers, the Covid-19 pandemic has hit earnings per share growth, which is down 8.89%. Its relative strength index (RSI) is 30.62 and has price volatility of 10.64.
What are experts saying?
To determine if JD Sports stock is buy, sell or hold, let's look at expert price analysis. According to TradingView, JD Sports' RSI and the Average Directional Index (ADX) are neutral for the month. The 21 and 50-week simple and exponential moving averages are bullish. They, the Moving Average Convergence Divergence (MACD) and the volume-weighted moving average are giving 'buy' signals. Overall, 14 analysts are recommending a 'buy', three analysts advise 'sell' and nine are neutral.
Analysis by MarketBeat, based on seven analysts' ratings, suggests that JD Sports is a 'buy'. The list of analysts suggesting a buy includes Goldman Sachs Group and Jefferies Financial Group. Analysts from Credit Suisse Group expect the stock to 'outperform' in the long-term.
Wallet Investor says the share price could reach £824.290 by 2027. For the years 2022, 2023, 2024 and 2025, the algorithmic service expects the share price to rise to at least £266.387, £393.598, £519.176 and £645.032, respectively. JD Sports has a long-term earning potential of 78.85% in one year.
According to Gov Capital's forecasts, JD stock is expected to hit $6.019 by the end of 2022. Prices could rise to $19.469, $36.218, $60.542 and $83.499 by the end of 2023, 2024, 2025 and 2026, respectively. The analyst predicts the price to drop in the next 14 days.
These share price predictions are based on algorithms that consider past performance, historical data and trends. They can be wrong. Predictions can be affected by changes in market trends, partnership deals, macroeconomics and more.
You should always do your research before investing. Investors should keep in mind that your decision to trade depends on your attitude to risk, your expertise in the market, the spread of your investment portfolio, and how comfortable you feel about losing money. You should never invest more than you can afford to lose.
FAQs
Is JD Sports stock a good buy?

JD Sports Fashion has received a consensus rating of 'buy' from analysts, especially as the prices are dipping. The company's fundamentals and business practices remain strong.
Will JD Sports share price go up or down?

JD Sports stock prices may decline in the short-term, but its strong fundamentals, partnerships, acquisitions and the current athleisure trend have analysts confident that the company will keep growing. Note that analysts' predictions are based on past performances and may go wrong. Investors should always do their research before investing.
Related reading