Peter Schiff: 'The future of crypto is gold'
Subscribe to Weekly Highlights
The major market events for the week ahead right in your inbox.
Subscribe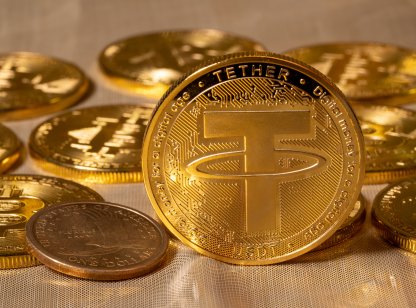 Content
"The future of crypto is gold," economist and avid bitcoin critic Peter Schiff proclaimed in an exclusive interview with Capital.com.
The SchiffGold founder echoed his take that current iterations of crypto have "no future" and "will eventually run out of fools."
Instead, the metals investor sees the sector's prospects in gold-backed cryptocurrencies whose value is tied to the current market price of gold.
What is your sentiment on BTC/USD?
Vote to see Traders sentiment!
Bitcoin (BTC) to US Dollar
Bitcoin-less crypto future?
Schiff sat down with a British broadcaster and former politician Nigel Farage in a video debate for Capital.com to discuss the economy, recession, and markets, including the digital asset sector. On the latter, Schiff was typically skeptical:
"Fiat tokens like bitcoin that are just conjured into existence and have no real value other than something that you could trade and gamble on, but eventually, you run out of fools," he said.
But Schiff does believe that technologies underpinning cryptocurrencies will have their use cases in finance - especially as the world will look for an alternative to fiat money as the inflation rates accelerate.
"The real beauty of blockchain and the internet is that it makes it so much more efficient to use gold not only as a store of value but as a medium of exchange and as a unit of account," Schiff said.
"There is a future for blockchain and crypto, but unfortunately, it's not going to involve bitcoin."
The financial commentator, who regularly criticises bitcoin for what he perceives as a lack of underlying value, believes that the sector's future will take the form of gold-backed cryptocurrencies that are tied to the precious metal's market price.
"I just got back from Dubai, and there are a lot of companies coming out with projects with gold-backed crypto, where you have all the benefits of bitcoin - the visibility, the portability, the fungibility, where people can opt-out of a fiat system and adopt a gold standard but not have to lug around bars of gold," Schiff listed.
Gold Spot price chart
"You can keep your gold on your cell phone. And I could buy a car with my gold, or I can buy a cup of coffee or a pack of chewing gum. It doesn't matter, because you could break your gold up into little, tiny increments and you can instantaneously, and very low-cost transact. It's way cheaper than cryptocurrencies. It's a lot cheaper than a Visa or MasterCard or any of these other payment rails."
Echoing Schiff's sentiment, Farage added: "As for crypto backed by gold, I've spoken to some really big guys looking at these projects, and yes, that has a future provided.
"When they say the cryptocurrency is backed by gold, that it actually genuinely is up to buy."
Related reading