GameStop stock price surges again as GME announces FTX crypto firm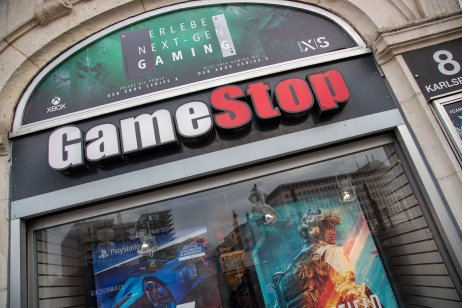 GameStop (GME) has made an entry into the non-fungible token (NFT) universe with a partnership with US-based crypto currency exchange FTX. In the hour before the start of trade on the New York Stock Exchange, GameStop shares were up 7%.
In an announcement after the market close on Wednesday, the company said the partnership was aimed at introducing GameStop users to the FTX community and allow FTX gift cards to be used on its own site. Chairman Ryan Cohen said he believed that gaming audiences hold one of the largest potential for NFTs.
Markets have been sceptical of GameStop's revival after it reported a $107.1m net loss in its most recent quarterly earnings. This news has helped relieve its downward trend somewhat, however its price still remains 44% lower than a month ago.
What is your sentiment on GME?
Vote to see Traders sentiment!
GameStop (GME) Price Chart
Why the partnership?
Ryan Cohen, founder of Chewy Inc (CHWY), was appointed to the position of chairman at GameStop in 2021. During his time in the public eye he has not shied away from revealing his interest in crypto, NFTs and meme stocks. His investment firm RC Ventures has also made public its intentions to be more involved in the crypto world "to produce the best results for all shareholders".
To note, the venture company is currently under scrutiny for selling a large chunk of Bed Bath and Beyond (BBBY) shares, with potential "pump and dump" allegations.
The gaming industry has been moving towards online downloads rather than physical purchases, a trend that grew during the pandemic. Allowing customers to use their crypto currencies for online purchases makes perfect sense for GameStop (GME).
Another major reason cited for the partnership was to "introduce more GameStop customers to FTX's community and its marketplaces for digital assets" to allow GameStop users access to NFT trading.
The NFT market enables game creators to sell their game art to collectors and gaming customers. How fruitful this market will be for GameStop is yet to be seen. In its most recent earnings, GameStop's net sales declined 4% while net losses nearly doubled.
FTX has been looking to expand its customer base, and has partnered with Reddit in a similar deal as GameStop to allow for crypto payments for Reddit users. FTX has also recently launched a non-crypto stock trading service in a bid to reach non-crypto consumers.
FTX token vs US dollar (FTT/USD) price chart
Future of Meme stocks
GameStop rose to prominence during 2020, when online speculative retail investors took part in buying campaigns to push the stock, along with other so-called meme stocks such as Bed Bath and Beyond (BBBY), AMC Entertainment (AMC) and Blackberry (BB).
The outlook for these stocks has been difficult to predict due market participants' sporadic activity, often organised by online campaigns on message boards such as the sub-Reddit Wallstreetbets.
Peter Madigan, editor at large at BNY Mellon wrote in an meme stock article that "retail participation is much broader than initially reported, according to market participants. The activity has already targeted dozens of stocks across multiple sectors. It involves large numbers of retail investors who have opened zero-commission brokerage accounts."
He added: "Cult-like trading among an expanded set of retail investors is a sign that equity markets are changing rapidly, and that perhaps the shift will be permanent"