Dutch TTF gas futures: Europe's benchmark falls from record peaks
Subscribe to Weekly Highlights
The major market events for the week ahead right in your inbox.
Subscribe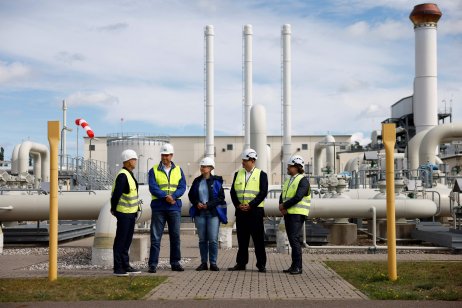 Content
Dutch Title Transfer Facility (Dutch TTF) gas futures, the benchmark natural gas price in Europe, has dipped to levels seen before the war between Russia and Ukraine. European gas prices have been driven largely by supply and demand since the invasion.
Back in August, Dutch TTF gas futures hit a fresh record of above €346 per megawatt-hour (MWh) after Russia's energy giant Gazprom announced a shutdown of key gas pipeline Nord Stream 1 for routine maintenance. The pipeline hasn't resumed operation since maintenance ended on 3 September and remains closed indefinitely as of 9 November.
Last month, the European Commission considered a "dynamic" price cap on TTF futures, although it has been largely recognised by the Dutch Financial Markets Authority (AFM) as a measure that would "do little to address the fundamentals of excessive energy prices ... in the EU."
In this article, we examine the commodity's historical prices, recent performance and drivers that could potentially contribute to Dutch TTF gas futures price predictions.
What are Dutch TTF gas futures?
The Dutch Title Transfer Facility is a virtual marketplace in the Netherlands to buy and sell natural gas injected to a transport system operated by Gasunie Transportation Service (GTS). Futures contracts are legal agreements for assets to be bought at predetermined prices but delivered and paid for later.
Gasunie is the owner and operator of the Netherlands' gas transmission networks. Since it was founded in 2003, the Dutch exchange has become the benchmark price for natural gas in Europe.
The amount of gas traded on the Dutch TTF has grown to 14 times of Netherlands' consumption, according to GTS.
It is important to note that futures contracts and natural gas spot contracts are two different instruments, with the latter effectively being a 'buy now, pay now' deal for the immediate delivery of the asset.
Dutch TTF gas futures: Historical prices
According to Investing.com data, Dutch TTF gas futures slid to a historic low of €3.36 per megawatt hour (MWh) in 2020 during the Covid-19 pandemic as restrictions to curb the disease crushed energy demand. Prices rebounded in the second half of the year.
Dutch TTF gas futures' uptrend continued in 2021, propelled by growing demand, low inventories and poor renewable performance. The price touched the highest for the year at €187/MWh on 21 December, before retreating to €70 on the last day of 2021.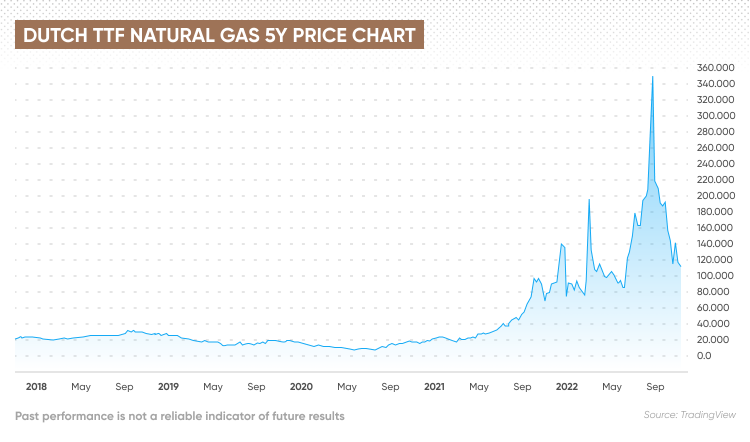 In the first weeks of 2022, Dutch TTF cooled before rallying to an all-time intraday record of €345/MWh on 7 March, according to data from Investing.com, after Russia sent its troops to Ukraine on 24 February.

Dutch TTF gradually retreated to below €110/MWh in the second half of 2022, before recovering to above €200/Mwh at the end of July after Russia further cut its gas supplies to Nord Stream 1.
Dutch TTF technical analysis: Price drivers
Since hitting a fresh high of €346.52 on 26 August, Dutch TTF gradually eased to below €220 as fear of supply shortage for the winter subsided. It briefly spiked to €223 on 28 September following the discovery of leaks on Nord Stream 1 and Nord Stream 2.
As of 9 November, Germany's gas storage level stood at 99.55%, meeting its 95% target, according to German government data. Dutch TTF gas futures currently stand at around €118/MWh.

Dutch TTF gas futures price predictions: Analysts' views
Fitch Solutions' Dutch TTF gas futures price forecast for 2022 expected the commodity to retreat from current levels to an average €150/MWh in 2022.
"We expect bouts of volatility to continue as low liquidity plagues markets, exacerbating price movements," it said.
For the longer term, Fitch Solutions' expectation for new investment to repair the damaged gas pipelines may be affected by moves to reduce European reliance on Russian natural gas.
According to economic data provider TradingEconomics: "Dutch front-month futures were trading around €115 per megawatt-hour (MW), not far from a four-month low of €99 hit on October 24th and well below the summer peak of €339, as mild weather dented demand for energy-intensive heating.
"The unseasonal warmer front in Europe created a larger safeguard for the usage of natural gas in storage for colder months ahead, while EU member states coordinate alternative supply routes for the next year. Meanwhile, the European Commission signalled it won't cap fuel prices and proposed a mechanism to limit excessive spikes and spread the soaring costs over time.
"Uncertainty regarding flows through the Yamal pipeline remains as geopolitical tension with Moscow heightens, while flows via Nord Stream 1 have already been disregarded due to the pipeline's damage. In the meantime, constraints persist on how much more LNG Europe can import, as global competition for LNG could attract cargoes to other markets."
Trading Economics forecast European natural gas to trade at €122.19/MWh by the end of this quarter, rising to €168.92 as a Dutch TTF gas futures price forecast for 2023 (in 12 months' time).
Fitch Solutions and Trading Economics did not provide a Dutch TTF gas futures price forecast for 2025 or a Dutch TTF gas futures price forecast for 2030.
The bottom line
Fitch Solutions expected Dutch TTF to ease in the short term, while Trading Economics saw the futures having an upside in 12 months' time.
When looking for Dutch TTF gas futures price predictions, bear in mind that analysts' forecasts can be wrong. Past performance is not a reliable indicator of future results.
Always do your own research. Your decision to trade depends on your attitude to risk, your expertise in this market, the spread of your investment portfolio and how comfortable you feel about losing money. Never invest more money than you can afford to lose.
FAQ
Are Dutch TTF gas futures a good investment?

Whether Dutch TTF gas futures are a good investment for you will depend on your investment goal, portfolio composition and risk profile. Past performance is no guarantee of future results. And never invest more money than you can afford to lose.
Will Dutch TTF gas futures go up or down?

Fitch Solutions expected Dutch TTF to retreat from current price level, while Trading Economics forecast the price to rise to €291.19 in 12-months' time.
Should I invest in Dutch TTF gas futures?

Your decision to invest in Dutch TTF gas futures should be based on your risk tolerance, investment objectives, portfolio composition, and experience in the markets. You should do your own research. And never trade money that you cannot afford to lose.
Related reading