Dogecoin price prediction: will the meme coin hit $1?
Subscribe to Weekly Highlights
The major market events for the week ahead right in your inbox.
Subscribe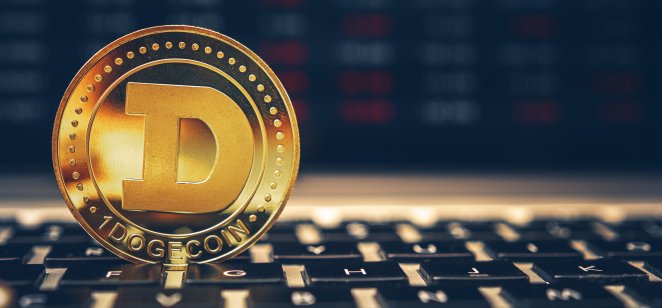 Content
It's been the 'Year of the Doge' for cryptocurrency markets.

While bitcoin (BTC) dominated headlines by surging to almost $65,000 in April, it's the underdog dogecoin (DOGE) that actually left all major peers – and every other asset class – in the dust with the sheer scale of its appreciation.

To put things in perspective, dogecoin is up by about 3,500% this year, even after a record sell-off that started in early May. And at its 8 May peak of $0.74, the digital token had surged by a staggering 15,000% from the start of 2021. It has since retreated to about $0.17, as of 19 July.
Average daily trading volumes in DOGE catapulted to almost a billion dollars last quarter, a more than 13-fold increase from $74m in the previous three months, according to a media report citing data from cryptocurrency exchange Coinbase.
Indeed, Sam Bankman-Fried, the billionaire founder of the FTX cryptocurrency exchange, said in a podcast last month that dogecoin would be named asset of the year because it "accurately reflects our economic climate".
Can dogecoin still hit $1?
The coin's meteoric rise during the first four months of the year prompted predictions for the $1 milestone to be reached as early as this year. But are such forecasts still valid? Is it still a good strategy to buy dogecoin?
Well, while the $1 target continues to remain a matter of debate, especially given the coin's characteristic high volatility, it no longer appears far-fetched for a market that saw the speed and frenzy of the rally earlier in the year.
Originally created as a "joke" by software engineers Billy Markus and Jackson Palmer in 2013, dogecoin was named after Kabosu, a Japanese Shiba Inu dog who inspired the doggy meme that went viral.
Despite its origins in humour, dogecoin went on to be recognised for its user-friendliness and other advantages, including faster transaction speeds and lower costs. Such advantages gave rise to it developing something of a cult following over the years.
Why is dogecoin so volatile?
To say DOGE has had a wild ride this year is perhaps an understatement.
After the blistering rally that peaked in May, the cryptocurrency has lost more than 75% of its value. Its realised volatility, a gauge of historical fluctuations, was almost three times as much as that for bitcoin as of end-June, according to Chicago-based crypto-asset option analytics firm Genesis Volatility.
Dogecoin's extreme volatility has much to do with the highly speculative nature of the market, given the coin has fewer fundamentals backing it than some of the more established peers.
Its characteristic instability also partly stems from the fact that it is highly influenced by social media posts, with users of platforms such as TikTok and Reddit having played a major role in driving up prices in the early months of 2021.
The digital token's fame has surged exponentially in recent months, thanks to supportive celebrity tweets – notably those from Tesla (TSLA) CEO Elon Musk.
Dogecoin: current price and drivers
DOGE was trading at around $0.17 on July 19, after appreciating by almost 5,000% over the prior 12 months in a strong rally that left its peers and every other asset class trailing behind. It had a market capitalisation of about $22bn as of July 20, ranking as the eighth-biggest cryptocurrency.
What has driven such ebullience in the market?
Undoubtedly, it was very much part of an extraordinary advance seen across the whole cryptocurrency complex. And it's no coincidence that digital assets' surge over the past few quarters was in step with massive gains across the world's equity markets.

These moves were largely fuelled by the trillions of dollars of excess liquidity pumped into the global financial system by governments and central banks as part of their efforts to revive economies from the ravages of the coronavirus pandemic.
And while bitcoin – the world's largest cryptocurrency – became more and more expensive, investors looking to boost their exposure to the crypto universe naturally started looking at more affordable alternatives. And at this time, DOGE clearly stood out – for more reasons than one.
Dogecoin price drivers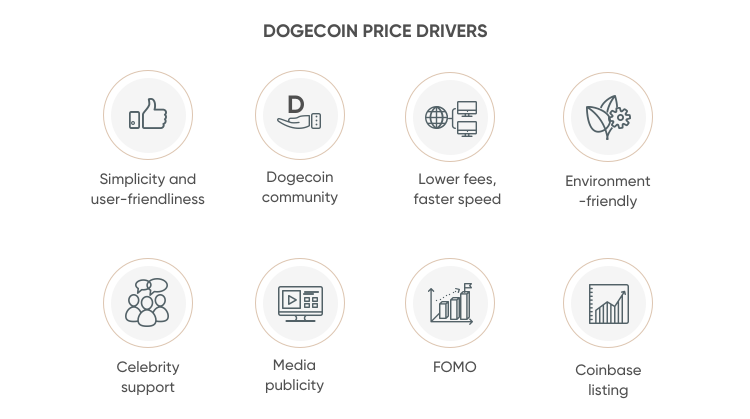 Simplicity and user-friendliness
The perception that dogecoin is simple enough for amateur investors and users has worked in its favour, compared with the complexities associated with some of the bigger cryptocurrencies.
Indeed, Musk's famous tweet on 7 February about the coin – "its simplicity is its genius" – captures that sentiment perfectly.
This has also played a key role in the growth of a community of diehard dogecoin fans over the years, who have leveraged the power of social media platforms to drum up support for the token.
With its roots in parody, the dogecoin project's tongue-in-cheek approach won quite a following over the years, especially from people who were seeking more accessible options to gain exposure to the crypto universe. The digital currency's low costs also helped burnish its appeal.
Over the years, dogecoin supporters have become known for helping each other out and donating for charitable causes. Social media activity by the tight-knit community has also played a significant role in the meme-based coin's ascent.
While dogecoin's transaction costs have climbed significantly this year, thanks to the surge in its price and the increase in the number of transactions, they still remain low compared with bitcoin's transaction costs.
The meme-themed token also has significantly faster transfer speeds versus its more established peer. A dogecoin transaction takes an average of about one minute to be processed, compared with about 10 minutes for bitcoin, according to some estimates.
Dogecoin's carbon footprint is much smaller versus bigger cryptocurrency peers, based on its energy consumption, and that's also helping it win over supporters.
The token consumes only 0.12 kilowatt hours (KWh) of electricity per transaction, compared with as much as 707 KWh for bitcoin, about 63 KWh for ether (ETH) and close to 19 KWh for litecoin (LTC), according to figures published in May by TRG Datacenters.
One thing that has set dogecoin apart from the rest of the crypto group is the amount of celebrity support it has enjoyed, with Tesla's Musk wielding considerable influence on the market. He tweeted in April 2019 that "dogecoin might be my fav cryptocurrency".
Dogecoin might be my fav cryptocurrency. It's pretty cool.

— Elon Musk (@elonmusk) April 2, 2019
At the same time, Musk has suggested that his social media posts on dogecoin were perhaps not as serious as some investors may have taken them to be.
Earlier this year, he said that some of his expressions on the meme-themed coin were "just meant to be jokes", without specifying which ones were the jokes. Moreover, the industrialist called dogecoin a "hustle" during an appearance on a May episode of the famous Saturday Night Live show, fuelling a sell-off.
In the meantime, rock star Gene Simmons and rapper Snoop Dogg have also endorsed the meme-themed token. Billionaire Mark Cuban has extended support for the token by deciding to accept dogecoin payments for tickets and merchandise of his NBA team, the Dallas Mavericks.
Dogecoin's astronomical appreciation and frequent endorsements by well-known personalities have attracted a lot of media attention to the token.
While bitcoin still remains the bellwether cryptocurrency, dogecoin has seen an exponential increase in publicity since the start of this year, with the market's ebullience feeding the hype and vice versa.
| | |
| --- | --- |
| Long position overnight fee | -0.0500% |
| Short position overnight fee | 0.0140% |
| Overnight fee time | 22:00 (UTC) |
| Spread | 60.00 |
| | |
| --- | --- |
| Long position overnight fee | -0.0500% |
| Short position overnight fee | 0.0140% |
| Overnight fee time | 22:00 (UTC) |
| Spread | 0.0012194 |
| | |
| --- | --- |
| Long position overnight fee | -0.0500% |
| Short position overnight fee | 0.0140% |
| Overnight fee time | 22:00 (UTC) |
| Spread | 0.2750 |
| | |
| --- | --- |
| Long position overnight fee | -0.0500% |
| Short position overnight fee | 0.0140% |
| Overnight fee time | 22:00 (UTC) |
| Spread | 0.00349 |
The dog-themed coin has been around for many years, but it's only this year that it suddenly shot up into crypto limelight.
The scale of the rally in the first four months of the year, which seemed almost inexplicable given the project's history of light-heartedness, soon started attracting hordes of new investors who didn't want to miss out on the spectacular appreciation.
Predictions such as those for the token to hit $1 have also helped this trend.
One of the most recent boosts to dogecoin came from its debut on US-based cryptocurrency exchange Coinbase (COIN). In June, the company started accepting inbound transfers of dogecoin on Coinbase Pro, a platform for professional traders.
Investor confidence in DOGE appears to have somewhat stabilised in recent days after slumping over most of May and June, with a 10-hour average of social media sentiment towards the digital token now cautiously clawing back from lows reached earlier this month, according to the Dogecoin Sentiment Index compiled by bittsanalytics.com.
A measure of social media attention on dogecoin, created by sentiment data provider Sentifi, has declined from the highs seen in May and June.
At the same time, dogecoin's popularity in Google searches has declined from mid-May peaks to a three-month low, as revealed by data on coincheckup.com.
The Crypto Volatility Index launched by COTI – a broader gauge of fluctuations across digital coins – has retreated from a recent peak reached in May, suggesting a return of stability to the market.
Analyst commentary
Although it has already been in existence for eight years now, dogecoin garnered attention from a wide spectrum of analysts and crypto market commentators only this year, thanks to its big rally. Even then, there is nowhere near as much expert commentary available on the meme coin as on its bigger peers.
Below is a selection of recent analyst commentary on the coin.
But before we dive in, it is important to note that analysts can get their predictions wrong. Which analysts you choose to believe should be backed up by your own research and views of the assets and market conditions.
Should I buy dogecoin?
Greg Magadini, CFO and co-founder at Chicago-based crypto option analytics firm Genesis Volatility, expects dogecoin to outperform other well-known digital coins once the asset class enters another bull phase.
In the near term, however, the dog-themed token may remain under pressure amid the ongoing consolidation of the broader market, he said.
Here are Magadini's comments on DOGE, emailed to Capital.com on July 1:
"With the consolidation in major crypto now occurring after the large sell-off seen in mid-May, I expect dogecoin to face headwinds in the short term. But once a bull market resumes, we could easily see dogecoin outperform thanks to a higher beta."

"Although dogecoin doesn't provide the most compelling tech, it does have a strong meme following and has therefore exhibited major volatility. Ten-day realised volatility currently sits at 275%, while BTC is only at 101%. The main factor influencing dogecoin going forward will be a growing community and increased adoption of dogecoin."

"A $1 target for dogecoin is very realistic given the current price of $0.25 and volatility of 275%. Given these parameters, there's about a 24% chance dogecoin reaches $1 by the year's end using assumptions of normal distributions."
Should I sell dogecoin?
According to Nicholas Mancini, research analyst at crypto sentiment analytics platform Trade The Chain, the outlook for dogecoin into summer is somewhat bearish to neutral – which is very much in line with current sentiment.
Here are his observations in more detail, as emailed on 6 July:
"As we can see from the weekly sentiment chart below, the outlook for DOGE has been less than stellar throughout the past week. We have seen a few bullish moments, but for the most part the sentiment around DOGE has been continually waning in the face of sell pressure on the crypto markets."
"Looking at market data for DOGE, we can see trading volume is nearly half of what it was at its peak. For any asset to sustain a price increase, it needs volume. To see DOGE with 50 percent less volume is a clear indication that traders have looked elsewhere for trading opportunities."

"When asking why DOGE's volume has been cut in half, the first thing that comes to mind is meme coin competitor SHIB. Since SHIB's inception, it has become a darling among meme traders and DOGE fans alike. We can see SHIB's volume is nearly $700m in the past 24 hours, while DOGE's volume is around $1.3bn. We believe the lack of trading volume in DOGE is directly because of both the attention and trading volume SHIB has accrued since its launch."

"Seeing DOGE break $0.30, which is acting as major resistance, would be a great start for the bulls. The next resistance levels are $0.40, $0.46, $0.60 and $0.75. On the other hand, support is currently $0.18, with the most buy interest located around $0.09. We believe that the $1.00 price target is a little far-fetched, but if meme traders turn their attention back to DOGE and can bring volume back above $2–$3bn, it has a chance."
Again, whether you should buy or sell is your decision, based on the information available from your personal research, your risk appetite, the spread of your portfolio and any hedging you have in place, taking into account how much you are prepared to put at risk.
Big dogecoin backers and holders
Anonymous Investor

Networth: unknown

It has been reported in various media that a certain anonymous individual or entity – known as a "whale" – is the world's No. 1 dogecoin owner, holding about 36.7 billion coins, or 28% of all supply. The holdings were worth close to $7bn as of mid-July.

The account is with the cryptocurrency wallet with the address DH5yaieqoZN36fDVciNyRueRGvGLR3mr7L, according to the data website bitinfocharts.com.

Despite much press and social media speculation about the biggest dogecoin "whale", the identity of the investor still remains a mystery.
.

Elon Musk

Net worth: $163bn

One of the world's richest persons and an influential social media figure, Musk has probably been the most high-profile backer of dogecoin. The Tesla CEO's tweets have played a key role in drumming up support for the token.

"Ideally, Doge speeds up block time 10X, increases block size 10X & drops fee 100X. Then it wins hands down."

16 May, 2021
Source

"Its simplicity is its genius."

7 February, 2021
Source
.

Mark Cuban

Net worth: $4.4bn

The billionaire owner of the US basketball team Dallas Mavericks announced in March that his NBA franchise would start accepting dogecoin payments for tickets and merchandise.

"The Mavericks have decided to accept Dogecoin as payment for Mavs tickets and merchandise for one very important, Earth-shattering reason: because we can! Because we can, we have chosen to do so. So we will take dogecoin, today, tomorrow and possibly forever more."

4 March, 2021
Gene Simmons

Net worth: $400m

Famous for being the bassist and co-lead singer of legendary American rock band Kiss, Simmons has more recently drawn much attention for his support of cryptocurrencies.

"I'm not recommending, nor am I not recommending, but yes, I bought a big position in Dogecoin. And yes, I'm a Hodler. FUM."

4 February 2021
Jake Paul

Net worth: $17m

Prominent internet personality and professional boxer Jake Paul is also well known for his support of digital currencies, including dogecoin. He is an influential advocate of cryptocurrencies on social media sites such as Twitter.

"#Doge is Bitcoin's younger brother... they have the same potential... it's still early."

12 February, 2021
Dogecoin bears and short traders
Barry Silbert

Founder & CEO, Digital Currency Group

The digital-asset entrepreneur has said that dogecoin is overvalued, and announced on Twitter in May that his company had taken a short position in the coin.

"Okay $DOGE peeps, it's been fun. Welcome to crypto! But the time has come for you to convert your DOGE to BTC."

8 May, 2021
Ric Edelman

Chairman, Edelman Financial Engines

Edelman, three times ranked the No. 1 US independent financial advisor by Barron's, doesn't agree with the view that dogecoin offers a serious investment opportunity. In fact, he has warned that investing in the 'joke' coin could have negative consequences.

"I would completely ignore Dogecoin. That is nothing more than a joke. It's a scam and it's going to be something that ends very badly."

7 July, 2021
Dogecoin historical price movement
Biggest swings in dogecoin

Investors and traders should be aware that cryptocurrency markets are frequently subject to wild price swings. The asset's past performance is no guarantee of future returns and you should never invest more than you can afford to lose.
Dogecoin profile
When software engineers Markus and Palmer designed the "joke" coin to make fun of the chaotically speculative ways of the cryptocurrency world, they would've hardly imagined the wild popularity their creation would one day enjoy.
On 20 July 2021, dogecoin was the eighth-biggest cryptocurrency in the world, with a market capitalisation of $26.5bn. At its peak in May, the total value had hit a record high of almost $92bn.
Just like its bigger and older cousin, bitcoin, dogecoin too is a decentralised, peer-to-peer digital currency. Markus and Palmer derived its code from existing tokens such as lucky coin and litecoin, using the so-called Scrypt technology and Proof-of-Work protocol. One key difference of dogecoin with some of the more established digital assets is that it can have unlimited supply.
There were about 130 billion dogecoins already in circulation as of mid-July, compared with the maximum possible supply of 21 million in bitcoin.
Promoted as the "fun and friendly internet currency," dogecoin's lighthearted origins and user friendliness has made it a favourite of amateur investors. And that has played a big role in the development of a loyal community of dogecoin supporters over the years, who are known for making many donations toward charitable causes. They also have been instrumental in the coin's ascent over the past year, steering social-media campaigns to drive the coin's value higher.
In May, Musk's spacecraft manufacturer SpaceX announced that it would launch a mission to the moon paid entirely with dogecoin, named DOGE-1. The coin has also found increasing use in paying or tipping for internet-based products and services.
Dogecoin: biggest influencers
Elon Musk

Once again, the Tesla CEO has probably been the most influential figure for dogecoin in recent years.

His social media posts have played such a key role in shaping the market sentiment in recent years that he was even jokingly voted dogecoin CEO by the community in 2019.

There's even been much speculation on the internet whether Musk himself is the top dogecoin "whale", or simply the biggest holder of the cryptocurrency.
What's the difference between dogecoin and bitcoin?
The biggest difference possibly lies in the supply prospects for the two cryptocurrencies. As seen earlier, the dog-themed coin can have an unlimited supply – it was started with a supply cap of 100 billion coins, which was hit in 2015.
Since then, around five billion new coins have been mined each year, boosting the circulation to about 130 billion in 2021. The potential for unlimited coin generation could, in theory, weigh on dogecoin's value over the longer term.
In contrast, bitcoin has a supply cap of 21 million, which raises the prospect of new coin creation being increasingly outstripped by demand with time, thus also boosting the original cryptocurrency's scarcity value.
Another key difference between the two digital tokens is in the technology used to mine them. Dogecoin is mined using the Scrypt algorithm, the same algorithm used to mine litecoin. Bitcoin miners have to use the SHA-256 technology.
Furthermore, while bitcoin has gained increasing acceptance as a legitimate payment method in the real world, dogecoin has had only marginal success in getting such recognition. Despite its massive rally earlier this year, the meme-themed coin is yet to carve out a significant niche for itself in the world of payments.
FAQs
How are new dogecoins created?

Like in the case of other cryptocurrencies, new dogecoins are also created through a process known as "mining", where individuals or entities use highly specialised computer equipment to process and confirm transactions, and to make the network more secure, in exchange for which they are rewarded with new dogecoins.

Dogecoin miners essentially add new blocks to the cryptocurrency network's decentralised ledger, which keep track of all transactions in the meme-themed coin. That means the digital token's value isn't controlled by a central bank or government or any other centralised authority.

Dogecoin's use of the Scrypt technology, which is less complex than the SHA-256 algorithm used by bitcoin, makes it faster and more energy-efficient to mine the meme-themed coin than some of its bigger rivals.
Is dogecoin safe to invest in?

In terms of technology, dogecoin's security level isn't that different from those of other cryptocurrencies, given that the meme coin is based on code derived from other digital tokens. The decentralised nature of the blockchain infrastructure means that any transaction that isn't made up of 100% legitimate code will be rejected by the network.

What an investor should be most cautious about is perhaps dogecoin's characteristically high volatility. The coin has been notoriously difficult to predict this year, as illustrated by its 15,000% surge during the early months of the year, which was followed by a 76% slump.

Dogecoin's historical 30-day volatility was 53% as of July 19, while the one-week gauge was at 25.6%, according to data from coincheckup.com. The comparable measures were 18% and 8.7% for bitcoin. For ether, the similar gauges were 31.4% and 15.2%.

Dogecoin's gravity-defying rally of the January–May period created much debate about whether it represented a bubble, which is where the price of an asset greatly exceeds what is deemed as its fair value.
How is dogecoin stored?

Dogecoin, like any other cryptocurrency, is stored in a digital wallet, which comes with a public address that allows the user to send and receive coins from it, and also a private key that is used to access it.

Different types of digital wallets include online, software and hardware ones. Online wallets are more convenient, but are considered generally less secure. Software wallets need to be installed on your computer and are seen as more safe.

However, hardware wallets, which are physical devices that can be connected to a computer using the USB port, are considered the safest option, if somewhat less convenient.