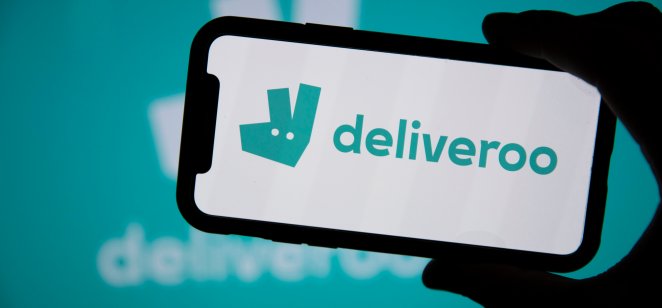 Deliveroo is a food delivery service that works with 160,000 restaurants and grocery partners in 800 locations around the world. It employs more than 180,000 riders.
The London-based company was founded by William Shu and Greg Orlowski in 2013. It went public last year. Its stock price has been very volatile due to a combination of the loosening of Covid-19 restrictions and increasing global competition.
In this analysis we take a look at Deliveroo's recent results, assess its business model and ask analysts for their stock price projections.

What is the business case?
Deliveroo aims to be the "definitive online food company".
Its operations are divided into the UK and Ireland, and international, which covers the remainder of the company's markets.
The company has a presence in the UK, Australia, Belgium, France, Hong Kong, Italy, Ireland, Netherlands, Singapore, United Arab Emirates and Kuwait.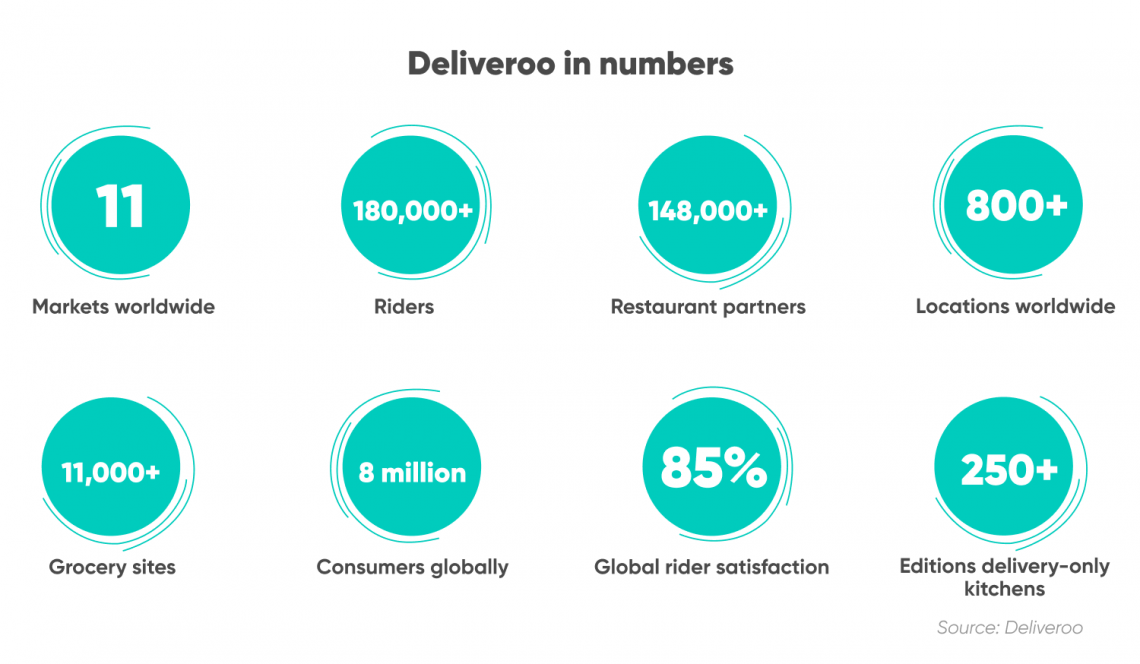 Deliveroo share price history: How has the stock performed?
Deliveroo stock started trading on the London Stock Exchange on 7 April 2021, with the initial public offering (IPO) price set at £3.90 a share.
It had a dismal start, with the shares dropping 31% within minutes of its market debut. By 19 April 2021, the stock was trading at 233p.
It climbed to 386p by 9 August, but fell 58% to 162.5p by the market close on 21 January 2022.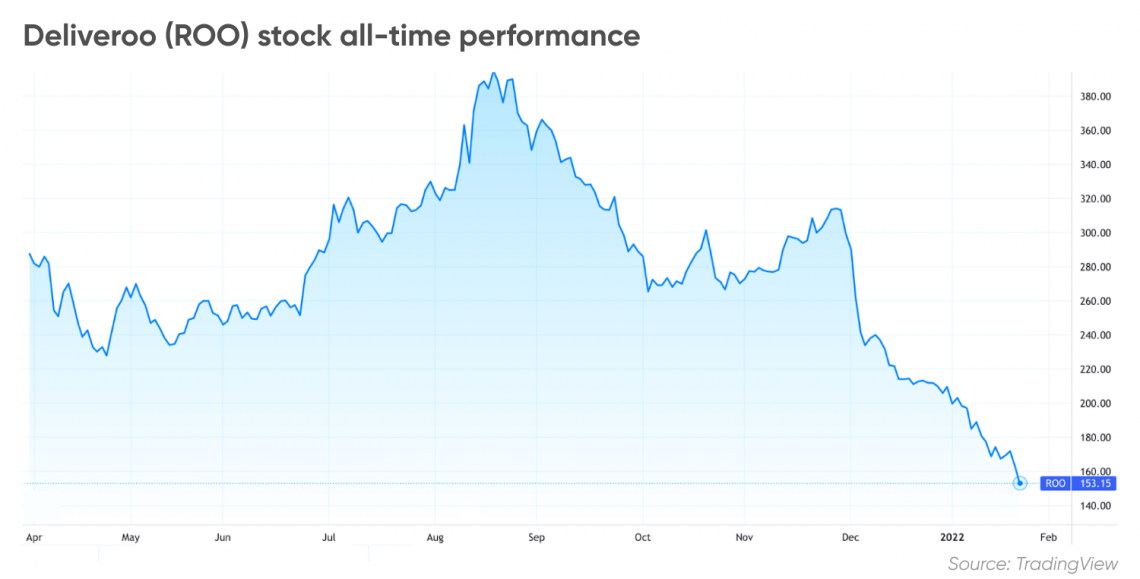 Deliveroo stock analysis: Recent trading update and fourth quarter results
Deliveroo's recent trading update revealed a strong operating performance during 2021.
"For the full year, gross transaction value (GTV) increased to £6.73bn on a reported basis, including results from Spain until operations ended in November 2021," it stated.
On a pro forma basis – without Spanish operations included – full year GTV was £6.63bn, a year-on-year increase of 67% in reported currency and 70% in constant currency.
"This is at the top end of revised guidance for 60-70% growth provided in October (upgraded from prior guidance of 50-60% growth provided in July)," it added.
As far as the fourth quarter of 2021 was concerned, GTV came in at £1.73bn, a year-on-year increase of 33% in reported currency and 36% in constant currency.
It's worth remembering this comparison was with the fourth quarter of 2020 that included lockdown restrictions in many markets.
"Growth in monthly active consumers and orders continued to be healthy, up 37% and 42% year-on-year, respectively," added the statement.
Taking a two-year view, compared to the respective quarter in 2019, orders in the fourth quarter of 2021 increased by 154%. Deliveroo will report full year 2021 results on 17 March, 2022.
Shu branded it "another extraordinary year", with the company having finished 2021 with a strong fourth quarter performance.
"I am proud of what we achieved in 2021," he said. "Despite a challenging backdrop, we continued to strengthen our customer proposition, widen our customer base and execute against our strategy," he added.
Shu pointed out Deliveroo's focus had always been to deliver great experiences to consumers, help partners to grow and provide opportunities for riders.
"We are excited about the opportunity ahead and look forward to making further progress in 2022," he said.
Deliveroo share news: Tie up with Amazon
In September 2021, Deliveroo announced new and existing Amazon Prime members in the UK and Ireland could get free delivery on orders over £25.
Lisa Leung, director of Prime and Marketing for Amazon UK, said the company was always looking for ways to offer value to Prime members.
"That is why we are excited for this offer with Deliveroo – so millions of Prime members in the UK and Ireland can get the convenience of great meals delivered fast," she said.
However, Ioannis Pontikis, senior equity analyst at Morningstar, highlighted concerns in a recent broker note.
"Although tapping into the vast pool of prime members is an opportunity for Deliveroo, especially if the partnership extends to other countries in future, it's still unclear what percentage of the subscriber uptick is made up of current Deliveroo customers and new customers," he wrote.
Three sides to the Deliveroo business
Deliveroo has described itself as a hyperlocal three-sided marketplace. "Our platform connects local consumers, restaurants and grocers, and riders to fulfil a mission critical, emotional purchase in under 30 minutes," it stated.
Consumers: Deliveroo's consumer base continued to grow compared to prior years, with an average of 8 million monthly active consumers in the fourth quarter of 2021, up 37% compared to the same quarter in 2020 and 123% up in the fourth quarter of 2019.

Restaurants and On-Demand Grocery: At the end of the Q4 2021, Deliveroo worked with over 148,000 restaurant partner sites globally, up on 135,000 (excluding Spain) at the end of the third quarter. Its live grocery sites had risen by 1,000 to 11,000 over the same period.

Riders: The company works with more than 180,000 riders around the globe. In the fourth quarter of 2021, Deliveroo said global rider satisfaction was 85%, with continued healthy application pipelines and rider retention rates.
Food delivery sector is growing
How the world eats has changed dramatically, according to a report by management consultants McKinsey & Company, entitled 'Ordering in: The rapid evolution of food delivery'.
"A little under two decades ago, restaurant-quality meal delivery was still largely limited to foods such as pizza and Chinese," it stated. "Nowadays, food delivery has become a global market worth more than $150bn, having more than tripled since 2017.
In the United States the market has more than doubled during the Covid-19 pandemic, following healthy historical growth of 8%.
The study credited appealing, user-friendly apps and tech-enabled driver networks, coupled with changing consumer expectations, for unlocking ready-to-eat food delivery as a major category.
"Lockdowns and physical-distancing requirements early on in the pandemic gave the category an enormous boost, with delivery becoming a lifeline for the hurting restaurant industry," it stated. "Moving forward, it is poised to remain a permanent fixture in the dining landscape.
Deliveroo stock forecast: The experts' views
Ioannis Pontikis, senior equity analyst at Morningstar, said: "Although Deliveroo looks undervalued relative to already derated food delivery valuations for peers, our preferred pick in the segment is Just Eat Takeaway."
Susannah Streeter, senior investment and markets analyst at Hargreaves Lansdown, told Capital.com there were positives and negatives for would-be investors.
"There is a tight pack of competitors jostling for position in the delivery sector," she said. "Although Deliveroo has delivered some tastier results for the fourth quarter, it still faces an uphill struggle."
Many consumers are likely to be fed up with putting in yet another stint in the kitchen, she suggested, and keener to visit pubs and restaurants over the coming year.
"It's also still reliant on self-employed riders, unlike its rival Just Eat Takeaway which has already committed to employing more workers," she said. "New EU rules could make it much harder to sustain the gig economy model."
Streeter also highlighted marketplace competition. "The convenience delivery sector has been a growing part of its business but rivals are gaining ground and as more people venture out, sales could fall," she warned.
The problem with companies benefiting from lockdown restrictions is investors assume their star will wane as life gets back to normal, according to Danni Hewson, financial analyst at AJ Bell.
"Deliveroo is one such beast, but while it has enjoyed a boost to its business, its share price hasn't followed suit," she told Capital.com. "In fact, shares are now valued at less than half of their float price which some intrepid investors could see as a massive opportunity."
However, Hewson pointed out that it wasn't clear what would happen to the company once consumers feel more confident returning to restaurants.
"There are a huge number of variables Deliveroo will have to contend with, including lingering concerns about its employment model and whether regulations will result in increased costs," said.
Deliveroo (ROO) share price forecast: Where next for the stock?
Are Deliveroo shares a buy, sell or hold? The consensus view of four analysts compiled by MarketBeat (as of 24 January) put the stock as a 'buy', with a price target of 355.50 in a year's time. This represents a premium of 119% over its current level. The lowest price estimate was at 247p, while the highest one was 440p.

According to the algorithmic Deliveroo share price forecast from Wallet Investor (as of 24 January), Deliveroo could be an "awesome long-term (one year) investment".
The site suggested the stock could rise 155% to 431.60p over the next 12 months from its current price of 162.50p, as of the market close on 21 January 2022.
However, it then forecasted the price to fall back around the 318p mark by January 2024 and sink again to just 39.25p a year later in early 2025.
Although the service did not share price targets for 2030, the Deliveroo expected share price for January 2026 was 0.000001p.
One must exert caution when considering algorithm-based predictions. They use historical data to make their estimates. The fact that the stock is relatively new to the market may affect valuations and make long-term Deliveroo share price prediction inaccurate. Analysts' forecasts can also be wrong.
It's important to do your own research, considering market trends, the company's latest news and fundamentals. Always remember that your decision to trade depends on your attitude to risk, your expertise in the market, the spread of your investment portfolio, and how comfortable you feel about losing money. And never invest more than you can afford to lose.
FAQs
Is Deliveroo a good buy?

This depends on your own investment objectives and the research you've carried out on the stock. Remember, it's very important to form your own opinion of a company's prospects and its likelihood of achieving analysts' targets.
Why has the Deliveroo share price been falling?

The price has been pretty volatile since last year's flotation. Potential reasons for this include increasing levels of competition within food delivery and the relaxation of Covid-19 restrictions resulting in more competition from pubs and restaurants.
How much will Deliveroo shares be in 2025?

The algorithmic forecasts of Wallet Investor suggested the stock price could fall to 39.25p by January 2025. However, no-one knows for sure as there are many variables. You'll need to carry out your own research as the views of analysts can be wrong.