Monkey see, monkey do: As BAYC numbers drop, here are all the celebs who bought into the hype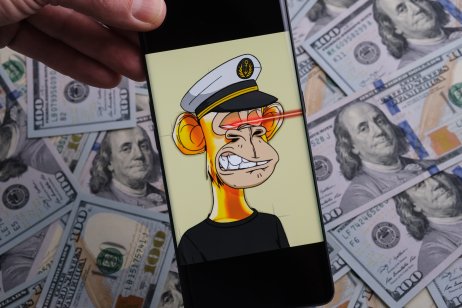 In the world of cryptocurrency, one of the biggest sectors to have emerged over the last few years is that of non-fungible tokens (NFTs).
The idea that people would pay money to own the rights to a link to an individual piece of digital art may have sounded ridiculous just a few years ago but, since 2021, it has become a major talking point both on and off the blockchain.
That said, the market in NFTs has declined steadily over the course of 2022, with coins and tokens associated with them dropping at an even quicker rate than the overall crypto market. Nevertheless, there are a lot of NFTs out there, and people from all walks of life appeared to take an interest.
Bored Ape Yacht Club
One of the biggest collections of NFTs is the one from Bored Ape Yacht Club, often known by its initials BAYC. These images, mostly featuring pictures of, as its name suggests, apes, is the second largest NFT collection by market cap, according to data from CoinMarketCap, and was able to launch its own native cryptocurrency, apecoin (APE) earlier this year.
Generating a big buzz in 2021, it has managed to remain relatively popular, even if the value of its NFTs has fallen as the crypto market experienced a series of crashes. A big part of that has been down to some of the famous people who have lent their own celebrity endorsements to BAYC's digital artwork.
Celebrities and BAYC
One of the most notable celebrities to have invested in a BAYC NFT was pop star Justin Bieber. The Canadian singer was reported to have spent ETH500 – worth around $1.3m at the time – in January this year for the rights to a link to an image of a monkey with an apparent resemblance to him.
Unfortunately for the former child star, the market was about to shrink considerably and, by November 2022, it was reported that his investment, named Bored Ape Yacht Club #3001 was worth as little as $70,000, meaning that he had lost nearly 95% of what he put into it.
Bieber is not the only famous person to have got involved in the NFT hype train via the Bored Ape Yacht Club, however. For instance, Academy Award-winning actress Gwyneth Paltrow picked up one of the platform's tokens at the start of 2022. The star tweeted a reveal of the image, which is an ape with blonde hair and blue eyes. In March this year, she endorsed a separate collection of NFTs by women artists.
Meanwhile, American TV personality Jimmy Fallon also joined the Bored Ape Yacht Club earlier this year when he revealed he had purchased one of its NFTs while interviewing socialite and fellow BAYC NFT owner Paris Hilton.
In the world of hip-hop, rap legends Snoop Dogg and Eminem pretty much announced that they had also signed up to the club when they performed as their NFTs at the MTV Video Music Awards in the summer. It was reported that Eminem had paid roughly ETH123, worth $450,000 at the time, for his token.
Another music icon who splashed the cash on a Bored Ape NFT was Madonna. The singer was less the Material Girl and more the virtual primate when she spent ETH180, worth $560,000, on the rights to the link to an image of an ape with purple fur wearing a leather cap.
With the decline of the NFT market over the course of 2022, it is highly likely that the celebrities who bought BAYC NFTs will have lost money. Remember that this could also happen to you, because prices can and do go down as well as up, so make sure to do your own research before you purchase an NFT, and never invest more money than you can afford to lose.