Black Friday sees BTC, ETH, LTC hammered in market rout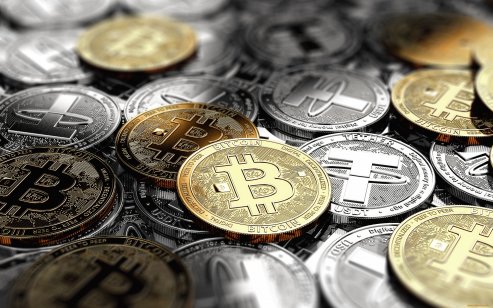 Black Friday is normally the day to find deals at brick and mortar retailers but crypto investors might be able to snag deals on digital currencies. The major cryptocurrencies are down on Friday, mirroring a sell-off across legacy financial markets due to new Covid-19 worries.
At 8:13 ET (UTC-5), Bitcoin had fallen 7.76% to $54,043.47 on trading volume of 783,916 BTC, worth $42.5bn (£31.9bn) over the past 24 hours, according to data from crypto price-tracking website Coinmarketcap.com.
Major news agencies are reporting on a new Covid-19 variant detected in South Africa, prompting some countries to secure their borders.
Ethereum shed 9.49% at $4,023.78 with 6,359,345 ETH changing hands over the last day worth $25.7bn.
ETH favoured by investors
In a recent investor survey, CoinShares said Ethereum remained the most favoured digital asset amongst survey respondents although that has dropped significantly from 42% to 30%.
The survey, conducted in October, drew 77 responses from investors who cover $420bn of assets under management.
Litecoin was down 14.9% at $193.43 and Cardano lost 10.8% at $1.53.
What is your sentiment on ETH/USD?
Vote to see Traders sentiment!
Meme tokens
The dogs were trending downwards in the meme token space with Shiba Inu – named after the dog breed – shedding 5.2% at $0.00003809 as 149,232,425,881,976 SHIB changed hands in the past 24 hours, worth $5.7bn.
Dogecoin wasn't heading anywhere near the moon, trading down 8.8% at $0.2022 on 11,420,946,703 DOGE changing hands over the last day, valued at $2.31bn.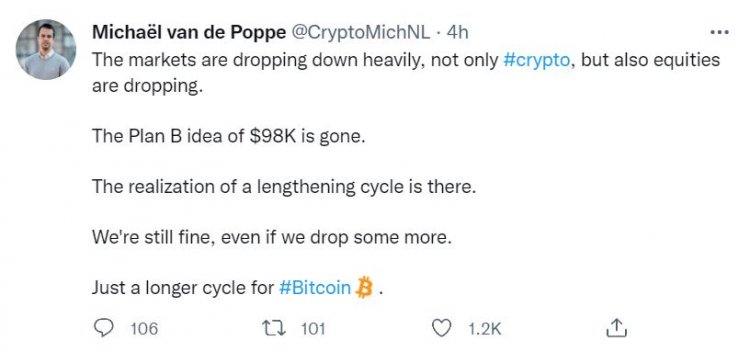 – Photo: Twitter
'We're still fine' - analyst
Dutch crypto analyst Michaël van de Poppe - the founder of Eight, the cryptocurrency educational platform – tweeted: "We're still fine, even if we drop some more. Just a longer cycle for Bitcoin."
"Stay calm. Markets usually have corrections. Use that as an opportunity," van de Poppe said in a YouTube video released on Friday that goes into detail on recent crypto and legacy stock market moves.
Read more: BTC sinks below ,000 as Covid variant spooks market