Bitcoin price prediction: north from $60,000 to new ATH?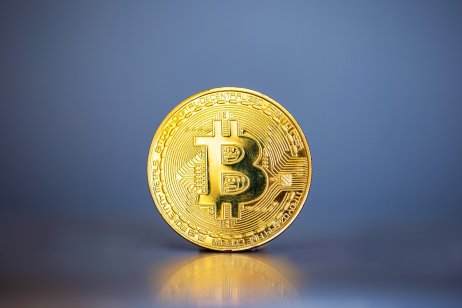 Bitcoin (BTC) broke $60,000 on 15 October 2021, boosted by the launch of the first bitcoin exchange-traded fund. The cryptocurrency has been holding above this benchmark, making investors wonder: will BTC break through its all-time high of $64,863 again, or is a correction due?
Bitcoin has been hovering around $2,000 off its $64,863 record high set in April this year. The BTC price has more than doubled since its most recent low of $29,000 in late July.
BTC's momentum has been one of the factors that contributed to overall crypto market growth – the market is approaching its $2.5trn record set in May 2021.

However, the cryptocurrency market is no longer dominated by bitcoin alone. According to data by CoinMarketCap from 18 October, BTC accounts for 46.81% of total market share, followed by ethereum (ETH) at 18.32% and Binance Coin (BNB) with 3.19%.
Note that the issuer of BNB Binance Markets Limited is not currently permitted to undertake any regulated activities without the prior written consent of the FCA.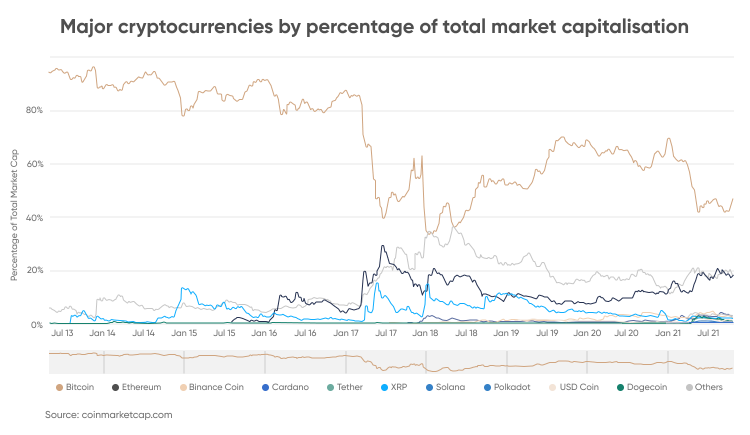 Looking at the bitcoin technical analysis chart, we see that BTC experienced a golden cross on 14 September 2021, which usually serves as a bullish signal – it's when a shorter-term 50-day moving average crosses above a longer-term 200-day moving average.
The signal proved to be right this time, as BTC gained 51% in less than a month, rising from around $40,887 on 29 September to $62,038 on 18 October.
Meanwhile, the relative strength indicator (RSI) gave a warning signal for the future price of bitcoin. The token crossed the RSI of 70, which usually indicates that an asset is overvalued. It could be that a pullback or trend reversal may take place.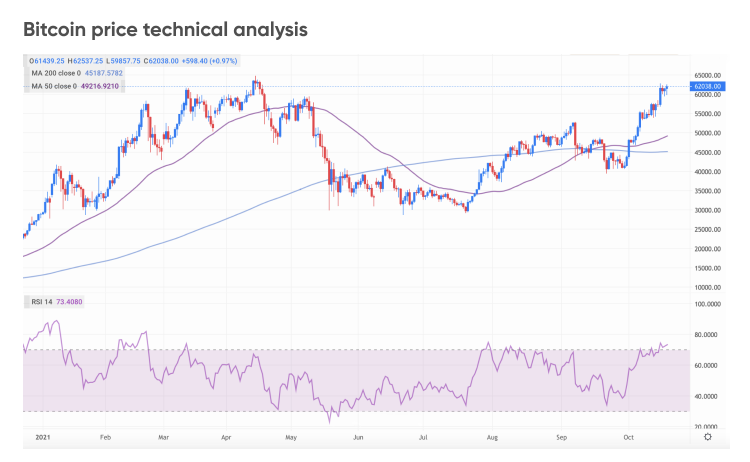 Commenting on the short-term bitcoin price forecast, Capital.com's Chief Market Strategist, David Jones, said: "The recent strength in Bitcoin has continued with it trading at its best levels since May this year. Since it broke out of its sideways range in late July, investors and traders seem to have resumed their approach of buying the dips".
"A breakthrough $60,000 highs set in early May would open up the all-time high just below $65,000. For now, momentum remains positive and it is only if it drops back below $50,000 would it suggest that perhaps the current positive trend is running out of pace."
Why has bitcoin been going up? Analyst's view
"There are no objective reasons for bitcoin to fall today," said Mikhail Karkhalev, an analyst at Capital.com. "Even if you want to find those reasons, you probably won't succeed. The negative events in China have long been played back by the market and there are no other negative factors to mention".
Speaking of major price drivers, triggering positive bitcoin projections, Karkhalev mentioned the following four factors:
The ProShares Bitcoin Strategy ETF
The first bitcoin ETF from ProShares is set to be listed on the NYSE and could be available for trading as early as today (19 October). According to the updated prospectus with the Securities and Exchange Commission (SEC), the ETF will trade under the ticker BITO.
The bitcoin ETF arrives after a decade-long campaign by the exchange-traded funds industry. Tyler and Cameron Winklevoss, who hold around 70,000 bitcoins, according to Forbes, submitted the first application for a bitcoin ETF back in 2013.
"The regulated bitcoin asset [bitcoin ETF] will attract additional capital from institutional investors to the crypto market," said Karkhalev.
US inflation rate
Another point to consider when analysing bitcoin expected growth is the US inflation rate, which "rose again in September to 5.4% year-on-year, up from 5.3% a month earlier", said the analyst. "With the Fed's claims that inflation is temporary and under control, the rise suggests that investors might want to keep capital in risky assets, which include stocks, indices, commodities and, of course, cryptocurrencies. With the Fed's statements and the actual data contradicting each other, people are losing faith in what officials say. Consequently, they want to save their money from depreciation".
Bitcoin trading volume
"The level of open interest and trading volume in bitcoin on exchanges continues to break historical records, suggesting that a fairly impulsive rise could be on the horizon," Karkhalev added.
For reference, the 24-hour bitcoin trading volume as of 18 October 2021 was $39,95bn, according to CoinMarketCap. Although the trading volume is 90% lower than its 26 February 2020 peak of $350.97bn, it's still much higher than the $4.32bn seen on 1 January 2019.
Whale wallets' balances
"Crypto whales' [individuals or entities that hold large amounts of bitcoin] wallet balances continue to increase, causing a bitcoin shortage in the market, which, albeit with a slight delay, also leads to increased demand and appreciation. The deficit is also fueled by the continued withdrawal of bitcoins from exchanges, which is also partly a bullish signal," Karkhalev said.
"Although there are some doubts about the ETF approval, that the rejection to launch an officially regulated product could plummet the value of bitcoin as it happened in 2017, and that crypto whales could start locking in profits and dumping BTC, there is no confirmation of these theories yet."
Will bitcoin continue to rise? Considering the possible bitcoin price target by the end of 2021, Karkhalev said:
"Bitcoin is very close to hitting an all-time high, with a good chance of reaching at least $70,000 to $75,000 by the end of the year."
When looking for bitcoin price predictions, bear in mind that analysts' forecasts can be wrong. Analyst projections are based on making a fundamental and technical study of the cryptocurrency's performance. Past performance never guarantees future results. It's vital that you conduct your own research before investing in any asset.
Bitcoin price prediction: algorithm-based BTC forecasts
Algorithm-based forecasting services, including Wallet Investor and Digital Coin, offer bullish longer-term bitcoin price predictions for 2021, 2022, 2023, 2025 and 2028.
Wallet Investor believes BTC can hit $91,812 in one year and climb to $209,917 in five years, a more than 238% increase from its current price of $62,447 (as of 19 October).

Digital Coin is also bullish in its BTC price prediction, expecting it to hit $96,187 by the end of 2021 and $285,291 in 2028.

Always remember that these bitcoin forecasts are generated with the help of deep-learning technologies and technical analysis data. You should not base your own investment decisions on them.
Crypto markets are inherently volatile in nature and can depend on bitcoin price latest news, such as the launch of the first bitcoin ETF.
Do your own research. Always remember that your decision on whether to trade depends on your attitude to risk, your expertise in this market, the spread of your investment portfolio and how comfortable you feel about losing money. And never invest more than you can afford to lose.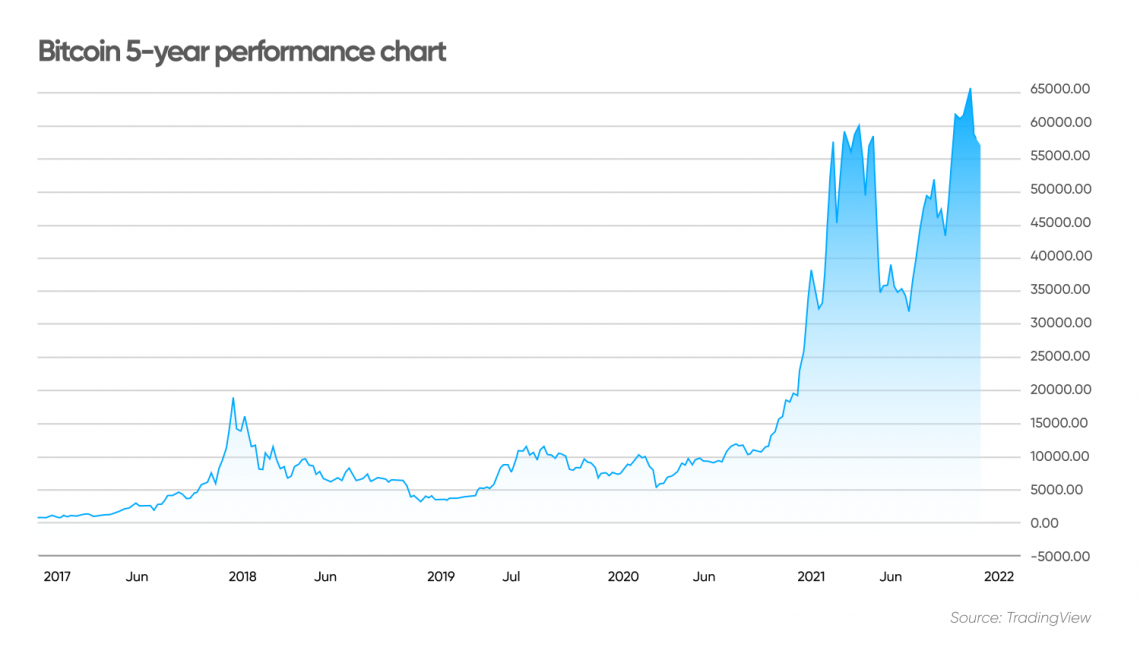 FAQ
Is bitcoin a good investment?

Bitcoin is the number one coin by market capitalisation, accounting for 46.81% of the total cryptocurrency market's capitalisation, as of 18 October 2021, according to CoinMarketCap.

In 2021 bitcoin hit an all-time high of $64,863. Will it set a new record? Conduct your own thorough research and analysis to build your own bitcoin forecast.
How high can bitcoin go?

Technical analysis and analysts' views outlined above are bullish about future bitcoin price performance. The cryptocurrency could test its all-time high of $64,863. However, the cryptocurrency market is extremely volatile and you should do your own due diligence before setting any price targets. Note that any asset, especially one as volatile as bitcoin, can always go against your position.
Can bitcoin reach $100,000?

Both Wallet Investor and Digital Coin predict bitcoin to hit $100,000 by the end of 2022. But algorithm-based predictions do not take into account fundamental factors and latest bitcoin price news, which may significantly affect its performance.
Read more: Cardano price prediction: will ADA go up after retreat?