Bakkt (BKKT) trades lower on increased quarterly loss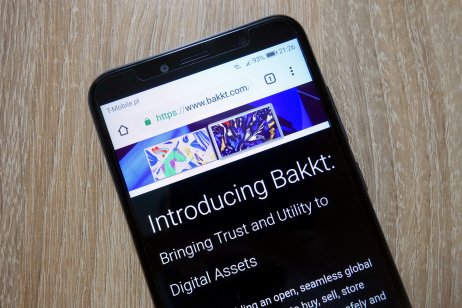 Bakkt Holdings reported a $28.8m (£21.48m) loss for the 3Q 2021 Friday morning, on $9.10m in revenue, the company announced.
Bakkt stock fell in early trading Friday, down slightly after the opening bell to $24.33 per share, after falling 1.93% to $24.40 in pre-market trading.
Losses in the quarter totalled $28.8m, or $0.50 per share, up 60% versus the comparable year ago quarter $18m loss. Higher operating expenses, which increased 60% year-over-year to $39m drove the wider quarterly loss.
The Alpharetta, Georgia-based cryptocurrency trading platform reported $9.1m in quarterly revenue, up 38% from 3Q 2020, which it credited to "higher customer activity in loyalty redemptions and the addition of a large financial institution on our loyalty platform."
Partnerships in Q3
On 27 October, Bakkt announced an agreement with MasterCard to allow loyalty rewards to convert to crypto assets.
Bakkt announced three strategic partnerships in the 3Q 2021, with Finastra, Fiserve and the aforementioned Mastercard partnership.
"Bakkt has made tremendous strides in proving our model, building strategic partnerships and enhancing our platform capabilities to connect the digital economy," said Bakkt CEO Gavin Michael in a prepared release. "As we move forward, we will invest the proceeds from our recent business combination to activate our partnerships, further deploying our capabilities with consumers, businesses and institutions."
Liquidity in assets
During the post-earnings release conference call, Michael added, "We are bringing liquidity to assets that previously had none by creating passive accumulation of crypto assets through rewards programmes."
Specifically referring to the MasterCard partnership Michael added, "We view the crypto rewards space as a huge opportunity on the horizon."
Seasonal increase
On the same call, Bakkt CFO Drew LaBenne added that Bakkt had $105m in notional consumer transactions in the quarter and expects that number to increase in the 4Q 2021. "The fourth quarter usually has increased seasonal consumer buying and we expect that to increase our transactions," he said.
LaBenne also mentioned Bakkt's 257 million total share float total, with roughly 16 million of merger-related convertible warrants and executive stock options scheduled to free for conversion after the six-month lock-up period in April. The warrants and options have an $11.50 strike price, LaBenne added.
Currently, Bakkt supports both Bitcoin and Ethereum crypto holdings and it has no current plans to expand into other assets. But, Michael added, due to its background as part of the International Exchange portfolio, Bakkt was well-positioned to accept stablecoins should they become mainstream in the future.
This is Bakkt's first quarterly earnings report, after its SPAC IPO with VPC Impact Acquisition Holding on 18 October at $9.93 per share. Bakkt was co-founded by former US Senator Kelly Loeffler and is majority-owned by Intercontinental Exchange, the parent company of the New York Stock Exchange.
Read more: Cryptocurrency exchange Bakkt to go public next month