ANJI coin price prediction: Will an investment pay dividends?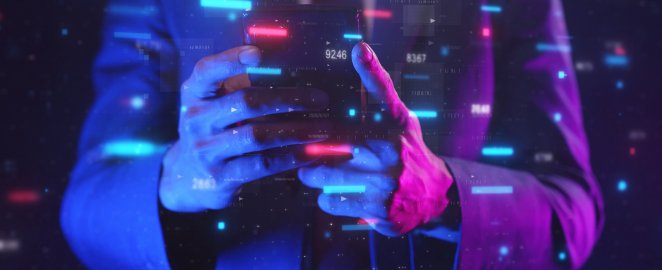 The launch of smart contracts on blockchain networks has enabled the explosion of decentralised applications and non-fungible tokens. ANJI is a relatively new cryptocurrency that is billed as a "smart contract dividends token" for holders of binance coin BNB.
ANJI launched in early November and quickly gained more than 900%, although the price has since fallen back – reflecting weakness in the cryptocurrency markets.
What is ANJI coin? Is the pullback in the price a buying opportunity ahead of a rebound? Let's take a look at the Anji price predictions for the year ahead and what factors are shaping the outlook.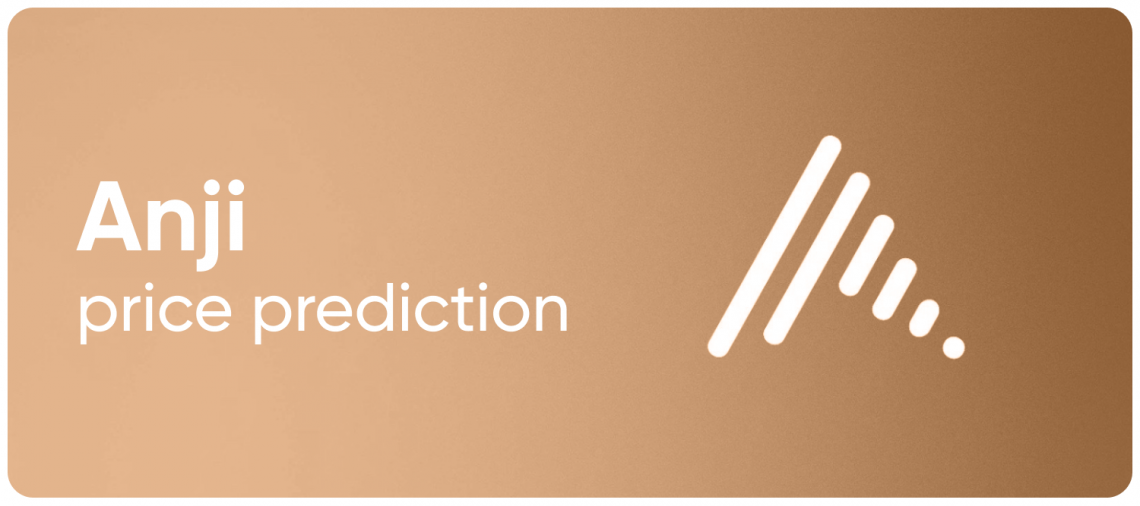 ANJI pays BNB "smart dividends"
ANJI is a "reward-focused cryptocurrency" that runs on the Binance blockchain and has a "smart dividends function" that gives investors holding the coin rewards in the form of the Binance native token BNB for all transactions. Holders can receive a share of the profits from Anji apps and services and re-invest in the ecosystem with a reduced transaction fee of 5%. The ANJI contract is coded to take a 10% fee on all transactions. The fee is distributed as follows:
3% to the liquidity pool

3% in rewards to BNB holders

2% contributed to AnjiPool

2% contributed to AnjiFoundation for development, operations and marketing
There are currently 8.48bn ANJI coins in circulation out of a total supply of 10bn.

According to the project's website: "Liquidity was locked on launch for a period of six months. Every re-locking provides an opportunity for the Anji Foundation to make improvements and adjustments to the protocol. The community can propose and vote for changes via our governance platform that is soon to be released. These measures ensure a fluid yet secure protocol that will forever be future-proof."
ANJI cryptocurrency holders automatically earn BNB by holding ANJI in a cryptocurrency wallet. They have the option to claim the BNB on the AnjiSwap exchange. They can use it to buy more ANJI, swap it for other tokens in the ecosystem, or donate it to charity. Holders with more than 100,000 ANJI coins will receive a 50% reduction in trading fees on AnjiSwap.
In the future, ANJI holders will be able to stake up to 50% of their ANJI balance to earn its utility token Bamboo. The yield will depend on the total trading volume of Bamboo in the time the holders stake their coins and the percentage of their position in the staking pool.
Each transaction sends a 2% fee to the Tomorrow Pool. The community can vote on the cause that will receive the funds that month. The causes come from the tokens within the ecosystem.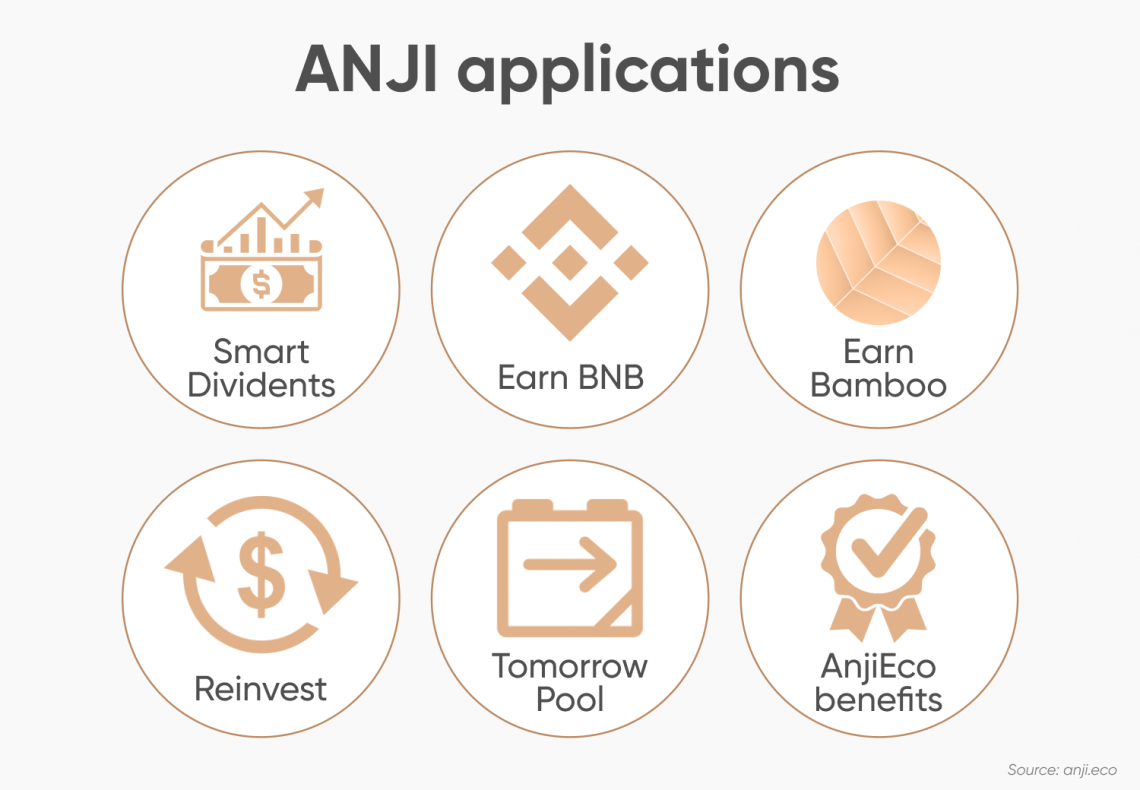 ANJI price retreats from November peak
The presale for ANJI coin launched on 6 November on the DxSale platform and reached its hard cap in an hour. The token was then launched a day early on AnjiSwap and PancakeSwap on 7 November. On 8 November, the coin traded up from $0.0001714 to $0.0007304 before ending the day at $0.0006602, according to CoinMarketCap.
AnjiSwap lite is the ecosystem's token exchange interface. It can be integrated into another project's website and connects to MetaMask, TrustWallet and WalletConnect. Users can buy a token with BNB directly on a project's website in a simple process.
"The AnjiRouter replaces PCS's 0.2% trading fee with its own novel 0.2% transaction fee, which in turn means that each and every swap made in an AnjiSwap lite incarnation becomes a charitable moment for investors, with 34% of fees collected going to the AnjiEco charity pool. The rest is distributed to AnjiToken holders in BNB rewards (33%) and AnjiRouter maintenance fees (33%)," according to the ANJI website.
HKUNtoken joined the ecosystem on 11 November and Life Token joined on 24 November.
On 28 November, Anji announced that it partnered with charity Save the Children to make the first donation of $150,000 from its pool of $200,000 for charitable donations.
According to the latest Anji coin news, AnjiSwap was opened up for users to add any token they want to swap on 2 December. The wallet view will add the feature in the near future.
The ANJI price reached a high of $0.001791 on 21 November, but then dropped back to $0.000573 on 2 December. The price moved back up to $0.000913 on 6 December, before slipping to the $0.0006 level in recent days. The price fell further on 14 December, trading down intraday to a one-month low of $0.000521.
What is the outlook for the price heading into 2022? Do forecasters expect the price to rebound or fall back further?
ANJI coin price prediction: should you buy, sell or hold?
Technical analysis from CoinCodex showed that short-term sentiment on ANJI coin was bearish at the time of writing on 15 December. There were 12 oscillator indicators giving bearish signals compared with eight bullish signals.
With the exception of the three-day exponential moving average (EMA), the simple moving averages and EMAs were bearish. The momentum and volume-weighted moving average (VWMA) indicators were also giving sell signals. The relative strength index (RSI), stochastic fast and stochastic RSI were indicating the coin was a buy.
There was technical support for the ANJI price at $0.000538 down to $0.000490, with resistance up at $0.000585 to $0.000632, the data showed.
CoinCodex predicted that the coin value will drop by 70.05% to $ 0.000171 by 20 December.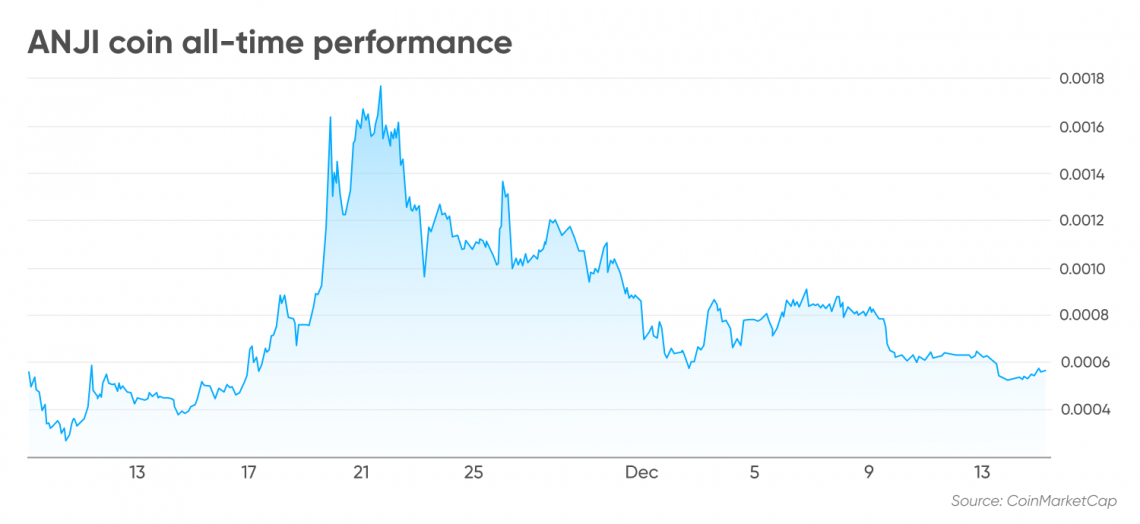 In contrast, the ANJI crypto price prediction from WalletInvestor was more bullish as of 15 December, predicting the coin to trade at $0.0007024 on 20 December, although it could slip back to $0.0003033 on 29 December. The algorithm-based analysis predicted the price could trend higher in 2022 to $0.00252 and reach $0.00434 by the end of 2023. By 2025, ANJI could trade at $0.00773, the data showed.
DigitalCoin's ANJI token price prediction expected the price to rise more slowly. Based on historical data, the site predicted ANJI could average $0.0017224078 in 2025, up from $0.0009781310 in 2022. By 2028, the price could average $0.0024883352, with a peak up to $0.0027252554.
PricePrediction's ANJI/USD forecast for 2025 was also bullish, projecting that the price will average $0.002, up from $0.00079263 in 2022. For the longer term, the site predicted ANJI could average $0.016 by 2030.
It's important to keep in mind that cryptocurrency markets remain extremely volatile, making it difficult to accurately predict what a coin's price will be in a few hours, and even harder to give long-term estimates. As such, analysts and algorithm-based forecasters can and do get their Anji predictions wrong.
We recommend that you always do your own research, and consider the latest market trends, news, technical and fundamental analysis, and expert opinion before making any investment decision. Keep in mind that past performance is no guarantee of future returns. And never invest more than you can afford to lose.
FAQs
Is ANJI coin a good investment?

Cryptocurrencies are highly-volatile assets, making them high-risk investments – especially newer coins and tokens. Whether you should hold ANJI coin as an investment depends on your personal circumstances and risk tolerance. You should evaluate the level of risk you are prepared to accept before investing and never invest money that you cannot afford to lose.
Will the ANJI price go up or down?

Forecasting sites predicted that the ANJI price could fall further in the coming days but rise over the long term, potentially rising to the $0.01 level by 2030 according to PricePrediction.
Read more: First ever NFT ETF: Can it offer investors thematic exposure?