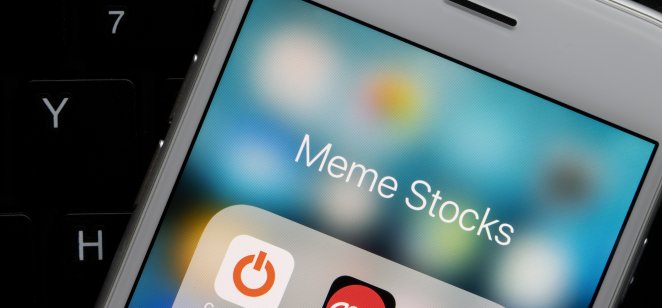 Content
The price action for AMC Entertainment (AMC) stock has been positive thus far in August as shares have accumulated a 54% gain since the month started.
AMC stock's reputation as a retail favourite, and the previous short-squeeze event in 2021, makes investors wonder if a AMC short squeeze could happen again?Ф
What is AMC Entertainment? Company overview
Founded in 1920, AMC Entertainment is a movie theatre chain with operations in multiple corners of the world but with a predominant presence in the United States. The company was founded by the Dubinsky brothers who started their journey by purchasing a theatre in Kansas City.
Since then, the company has grown to become the largest movie theatre operator in the world with a total of 947 venues and over 10,000 available screens. During the first half of 2022, the company attracted 98.2 million attendants and produced revenues of $1.95bn.
The US market is the most important for AMC as it accounted for three-quarters of its revenues during this same period. The top two revenue segments for the firm are attendance and food and beverage with the second being the most profitable for AMC Entertainment.
Adam Aron is AMC's CEO. He has been at the helm since January 2016. The company employs over 25,000 people and is headquartered in Leawood, Kansas.
What is your sentiment on AMC?
Vote to see Traders sentiment!
AMC short squeeze explained: Why is this a possibility?
AMC Entertainment became a target for short sellers during the pandemic as large gatherings were banned to slow down the spread of the virus. As a result, the firm's finances suffered as sales and attendance plummeted.
During this period, the share price of AMC dived to as low as $1.90 – roughly three-quarters of AMC's pre-pandemic value.
However, shortly afterwards, trading volumes and demand for short-dated options on AMC Entertainment stock spiked. That prompted an initial short-squeeze event between January and February 2021, propelling the price to around $20.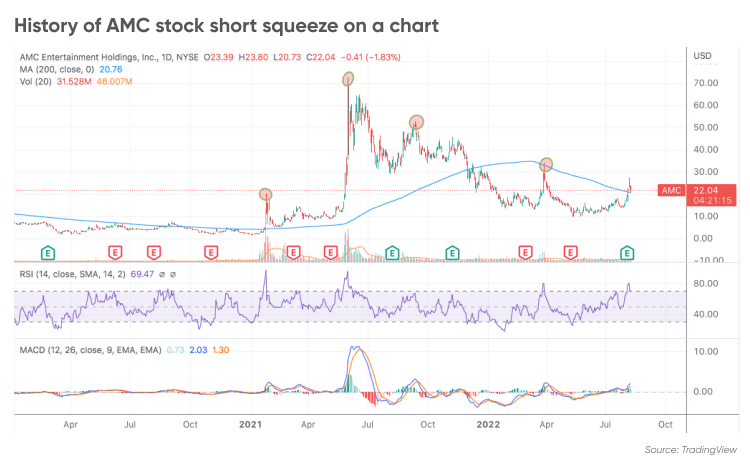 Only a few months after, in May 2021, AMC stock soared from around $9 to as much as $70 as coordinated efforts from retail traders managed to push the price to a point that forced short sellers to cover their positions.
In addition, brokerage firms had to buy the stock in bulk to hedge their exposure to the short-dated options that these traders had been purchasing.
As many as 102.3 million shares of AMC Entertainment were sold short by 28 May 2021, according to data compiled by MarketBeat. These positions were worth around $2.67bn back then. Only a few days after, on 15 June, the value of the shares that have been shorted spiked to $5bn. The situation exposed traders who were on the wrong side of that bet to severe losses.
After hitting that all-time high, the price action continued to be volatile, but the stock's value progressively deflated and eventually went on a downtrend. AMC has been unable to make a higher high since then.
AMC stock short squeeze: Short interest headed downwards in July

Despite the recent uptick in price, the stock's short interest in July continued the downtrend compared to previous dates. On 31 July, 95.09 million shares of AMC were sold short resulting in a 1.1% decline compared to the previous period as of 15 July, and 6.6% decline from 30 June.
However, the percentage of shares shorted compared to AMC's total float still stands at 8.40%, as per data from MarketBeat.
Meanwhile, the number of days that would take short sellers to cover their total exposure is 2.1. Even though this is not a high number, it is still high enough to sustain a short-term uptick in case the price rises significantly in a relatively short period.
| | |
| --- | --- |
| Long position overnight fee | -0.0308% |
| Short position overnight fee | -0.0137% |
| Overnight fee time | 21:00 (UTC) |
| Spread | 0.22 |
| | |
| --- | --- |
| Long position overnight fee | -0.0064% |
| Short position overnight fee | -0.0059% |
| Overnight fee time | 21:00 (UTC) |
| Spread | 0.31 |
| | |
| --- | --- |
| Long position overnight fee | -0.0064% |
| Short position overnight fee | -0.0059% |
| Overnight fee time | 21:00 (UTC) |
| Spread | 0.05 |
| | |
| --- | --- |
| Long position overnight fee | -0.0308% |
| Short position overnight fee | -0.0137% |
| Overnight fee time | 21:00 (UTC) |
| Spread | 0.33 |
It is important to keep in mind that the days to cover metric back in the first half of 2021 was 1 or less, but that did not prevent an AMC short squeeze.

Can an AMC stock squeeze happen soon?
Recently, AMC Entertainment announced a special dividend consisting of preferred shares that may be converted into common ones if shareholders approve this move. One AMC preferred equity unit was issued for every common stock in circulation.
This is considered a way to circumvent the limitations that shareholders imposed on the Board of Directors to prevent them from diluting existing owners through at-the-market offerings. Even though the company is not raising any capital through this effort, it could be paving the way for the sale of these preferred stock units to external investors in the future.
Since the special dividend is not yet affecting the share count, it does not have a dilutive impact and, therefore, it is not preventing a short-squeeze from happening. However, if shareholders do approve the conversion of these preferred stocks into common shares, that could have a dilutive impact on AMC stock depending on the conversion ratio.
The odds of a short squeeze possibly happening at this point continue to be high as the percentage of short float remains elevated.
AMC Entertainment fundamental analysis: Latest earnings
AMC Entertainment reported its financial results covering the second quarter of the 2022 fiscal year on 4 August 2022.
During the three months ended on 30 June, AMC Entertainment produced revenues of $1.17bn – more than twice what the firm brought during Q2 2021 as attendance was still fairly low last year due to the pandemic.
In this same period, revenues from admissions moved from $302.5m (Q2 2021) to $1.09bn, while food and beverage revenues more than tripled compared to the same period a year ago at $649.2m.
In addition, the company's net loss went down from $344m during the second quarter of 2021 to $121.6m in Q2 2022 as revenues picked up. The company's cash burn turned positive at $52m in this quarter as the business continues to recover from the hit it took amid the health emergency.
AMC reported total available liquidity of $1.18bn by the end of this period consisting of liquid reserves and undrawn revolving credit lines. Meanwhile, AMC's total corporate borrowings went down slightly on a year-on-year basis to $5.38bn.
AMC squeeze price prediction: Analyst sentiment
Only five analysts were covering AMC Entertainment stock according to data from MarketBeat, as of 11 August. The consensus recommendation from this group was 'reduce', which is the equivalent of 'sell'. Three out of five analysts rated the stock as 'sell', while two gave it a 'hold' recommendation. None of the analysts rated it as 'buy'.
Meanwhile, the average price target for AMC stock stood at $13.5 resulting in a 42.97% downside potential based on 10 August's closing price of $23.67. The highest AMC stock prediction stood at $34 and the lowest at $4.
Analysts from Wedbush Securities
stated
the following in regards to the company's Q2 2022 earnings report: "AMC continues to right-size the ship by repaying and restructuring debt, acquiring more quality screens while removing underperforming screens, and making inroads into various alternatives for potential future revenue sources, including alternative content in its theatres and retail popcorn sales."
However, Wedbush continues to rate the stock as 'underperform', while maintaining a price target of $4 a share.
Commenting on AMC squeeze prediction, Piero Cingari, analyst at Capital.com, said: "AMC is a 'classic
risk-on
stock' that is highly correlated with the
Nasdaq 100 Index
and extremely sensitive to market mood. Its recent strong rebound (up nearly 50% from June lows) has amplified the tech market's gains by a significant margin, which should prompt a more cautious stance as profit-taking behaviour may begin to emerge at these levels."
When looking at AMC stock forecasts, it's important to bear in mind that analysts' and algorithm-based predictions can be wrong. They are based on an analysis of the GameStop share price history. Past performance never guarantees future results.
It's important to do your own research. Your decision to trade depends on your attitude to risk, your expertise in the market, the spread of your portfolio and how comfortable you feel about losing money. You should never trade more than you can afford to lose.
FAQs
Will AMC squeeze happen again?

According to Piero Cingari, analyst at Capital.com, AMC is a "classic risk-on stock", sensitive to market mood. If the stock's rebound continues, the "profit-taking behaviour may begin to emerge", he added.
How high can AMC short squeeze go?

According to analysts surveyed by MarketBeat, the highest 12-month prediction for AMC Entertainment stock stood at $34 (as of 11 August).
Should I invest in AMC?

The decision to invest in AMC stock should only be made once the investor has performed adequate due diligence on the company, its fundamentals, and prospects. Investors must analyse if AMC stock is a good fit for their portfolio based on their risk tolerance, financial goals, and allocation targets. Analysts' predictions can be wrong. Never rely on them. Do your own due diligence. And never invest money that you cannot afford to lose.
Further reading: