Alphabet Q4 earnings: has google's advertising revenue held up despite recession fears?
Subscribe to Weekly Highlights
The major market events for the week ahead right in your inbox.
Subscribe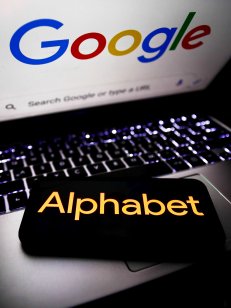 Content
Shares of Alphabet, Google's parent company, are up over 7% since Thursday's close as the company reported on Friday that it would be cutting 12,000 jobs. The decision was made to face the changing economic environment the company is facing as higher interest rates and inflation take their toll.
There had been a hiring spree since Covid-19 as the company experienced a period of rapid growth but in the memo released on Friday Sundar Pichai, Alphabet's CEO since 2019, said the decision to hire up until last year was made for a different economic reality and that it would reengineer its workforce to focus on their highest priorities.
The reaction in the stock price evidenced that investors saw this as a step in the right direction. Was the decision unexpected? Not at all. Alphabet is the latest on a list of tech companies (including Meta and Microsoft) to announce massive layoffs in the last few months as the industry faces a challenging economic outlook. One could say from the market reaction that investors were waiting for this to happen and were actually relieved when it did.
Q4 earnings expectations
EPS: $1.18
Revenue: $76.54bln
The bulk of its revenue is derived from its google advertising services, which is expected to come in at $61.56bln for the fourth quarter. This means it is forecasted to be $7bln more than in Q3 but we may see how companies cut their advertising budgets amidst slowing consumer demand and recession concerns, meaning we may see a slight miss on this figure which would likely see some disappointment in the share price. Nonetheless, even if advertising revenue comes in line or beats expectations, investors will want to know more about what the company expects in the next few quarters.
What is your sentiment on GOOGL?
Vote to see Traders sentiment!
Focus on Artificial Intelligence
As with Microsoft, one of the focal points of the earnings call will be the update on the outlook regarding the AI investment. In fact, in the memo released on Friday when the job cuts were announced, Pichai mentioned their early investment in AI as one of the high opportunities going forward. But there is increased competition, most notably from Microsoft's intention to increase its stake in OpenAI.
Technical analysis
Alphabet's share price (GOOGL) is heading into its third week of gains after pushing away from its 2023 low (84.86 ) marked in the first few trading days. The bearish move in December was a continuation of the momentum seen throughout most of 2022 but it failed to break the yearly lows seen at the beginning of November (83.34) which consolidate the momentum for a reversal. Up ahead we can find resistance around 102.24 and we may see some consolidation around this area, as we did in March 2021, before moving higher. This is also where the bullish momentum got halted back in November.
The price-to-earnings ratio is currently at 20 which is below its average, even after the Covid-19 price drop, meaning the stock is perceived to be cheap relative to its value as compared to its past performance.
GOOGL weekly chart and P/E ratio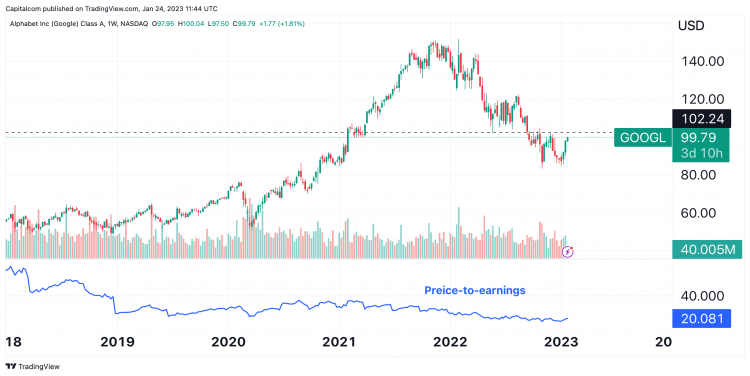 GOOGL weekly chart and P/E ratio. Photo: capital.com. Source: tradinview
Broker recommendations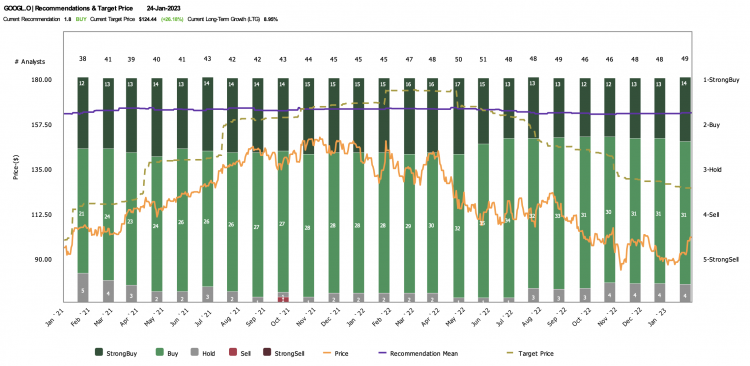 Alphabet Broker Recommendations - Source: Refinitiv