What is decentralised finance (DeFi)?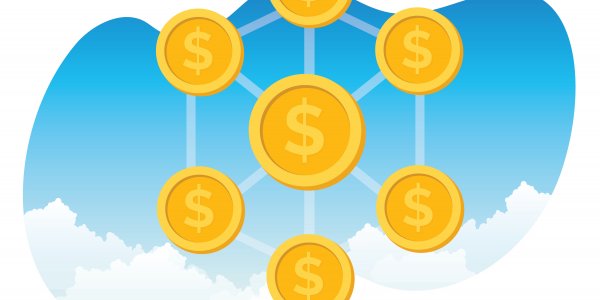 Decentralised finance (DeFi) is a movement that aims to disrupt the current traditional financial system, and in its place create one that is open and accessible to everyone around the globe, removing the need for third-party intermediaries such as banks. Leveraging the power of cryptography and blockchain technology, DeFi platforms hope to solve the numerous problems faced by users of traditional banking solutions.
Where have you heard of DeFi?
If you've ever had a conversation about bitcoin (BTC) or any other cryptocurrency, you've likely heard the term "decentralised finance". While not necessarily viewed as a traditional DeFi application, the origins of the decentralised finance movement stem from bitcoin's creation, and the fact that it allows for a trustless transfer of value between worldwide parties that cannot be blocked by third-parties. But while Bitcoin's technology is mainly limited to transactions, it was the creation of the Ethereum network in 2015 and the innovation of smart contracts that opened up a huge number of possibilities in the world of finance.
What do you need to know about DeFi?
What does DeFi mean? The table below provides some of the key differences between DeFi and traditional banking solutions to help you fully grasp the significance of decentralised finance.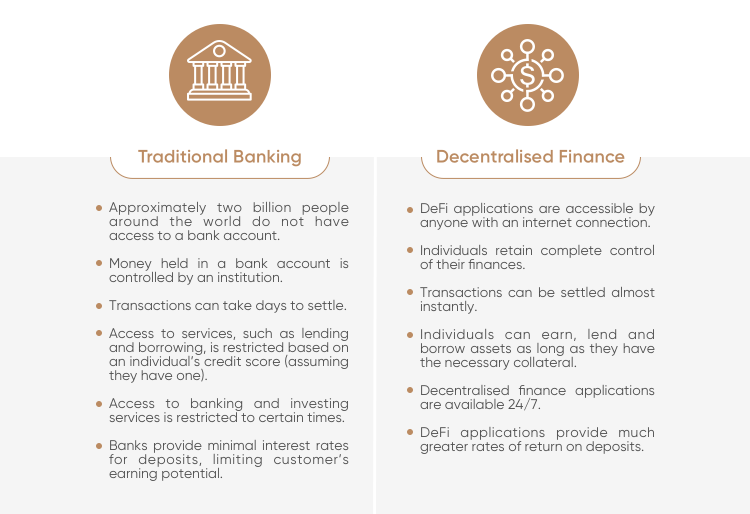 What are the risks of DeFi?
Coding risks. Mistakes within the underlying code could open up vulnerabilities within smart contracts, potentially allowing for theft of funds by malicious individuals.

Individual responsibility. As individuals essentially operate as their own bank, the responsibility for the safe management of assets lies with the individual. Loss of private keys and human error when transferring funds are just some of the risks users face when using DeFi applications compared to traditional banking.

No insurance. Traditional banking deposits are protected by bodies such as the Financial Services Compensation Scheme (FSCS) of the Federal Deposit Insurance Corporation (FDIC). When dealing with cryptocurrencies, users have no such safety net in the event of a loss of funds.
Related Terms
Latest video