What is a closing price?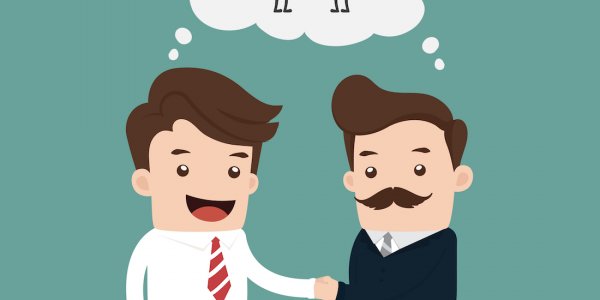 Looking for a closing price definition? The closing price is a security's trading price at the end of a day's business in a financial market. This makes it the most recent valuation of a security until the next trading session.
Where have you heard about closing prices?
If you read the financial pages of quality newspapers, you'll be familiar with their share price tables. As well as showing the day's high and low for each stock, they also show stock market closing prices and the net changes in percentage terms.
Financial journalists will usually draw a distinction between share price movements 'in early trading' and closing stock prices. They might say: "Shares in Omnicorp, which fell as much as 15% in early trading, later recovered some of their ground to close down 9% on the day."
What you need to know about closing prices…
Closing stock prices matter because comparing the closing prices of a security over different days or months can help investors understand changes in the value of a security over a certain time frame. Closing prices are also helpful when analysing historical returns on an investment.
On a day-to-day basis, you can get a feeling for market sentiment for a particular security by comparing the closing price with that of the previous afternoon. If a company has reported bad news in the morning, the share price will probably plunge initially. But the price at stock market close will tend to give a truer picture of sentiment, after some of the fuss has died down and the market has begun to digest the news properly.
Closing times and after-hours trading
Stock market close times vary from one exchange to the other. The closing bell on Wall Street is the most famous in the world, signifying the closing of the trading floor at 4 p.m. Eastern Standard Time (EST) each day. Once the bell rings, the last trading prices become the closing prices of securities. In London, the closing bell on the LSE is at 4.30 p.m. Greenwich Mean Time (GMT), Tokyo closes at 3 p.m. Japan Standard Time, and stock market closein Hong Kong is at 4 p.m. Hong Kong Time.
But it's important to remember that market activity continues after the so-called close of trading – this is simply when a particular exchange floor is closed. First of all, exchanges in other time zones will remain open. And secondly, so-called 'after-hours trading' (AHT) also occurs, though liquidity and volume levels are far lower then. AHT allows investors to respond immediately to news stories that break overnight, without having to wait for the exchange to reopen. It's also ideal for people who don't have time to trade during the day.
Adjusted closing price
We've talked about why closing stock prices are useful – they can give you a good idea of market sentiment. But it's important to recognise that stock market closing prices don't take into account corporate actions such as mergers and acquisitions, dividends and stock splits. This is where the 'adjusted closing price' comes in. The adjusted closing price of a stock reflects any corporate actions and distributions occurring ahead of the next day's opening bell.
One such corporate action would be a stock split; which companies generally do to make their share price more attractive to investors. For example, a company's board of directors might decide to split the stock four-for-one, which would mean dividing the share price by four. So, if the shares closed at £20 the day before the stock split, the adjusted closing price after the stock split would be £5.
Rights offerings also require an adjustment to be made to a stock's closing price. In a rights offering, existing shareholders are entitled to subscribe to additional shares – at a discounted price – in proportion to their current holding. The subsequently adjusted closing price must take this action into account.
Cash and stock dividends affect a stock's price too. When a company pays a cash dividend, its value falls by the amount of cash that's paid out; and when a stock dividend is paid, the value of each existing share decreases by the ratio at which new shares are issued. So, the closing price has to be adjusted in both cases to reflect this and allow proper comparisons to be made.
Stock returns
Why, then, are adjusted closing prices important and useful for investors? Well, if you're conducting an analysis of the total return on a particular stock over a certain period, the unadjusted closing prices will only give you half the picture. Adjusted closing prices create a more accurate return calculation because they're already adjusted for stock dividends, cash dividends and splits.
To get an idea of how different a graph of unadjusted closing prices can be from a graph of adjusted closing prices, take a look at these two charts:
The first shows the unadjusted or nominal closing price of Exxon (XOM) stock every day since 1970: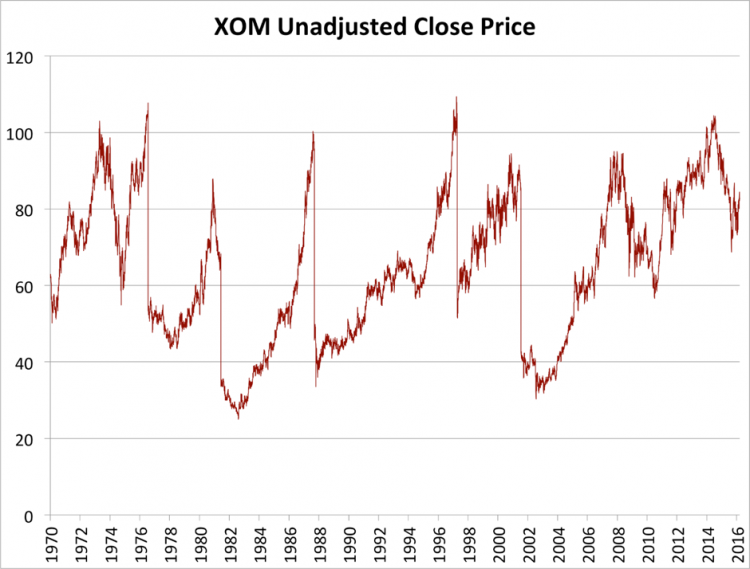 You'll notice five big plunges in Exxon's share price – these occurred when Exxon split its shares. There were also hundreds of occasions when Exxon paid dividends, and each time the stock price went down too. But for shareholders, none of these events had any economic impact. To get a true sense of the economic reality of owning Exxon stock over the period, this second chart showing the adjusted closing price gives a far clearer – and very different – picture: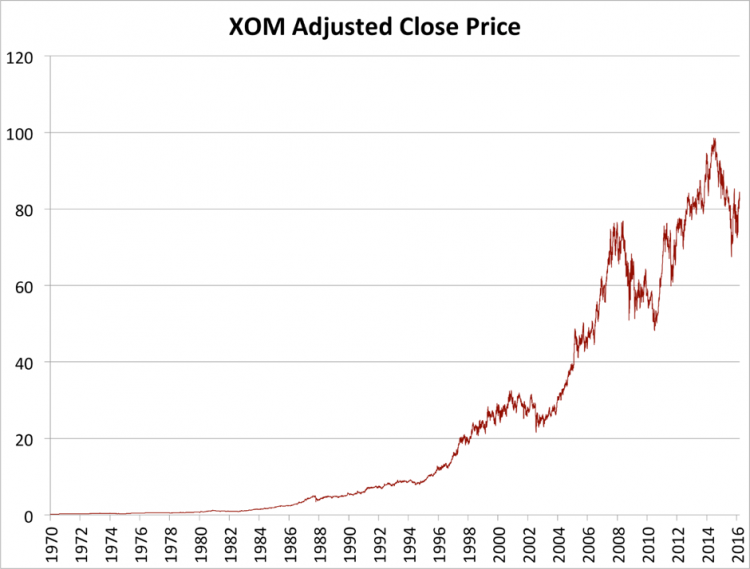 Last price
So, we've talked about closing prices and adjusted closing prices. But finally, you should note that there can often be a discrepancy between a day's closing price and the last price traded.
This can happen for all sorts of reasons. Many stocks trade heavily at the end of the trading day, and it can take a few minutes to process the orders and establish which was the last trade. These trades can sometimes be posted up to half an hour after the closing bell.
Remember too that the closing price you get when searching online will often be what's called a 'consolidated quote' – meaning it's taken from a system that extracts trades from all stock exchanges and puts them into a consolidated data stream.
And don't forget that the 'last price' you see might turn out to be the last transaction in after-hours trading – so it could vary considerably from the stock's closing price.
Find out more about closing prices…
If you want to explore the subject of stock market closing prices further, why not take a look at some other related terms in our comprehensive online glossary. We've got definitions for words like securities, trade and stock market, along with terms like after-hours trading and average daily trading volume.
If you're looking for closing prices on the London Stock Exchange, the LSE's website will give you all the information you need.
And here's the link to the New York Stock Exchange website, which offers historical data going back to 1 November 2001.
Financial newspapers also usually have a share price service – this link will take you through to the Financial Times's much-respected markets data portal.
Related Terms
Latest video