What is the Fibonacci retracement indicator?
The Fibonacci retracement is a well-known tool of a technical analysis that is commonly employed by traders. This method is used to track possible support and resistance levels of any given asset.
These levels (also called Fibonacci levels) are predefined by the ratios that correlate to the Fibonacci sequence: 0, 1, 1, 2, 3, 5, 8, 13, 21, 34, 55, 89, 144, … that extends to infinity. Each number is a sum of the previous two. The sequence contains many unique mathematical features that can be implemented in various spheres of human life.
The fundamental Fibonacci ratio is 61.8%, also known as "the golden ratio". It is calculated by dividing a number by the following one (e.g. 34/55). This numerical relationship underlies retracement studies.
The Fibonacci retracement levels are found at 23.6% (number divided by another, three places higher, e.g. 13/55), 38.2% (number divided by another, two places higher, e.g. 21/55) and 61.8%. While not officially a Fibonacci ratio, 50%, 78,6% and 100% are also included in the list due to various tendencies that happen around these particular levels.
The Fibonacci retracement tool is utilised by taking two extreme points on a stock chart (the lowest and the highest within a trend) and applying the Fibonacci ratios to it. This technique provides the possibility to forecast the extent of a correction or a pullback; place stop-loss orders or target prices levels; and predict the length of a counter-trend bounce.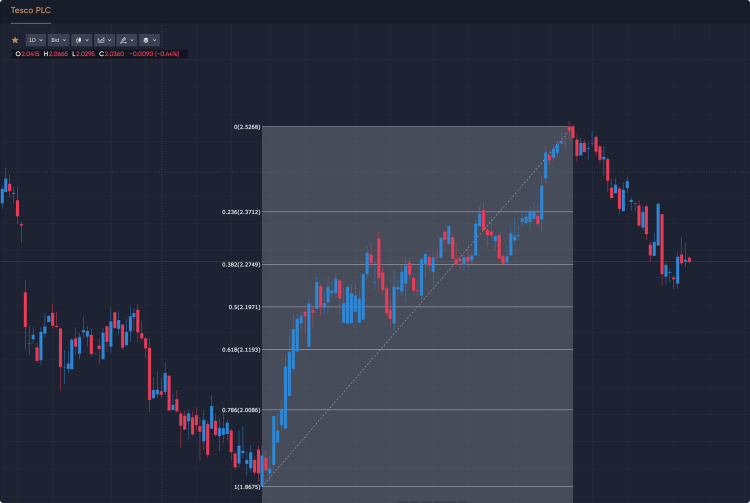 Who invented the Fibonacci retracement indicator?
As we already know, the Fibonacci retracement is based on a numerical sequence. It was discovered in the 13th century by Leonardo Pisano (also known as Fibonacci), who was referred to as the most outstanding European mathematician of the middle ages.
The Fibonacci sequence of numbers, as well as a new Hindu-Arabic numeral system that made all mathematical calculations easier, was introduced to the world in Fibonacci's first book titled "Liber Abaci".
Fibonacci patterns can be widely found in nature: tree branches, stem leaves, pineapple fruits, honey bee stemma and flowers petals.

The first person to develop the idea of using Fibonacci numbers in finance was Charles Dow, founder of the Dow Jones Industrial Average. He mentioned that, after moving along with the main trend, the price retraces some of the covered distance before continuing its prior movement. He concluded that the latitude of this retracement was between 33% to 66%.
Later the concept was refined by Ralph Nelson Elliott, who brought into play more accurate retracement levels: 38.2%, 61.8% (based on the Fibonacci sequence), and 50% (based on the tendencies of stocks).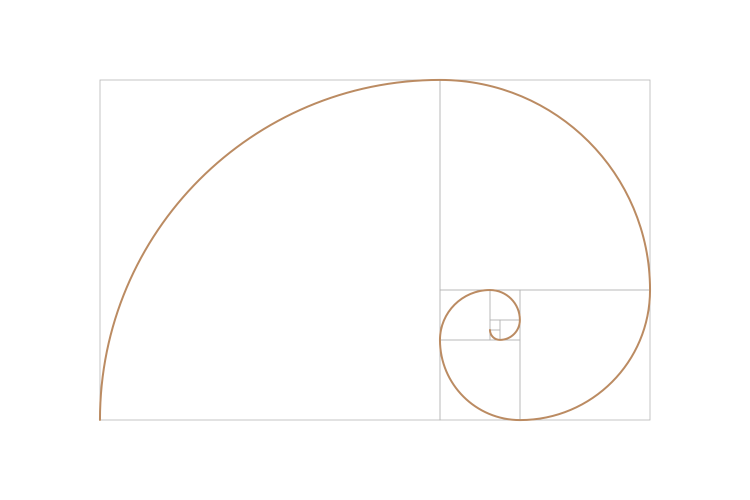 Why is the Fibonacci retracement indicator useful for traders?
The theory that underlies the method has been used in finance for several decades. The Fibonacci retracement tool is a useful means of technical analysis as it is considered to be a predictive technical indicator that can forecast future events and find the best entry point during the pullbacks for traders to increase profits.
However, it is not recommended to depend exclusively on the Fibonacci retracement alone when making decisions, since it does not provide a full picture of the overall market situation. It works, at its best, as a complementary tool that is incorporated into a bigger trading strategy for making long-term decisions.
How to trade using Fibonacci retracements
The Fibonacci retracement is usually used in a trend-trading strategy. Stocks have a tendency to pull back from the previous movement before reversing. As soon as the stock begins to retrace, a trader can implement the Fibonacci levels on a chart to search for signs of a possibly forthcoming reversal.
The beginning and the end of any price movement can be distinctly identified. The Fibonacci tool helps traders to measure the distance of that move and automatically places the retracement levels. Once it reaches one of these levels, the trend is expected to pull back and reverse or conversely continue its movement. These reversals are believed to occur more frequently around the Fibonacci retracement levels.

During a downtrend, the Fibonacci strategy can help a trader to determine optimal short-selling positions, meanwhile, during an uptrend, it can serve as an indicator for a good buying opportunity upon the retracement.
A Fibonacci trading strategy can be applied to different financial instruments, such as commodities, stocks, forex pairs and indices. It can also be very useful when trading contracts for difference (CFDs). Retracement levels will provide much-needed information on whether to go short or long on the asset.
The Fibonacci retracement strategy can augment a basic trading strategy.