Content
Trading EUR/USD
As the two largest and mostly commonly traded currencies in the world, the euro (EUR) and US dollar (USD) represent the highest proportion of trades made in international finance. Euro to USD (EUR/USD) trading occurs constantly and the pairing of the two is extremely popular; it's actually the most liquid currency pairing in the world.
A large number of companies operate both within Europe and the Unites States, owning offices in both locations. As such, this is one reason why a large amount of exchanges are made using the two currencies every single day.
However, this isn't the only reason why euro to US dollar trades see such high volumes every day. Other reasons for trading and investing include: the vast amount of economic and financial data available on the EUR/USD exchange rate, the wide range of market participants and the combination of volatility and liquidity in the EUR/USD market – all of which make trading this pair attractive to newcomers and veterans alike.
The history of EUR/USD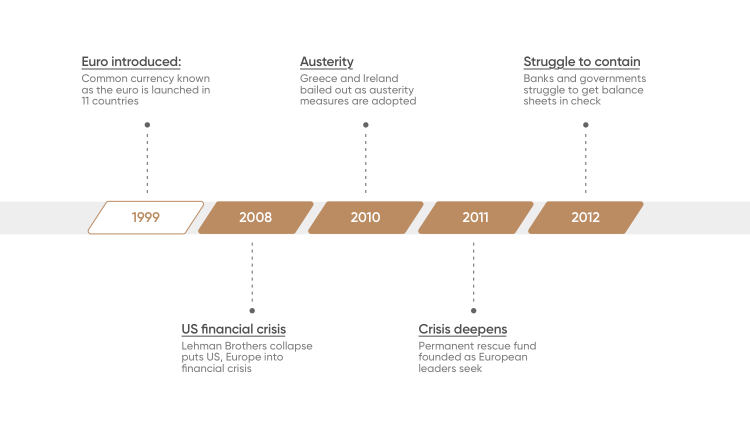 Despite being a currency pair that has only existed since the end of the 20th century, EUR/USD has proven itself to be a powerhouse in modern forex trading.
The euro itself was first envisioned towards the beginning of the 20th century. However, it wasn't fully realised until the end of the century. It first came into being as a purely digital currency, and then as physical notes and coins. This common currency for a large proportion of Europe quickly gained traction and became cemented as a market leader. Euro trading swiftly developed into a new and exciting financial opportunity.
The dollar, of course, is far older, with roots stemming back to 1792 and the creation of the United States Constitution. Since that time, the dollar has grown considerably in strength and, paired with the euro, has become something of a global standard among investors and traders.
The euro rate history, however, has not always been so stellar – some blips have occurred over its short lifespan. Between 2008 and 2014, the euro saw an historic record fall. This followed the fallout from the 2008 financial crisis: while US subprime mortgage crisis increased its strength, the crisis caused a recession in Europe. Over the next few years the EUR/USD experienced large price swings as various economic and political events affected it.
Major factors influencing EUR/USD
In these two subsections, we're going to take a deeper look at this market and discover the roles of both currencies when it comes to the euro to US dollar trading landscape.
Role of Euro
As interest rates play a major part in the moves of the EUR/USD exchange rate, it will come as no surprise that the European Central Bank (ECB) is one of the major institutions to which investors and traders will pay close attention when making decisions that might affect the future direction of this currency pair.
The ECB releases monthly reports concerning interest rates and economic outlook, which are used by investors and traders as indicators about future policy direction and the effect these may have on the EUR/USD exchange rate.
Wider economic data, such as consolidated employment numbers, can also impact the EUR/USD exchange rate and can be a vital source of information for traders.
Role of USD
As with its counterpart, the US dollar is influenced by its own central bank, the US Federal Reserve – often referred to as the Fed. The institution releases the Federal Funds rate and rate statements eight times a year, which can provide insight into the state of the US economy and impact the currency.
In the US, the Bureau of Labor Statistics release Nonfarm Payroll numbers usually on the first Friday of every month. This is the US unemployment data and can often cause volatility in the EUR/USD pairing. It is closely watched by traders and investors around the world.
How to trade EUR/USD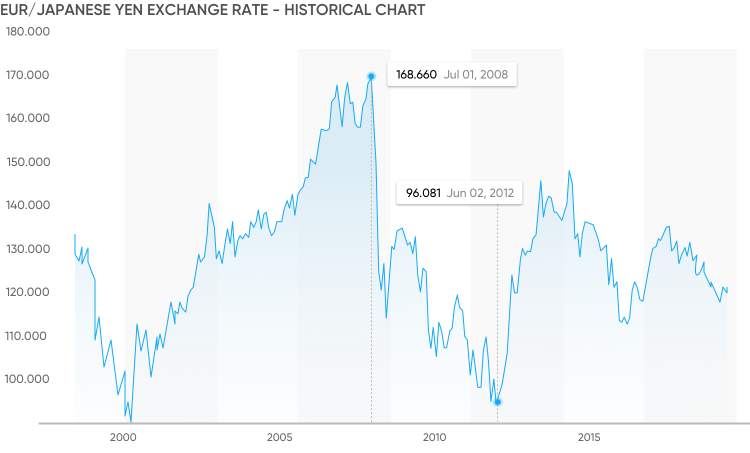 In the next two subsections, we're going to explore how euro to USD trading occurs and why it is such a popular markets for traders and investors. We'll be talking about contracts for difference (CFDs), specifically CFDs on forex – a popular form of derivative trading which enables investors to speculate on the rise and fall of prices across global financial markets.
CFD trading offers great opportunities with a reliable CFD broker. Sign up at Capital.com and access the most popular global markets via our web platform or our ultimate trading app.
Trading CFDs on EUR/USD
For many traders, the most attractive part of using CFDs is being able to trade speculatively on the movement of foreign exchange markets without having to actually own the currencies. Because of the volume and liquidity of EUR/USD, it has always been a popular choice for many when dealing with CFDs on forex.
Trade Euro / US Dollar CFD
Various positions and strategies are used when trading CFDs, with the two most popular being going long and going short – in other words, simply taking a view on market direction either up or down.
Why trade EUR/USD CFD with Capital.com?
Many forex traders around the world consider euro to USD trading to be their preferred market when compared to other fx pairs for a number of reasons. Here are just a few of the benefits to consider about trading EUR/USD CFDs on forex and other spreads:
The exceptionally tight pricing for euro to USD means lower costs for traders
The high volume of trade in this pair make for a market with plenty of liquidity
Historically, the EURUSD market has seen some great trends over multiple time frames – another reason why traders are attracted to this foreign exchange pair
FAQs
Now that you're on your way to understanding the market, and we've covered the basics of the EUR USD exchange rate and CFDs on forex, we'll answer some of the most frequently asked questions
What makes Forex different from other markets?

Foreign exchange has no central exchange – it is an interbank market, with large financial institutions trading with each other and creating this market. This means that volumes are enormous compared to other types of financial assets, which makes the cost of doing business in foreign exchange very low.
What is actually bought and sold in the currency market?

If you decide that EUR/USD is going to rise, you are speculating that the euro will rise and the US dollar will fall. So, in theory, when carrying out a foreign exchange transaction, there are two sides to the trade: you are buying the euro and selling the dollar. But in practice, if you thought that EUR/USD would rise, you would just buy EUR/USD using CFDs in one trade.
What does 'pip' mean in forex trading?

In forex trading, 'pip' stands for 'percentage in point'. These are the smallest increments of trade in the market. So, for EUR/USD, which is quoted to four decimal places, a move from 1.1580 to 1.1581 is a one pip (or one point) move. It's just a simple way of explaining the smallest move for a particular currency pair.
What is the commission in forex trading?

Unlike traditional stocks – where a broker is paid commission on customer buys and sells – CFD forex trading with Capital.com does not incur commission. Capital.com makes their money through the bid-ask spread as opposed to commissions.